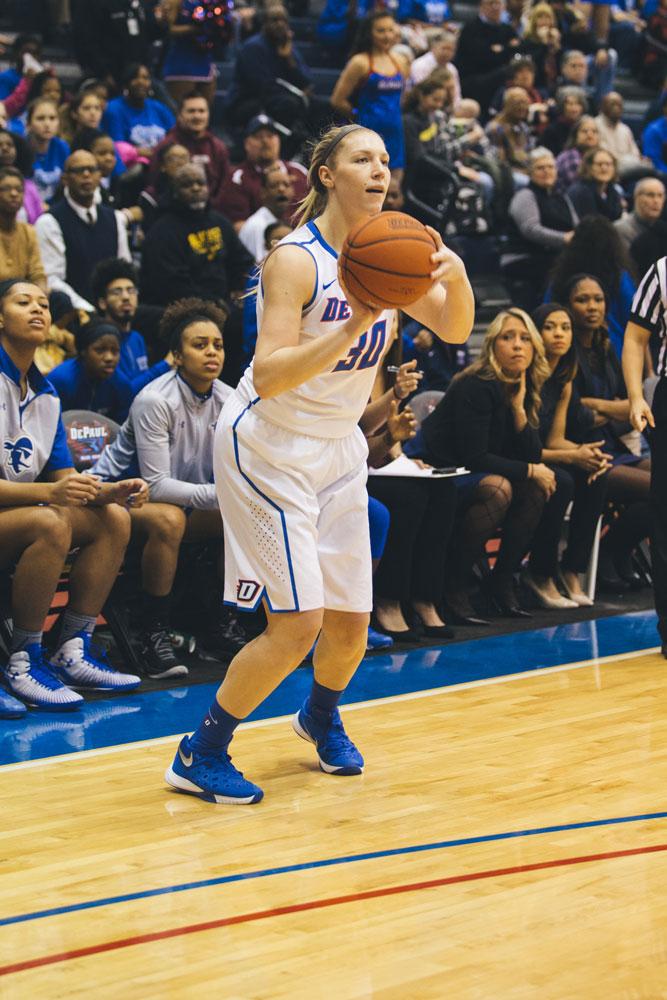 It's no surprise to anyone the DePaul women's basketball team is run through the big three of seniors Megan Podkowa and Chanise Jenkins, along with junior Jessica January. Last week, the trio was recognized nationally for some prestigious end of the season awards.
"I think it's a statement about…(how good they) are for us, they're just great players for this program," head coach Doug Bruno said. "I'm excited for all of their awards, but at the same time, you play the game for achievements. Awards and celebrities are the byproducts."
Podkowa and January were named to the College Sports Information Directors of America (CoSIDA) Academic All-District Five, which makes them both eligible for Academic All-America Honors. Podkowa has a 3.84 GPA majoring in mathematical sciences with a concentration in actuarial science. January, double majoring in public relations and advertising and communications and media with a minor in mathematics, has a near-perfect 3.95 GPA.
"That's a huge award," Bruno said. "That's not just about brains, you have to be a good basketball player to win those awards."
Podkowa was flattered to be named to the list and praises her coach for helping her get to this point.
"It's an honor just to have people think that I play that good on the court," Podkowa said. "Coach makes sure we're academically stable here and we do the best we can every time. It's just an honor to be doing it at this institution."
January is also on the Lieberman watch list, which recognizes the top point guard in women's basketball. She's the first Blue Demon to be named a finalist since 2011 when Sam Quigley was up for the award. The list of 10 will be narrowed down to just five in March, and then the winner will be selected during the Final Four.
"It really means a lot. It's a huge honor to be nominated for that award, but I really wouldn't have gotten it without my teammates this year," January said. "Having the senior leadership and all of the other players in their roles has really allowed me to grow this year."
Jenkins was named to the Mid-Season Naismith Team thanks to her team-best 15.4 points per game and 58 3-pointers. She joins Brianna Turner (Notre Dame) and Aliyyah Handford (St. John's) as Big East representatives on the shortlist.
"I haven't really though about it too much, but obviously it's a great honor," Jenkins said. "I thank my coaches and I thank my teammates … for putting me in a position to knock down shots and hitting the open woman and constantly being unselfish, the key component to my success and the team's success."
All three Blue Demons credit their teammates for their own success and they feel like the national recognition will only help the team succeed as a whole.
"Being the three leaders, it shows the other girls that they can do it too," Podkowa said. "It's kind of an inspiration, but also an encouragement for them to work harder every day."
"It shows that our team is ultra-competitive and super unselfish, that goes a long way for a team," Jenkins said. "You can't find many teams out there that have more than one player (recognized)."
Despite being up for two awards, January still views the Podkowa and Jenkins as role models.
"Being able to look up to (the seniors) and take after them on and off the court, it allows the incoming freshmen and the freshman and sophomores here now to see the older players doing good things on and off the court," January said.
"It's good for the program."
Bruno applauded his trio's recognition amongst the best players in college, but doesn't think the awards are that important in the overall scheme of the season.
"What makes this team very good is (the big three) are happy to win awards," Bruno said. "But at the same time, they really do care more about what the team does than what they get as individuals."