Robert Eggers' "The Witch" is a terrifying modern classic horror film, shot in a cinematically stunning fashion. The story, set in 1630, unravels in a farm in New England, and its authentic look makes the chilling and unsettling circumstances of the English farm family all the more terrifying.
Decades before the Salem witch trails, a recently relocated English farmer and his family are banished by the church to leave their colonial plantation, forcing a religious God-fearing family of five children to the bare edge of a gloomy dark forest. With the mysterious disappearance of family members, tension is high when paranoia starts to get the best of the family.
Shot in northern Ontario, writer and director Eggers made the colonial farmhouse come to life. With expert details ranging from hand-woven clothes down to the very stich patterns, the design elements are elegant.
"The Witch" is Eggers' debut feature which premiered at the 2015 Sundance Film Festival, winning the Best Director Prize in the U.S. Narrative Competition.
What really sets the film to another level of horror is the involvement of the family. The film follows a young family who is thrown into a dark feud when their youngest child goes missing. When the bickering and fighting escalates, the accusations of witchcraft are thrown at each other.
"To me the family drama is the most interesting drama," Eggers said in an interview. "There's no doubt about it. We're always struggling in all of our relationships, which are reflective of the family. Even more than horror I think the fairy tale genre suits this film the best."
What Eggers accomplishes is portraying family conflict through doubt and religion as a means of guidance to challenge the family's resilience and faith.
"I think fairy tales are a great examination of the family drama, but here we kind of turn it up a notch," Egger said about using witches to help tell his story. "It's fun to see how the witch manifests herself to the different family members doing different things to different people."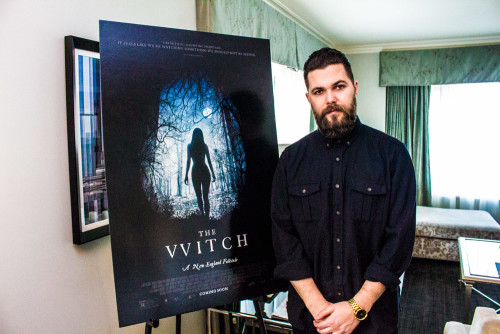 "Early on, even before I began the heavy duty historical research, I just kind of asked people if witches were a big deal for you as a kid, and if so, then why," Eggers said.
Eggers' debut feature uses witches as a tool to focus on an evoking fear. In horror films, witches are used quite often, but they are not executed at Eggers' supernatural menacing level.
"Today the witches are cheesy plastic Halloween decorations — she's not scary," Eggers said. "Obviously in the early modern day period she was a very real thing. As kids, funnily enough the plastic Halloween decoration is scary. Like Margaret Hamilton, in 'The Wizard of Oz,' is scary to kids. So how do we make it a scary witch story for adults as it was for us as kids?"
Eggers' film created a lot of buzz at last year's Sundance Film Festival. The low-budgeted film was being hailed as a true, new age horror film. For this new writer and director, his creative career began very early in his life, when he did street theater in New York.
"After finally doing a short film that wasn't completely horrible, some people were expressing interest in potentially doing a feature with me," Eggers said about when he was first given the opportunity to film his visions. "I wrote a lot of weird scripts. They were too weird or too dark and no one wanted to do them. I realized that I had to do something that really wasn't an identifiable genre. But, how do I do a genre film that's extremely personal to me and that I'm not sacrificing my values or compromising them?"
His determination paid off with the "The Witch," and he is also being selected to direct and write the recreation of F.W Muranu's classic horror film, "Nosferatu."
But depicting New England's rich, haunting history while he grew up posed as a challenge to Egger.
"People knew 'The Witch' was going to be scary, but the amount of crazy crap I wanted to do as a first-time director with building the farm accurately, costumes and cast and the U.K. cast, all this stuff was expensive," he said.
For Eggers' first major film, support from others helped him create his vision.
"I was just stubborn, and stuck it out and luckily found investors who wanted to do it," Eggers said. "Of course I had to believe in the film and had to believe in finding an audience, but I can't believe people care. I am glad they do because, let me tell you now, I feel like a kid running around in the woods again. It's nice."
Finally seeing its debut nationwide "The Witch" has had growing support from fans and critics alike. An unexpected endorsement came when the The Satanic Temple officially announced their support for the film, who said it accurately depicted "a Satanic experience."
Eggers said, while laughing about the surprise support, "I would like to just say it's nice to have fans and keep it at that if that's alright."