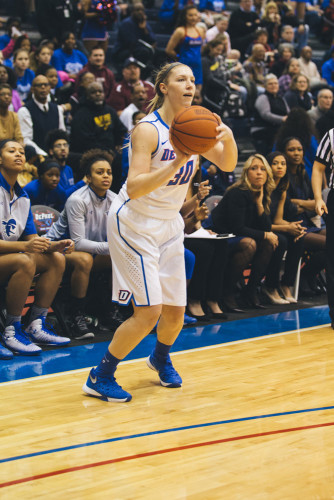 It's strange to say the No. 18 team in the country needs an impressive showing and to win in its conference tournament to have success in the NCAA Tournament, but for DePaul, it's true.
Coach Doug Bruno knows how important winning the Big East Tournament is and says his players are motivated to play for a "higher cause."
"Yes, we want to win the Big East Tournament, but there's another tournament out there that we're trying to get into and make sure we get into and make sure that we have a position once we get into it to get our best advantage," Bruno said.
"The NCAA Tournament on the women's side is a lot different than the men's," he said. "On the men's side, everyone is on a neutral court from game one to the championship game. In women's basketball, it's very highly stacked for the top-four seeds in each region, that's the higher cause I'm referencing."
Bruno has one eye on the NCAA Tournament, despite the conference tournament standing in his way. With the Big East favorites currently sitting just outside of the top-16 and a chance to host NCAA Tournament games, anything short of a title will see them miss out on a shot at it.
The players understand its importance too and know it won't be an easy task considering they'll be playing some teams for a third time this season.
"It's always harder to play a team three times. You get experience playing them and they understand what you're trying to do, how you're trying to defend them, how you're trying to score," Senior forward Megan Podkowa said. "A lot of the teams are similar (over the years)…so we've played some of these girls six or nine times, so it gets harder with every game."
Practices have been more intense, not physically, but mentally Podkowa says. The whole team knows what winning the Big East Tournament will do moving forward and the chance to play at home is invaluable.
"The level of competitiveness in practices has been so much higher this week. No one wants to sit out, no one wants to get hurt, we're just trying to do our best in practice," Podkowa said. "This is our home court, we love playing here, we love the atmosphere. I think we're really honored and lucky to play here (in the postseason)."
The two teams to watch out for the most are Seton Hall and St. John's, which finished second and fourth respectively in the regular season. Villanova finished third but are without star guard Caroline Coyer who suffered a torn ACL last month.
DePaul won both games against St. John's this year by a combined 16 points, so a close game isn't out of the realm of possibility. As for Seton Hall, the teams split the regular season series with both notching away wins over the other.
For the Blue Demons to win the Big East Tournament, it'll come down to playing solid, all-around basketball. Bruno says the team's defense is getting better just at the right time and offensively they've been thriving.
"I think we're playing our butts off right now," Chanise Jenkins said. "We're extremely focused and I think we have a long way ahead of us and I'm really excited to see where it takes us."
No matter how good the team is playing coming into the tournament, though, it all comes down to making shots and executing the game plan to perfection to keep winning.
"I don't think we ever feel pressure," Podkowa said. "Coach Bruno tells us that we shouldn't have result anxiety, we should have execution anxiety.
"We know that if we can execute right and play at our highest level, we can beat anyone."