Illinois races to watch in next week's election
Illinois residents will go to the polls on March 15 to cast their ballots for president, senate, house and many more important positions.
The state votes alongside Florida, Ohio  and other delegate-rich states that could effectively end primary season and put each party's respective frontrunner for president in the driver's seat for the nomination.
The state is also at the forefront of the Democrats' efforts to retake the U.S. Senate as three candidates battle to take on Republican Sen. Mark Kirk.
In Cook County, one of the hottest races is for State's Attorney, where incumbent Anita Alvarez has two challengers in her quest for a third term. For those going to vote for the first time, in-person voting lasts from 6 a.m. to 7 p.m. across the state. To find one's voting site, call your local county clerk's office or go to their website.
Presidential primary
Democrats
Hillary Clinton
51 percent
Clinton is leading the polls in Illinois and has the clearest path to victory. A major factor in the margin will be how well Clinton does with African Americans. She crushed Sen. Bernie Sanders in the demographic in the South. It remains to be seen if the trend can hold as we move North.
Bernie Sanders
32 percent
Sanders is fighting an uphill battle in the Land of Lincoln. His base of white liberals and young people will have to turn out in full force, and that might not even be enough. Sanders held a rally in downstate Edwardsville last week. Downstate is where Sanders should do best.
Republicans
Donald Trump
33 percent
Trump is the favorite in Illinois, but it remains to be seen if he's been hurt by a week of attacks from his fellow candidates and establishment Republicans. Illinois' GOP is known for being fairly moderate, yet the four-way nature of the race makes Trump very competitive.
Marco Rubio 
18 percent
The first-term senator from Florida would seem to be an ideal candidate for a state like Illinois, but he's been hurt by the continued presence of Ohio Gov. John Kassich, who's splitting the establishment vote with him. Plus, Rubio has only won one state thus far. March 15 could spell the end for his campaign.
Ted Cruz
16 percent
Cruz should play well downstate, where more conservative and evangelical voters live. He is not expected to win, but it will be interesting to see how many votes he can siphon away from Trump in what's increasingly looking like a two-man race between him and the frontrunner.
Senate primary
What's at stake?
Three candidates are vying to take on Republican Sen. Mark Kirk, considered one of the most endangered  incumbents this election cycle. Illinois has voted Democratic in every presidential contest since 1988 and this is President Barack Obama's former senate seat. They want it back bad. It may also be a deciding factor as to whether Democrats can take back control of the senate. The Democrat who wins this race will probably have a better-than-50 percent chance at winning the general as they will enjoy the coattails of a presidential candidate at the top of the ticket.
The candidates

Tammy Duckworth
An incumbent congresswoman from the northwest suburbs and an Iraq War veteran, Duckworth is the favorite in the race. A double-amputee as a result of injuries sustained in the war, she has been an outspoken advocate for veterans' issues.
Napolean Harris
Harris is probably best-known for his days as a star defensive end for Northwestern. After a stint in the NFL, he was elected to the state senate in 2012. While having the backing of Senate President John Cullerton, Harris has low name recognition and will likely come in a distant third place.
Andrea Zopp
Zopp, the former president of the Chicago Urban League, has many allies in Chicago's business community and is close with the Daleys. However, she is not widely known outside the city and will need a large African-American turnout to be viable.
State's Attorney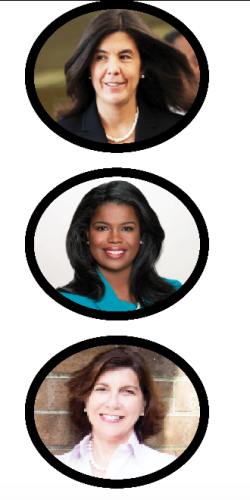 Anita Alvarez (incumbent)
Alvarez has come under fire for her handling of the Laquan McDonald case and other police-involved cases. Much of the political establishment has backed her opponent, Kim Foxx. But, in a three-way race, Alvarez has a path to victory.
Kim Foxx
With the strong backing of Cook County Board President Toni Preckwinkle, Foxx has been able to consolidate support of the Democratic establishment; and she also has the support of all the major newspapers.
Donna More
Running a distant third in nearly every poll, More is more likely to play spoiler than actually win. The more votes she gets, the more likely Alvarez wins.
Other races to watch
U.S. House, 1st district
Incumbent Rep. Bobby Rush has been in office for more than 20 years, which is far too long in Ald. Howard Brookins' eyes. To two are facing off in a district that covers much of Chicago's South Side and southwest suburbs. Brookins is Rush's toughest opponent in a long time, but the odds are still with Rush. He is the only person to beat Barack Obama in an election, after all.
U.S. House, 10th district
In the north suburbs, former U.S. Rep. Brad Schneider is running to win back his old seat, which he lost to incumbent Rep. Bob Dold in the 2014 midterm elections. In order to get to the rematch, however, Schneider will have to get past Highland Park Mayor Nancy Rotering. While ideologically similar, Rotering has stood out for her stance on gun control, which she wants to see increased. Rotering and Schneider digress on the Iran Deal, which Schneider opposed.
Illinois House, 5th district
This is a high-stakes proxy war between Gov. Bruce Rauner and House Speaker Michael Madigan. State Rep. Ken Dunkin broke with Madigan and his fellow Democrats on a series of votes, denying them a supermajority to override Rauner's vetoes. Dunkin is now funded by Rauner and his allies, while the Democrats are supporting Juliana Stratton. The results of this contest could shape the political climate for the future.
View Comments (1)