No. 18 DePaul routs Butler to advance in Big East tournament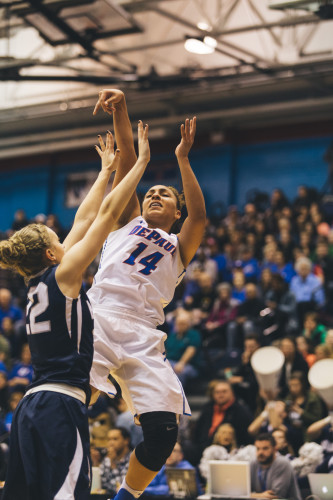 The stakes for DePaul women's basketball were clear as they begin its run for a third straight Big East title.
If they dominate this three-game stretch, there is a chance that they can secure a host-game for the NCAA tournament. It's a mark the Blue Demons have never achieved, but would be extremely beneficial.
Just ask Butler — who found out again how lethal the Blue Demons can be on their home floor.
The No. 18 Blue Demons (25-7, 16-2 Big East) routed Butler (10-21, 4-14) Sunday 76-49 in a packed house at McGrath-Phillips Arena. Unlike the last two years, the Big East tournament was moved from the Allstate Arena in Rosemont to DePaul's home floor.
The move was DePaul's gain.
"Just having your players understanding the necessity of focus of this time of year is a tribute to the leadership of my players," DePaul head coach Doug Bruno said. "What takes place in the locker room is where the energy comes out. I thought we were ready to play."
DePaul dazzled in their usual style — jacking up 3's and forcing turnovers. From the on-set, the Blue Demons nailed four 3-pointers to race out to a 12-2 lead.
It wasn't long until DePaul grew their lead to 20, thanks to a stingy defensive outing. Butler had just 11 points in the first 18 minutes of the game. By game's end, DePaul held the Bulldogs to 33 percent.
And while DePaul didn't shoot it particularly well, it's the relentlessness that makes them so hard to deal with. They forced 18 turnovers and had 22 more shot attempts than Butler.
"For this game, we wanted to focus on getting out to a quick and efficient start," DePaul guard Jessica January said. "That really helped us."
DePaul forward Megan Podkowa led all scorers with 14 points. Before the game, Podkowa, January and guard Chanise Jenkins were honored for their individual conference awards. Together, they've formed a "Big 3" that has given the Blue Demons a versatile threat.
The win was DePaul's seventh in a row and 12 of its last 13 games. DePaul also advanced to the semifinals of the Big East tournament for the fifth year in a row.
"I thought we played extremely hard, but let's face it, they're a program we have aspirations of being," Butler head coach Kurt Godlevske said. "We have a vision of working towards that and they're very, very good right now. They deserve to be where they are right now, ranked in the country."
Bruno said the reason for his team's success is the focus they bring, particularly during this time of year. But he didn't shy away from discussing the need for a potential home seed in the NCAA tournament.
"We still think we have an outside chance to host as a four-seed," Bruno said. "I don't know if that's going to happen or not, but we don't have a chance if we don't win one in a row three times."
DePaul returns Monday at 5:30 p.m. against the winner of St. John's and Georgetown. Bruno slipped up in the post game and assumed St. John's would be the winner.
But he claimed that he wanted St. John's because of their better record, which would potentially boost DePaul's RPI if they were to win in the semifinals.
"This program has done a lot. We've been to 13 straight tournament, 14 if we make it this year," Bruno said. "Only seven schools in the country have done with. But of the teams we're competing with … we're the only team to not make the Final Four.
"I think these players understand, they've tasted the Sweet Sixteen. They'd like to give themselves a shot at a little bit more. We have to stay in the moment."