Carly Rae Jepsen proves her pop prowess at Metro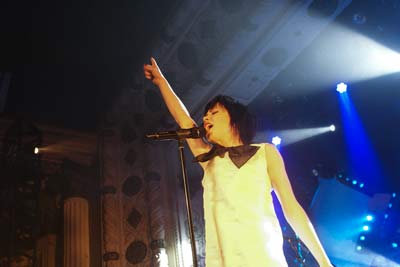 I'll be the first to admit, I didn't give Carly Rae Jepsen much of a chance. "Call Me Maybe" was a good pop song, "I Really Like You" was fun, but beyond that I didn't think she had much of a career. That was because I never gave her third studio album, "Emotion" a listen. After finally hearing it, and seeing Jepsen at her sold-out show at Metro Chicago on March 12, I'll again be the first to admit that I was a fool for underestimating her.
Fairground Saints were the first of two openers for Jepsen, and a strange one at that. The Los Angeles-based band seemed more suited as openers for a band like Mumford and Sons. That's not to say that their acoustic-folk music was bad, they actually were incredibly talented — especially their vocalist Megan McAllister, who had an amazing vocal range — but they just seemed to be a strange opener for the Canadian pop star.
Also opening for Jepsen was Cardiknox, a pop group originally from New York. They seemed much more suited to open for the pop star. Their fun, easy-to-dance-to music made for a good warm-up before Jepsen, who immediately stole the show when she took the stage.
Despite the massive success of her singles "Call Me Maybe," and "I Really Like You," Jepsen has become more successful with the indie crowd after the release of her 2015 album "Emotion," which some have regarded as the best album of 2015.
She was able to cater to both sets of fans, playing most of the beloved songs on "Emotion," including "Boy Problems" which is actually almost impossible not to dance to.
Jepsen is not only incredibly talented, but instantly relatable, as she bemoaned about how living in a city like Los Angeles is overwhelming while introducing her song "LA Hallucinations," smiling, dancing throughout her set and making sure the jam-packed crowd was having a good time. Her happiness was contagious, and the Metro was filled with energetic dancing to her fun pop songs.
I definitely underestimated Jepsen — and due to the fact that she's playing shows at the smaller Metro, and not larger venues across Chicago, proves that I am not the only one. But I've been converted. I have seen the glory that is Jepsen, and hopefully more people will catch on soon.