Selfless Jessica January takes over in win against Louisville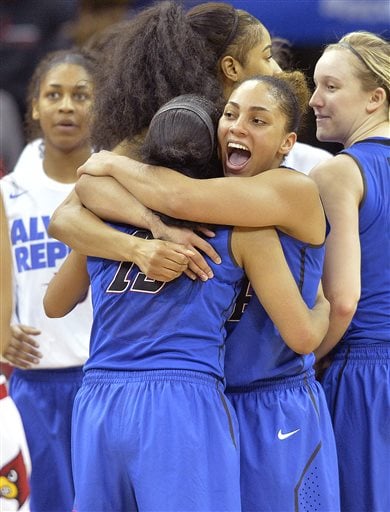 LOUISVILLE — Interviews can be a funny thing, in retrospect.
When Richfield head coach Scott Stadem agreed to be interviewed about a DePaul recruit from Minnesota, he couldn't stop raving about his star pupil. Sometimes it's hard to separate how much potential an athlete has and what is a coach's enthusiasm.
"On the court, she's exactly what you want a 'best player' to be," Stadem said in May 2013. "We spend a lot of time talking to our kids about being either a Type A person or a Type B person. Type A is the hardest working with the best etiquette who wants to work really hard. When you have a person who is that and is so gifted athletically, that's going to be a great player.
"And that's what Jessica January is."
Stadem couldn't have been more right.
Just ask Louisville.
On a day where there were a number of different scenarios that could have crumbled DePaul, January came through for the Blue Demons to lift them to the Sweet Sixteen for the second time in three years with a 73-72 win over Louisville.
Her presence was felt everywhere on the court.  Twenty-five points. Eight rebounds. Five assists.
But it's the last point of her 25 — a game-deciding free-throw — that won it for the Blue Demons. That's what star players are capable of doing — lifting their team when they need it the most.
And January did it in the toughest atmosphere DePaul's seen all year — 7,515 screaming Louisville fans. Those voices weren't any louder than when January went to the line for two with 15 seconds left in a tied game.
"It was a little tough, but that's what basketball is," January said. "You've got to handle adversity. It's how you handle it that makes the team."
There was adversity from every angle for the Blue Demons on Sunday. The Cardinals rushed out to a 7-0 lead. Stay calm.
Megan Podkowa sits early with two fouls. Don't panic.  Louisville opens the second half with a scoring barrage. Answer back.  The Cardinals erase a 10-point DePaul lead. Just finish this.
Each time DePaul needed an answer, January was there.  She slashed the lane, capitalizing on every subtle Louisville mistake. Her shot was effortless, beginning the game 7-for-10.
It's the nature of sports to be competitive and on every play, January's competitiveness bled through.
"Defense is where you're asked to compete, and I'm really competitive. So I like defense," January said. "(I'm competitive with) anything. 'Oh you want to race me to the car?' I'm there first. 'You want to eat more food than me?' I can do that."
January's father, Montral, watched as her competitiveness helped January thrive at an early stage. He noticed that it could lift her "to anything she wanted to." January's parents often make the trip from Minnesota to every home game that she plays in, and the tournament was no exception.
"Basketball is something she loves doing," he said. "We played basketball. We played softball. We played volleyball. We played track. She got a little older and she fell in love with the teammate aspect of it."
Montral January isn't kidding when he says his daughter loves her teammates. Ask January any question, and she'll often go out of her way to mention her teammates. It's a basketball cliché at this point, but January refuses to break the mold.
"That's 'DePaul Ball,'" January said, smiling. "That's what it's about. It's never about one person. It's the team."
January, however, quickly became very valuable to the Blue Demons the moment she arrived on campus. During her freshman year, January played a valuable role off the bench and had moments where she thrived.
The following year, there was an even larger learning curve when she was thrust into the starting lineup after DePaul's best shooter, Megan Rogowski, suffered a year ending knee injury.  January's growth in her game was notable.
"Jessica's gotten herself comfortable," DePaul head coach Doug Bruno said. "It's experience as you get older and are used to playing more and having more opportunities."
January got plenty of opportunities in the second round of the NCAA tournament. Louisville head coach Jeff Walz said January was the difference in the ball game.
"She's the one that really put some pressure on us, and she made tough shots," Walz said. "She made some really tough shots over the top of people."
Those shots have propelled DePaul into the Sweet Sixteen. The trip to Dallas will be January's second trip to that round. However, she admits that she barely remembers the first trip. She said the unpredictable pace of being a freshman made it "kind of a blur."
But January has made sure to enjoy the ride with her teammates, even when the crowd is against her.
"I wasn't nervous because I knew my teammates had their trust in me," January said. "It was amazing playing in front of all these people. We never get to play in front of all these people. Even though it was unbelievable, it was tough. But it was fun. That's what comes with the game."