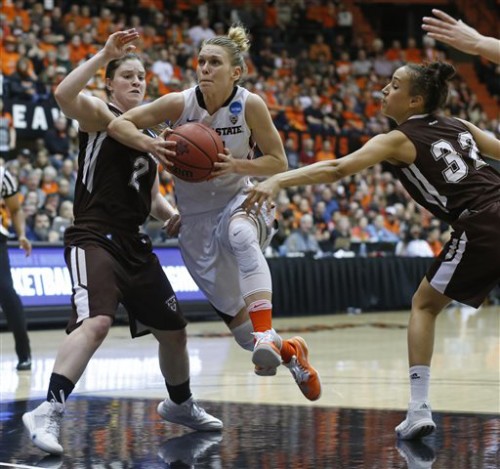 It's no surprise that once a team gets into the NCAA tournament, the level of opposition is dramatically increased. The players and coaches in the tournament are the best of the best in college basketball, and DePaul has been well aware of this so far.
In the first round game against James Madison University, the Blue Demons were pitted against the Colonial Athletic Association (CAA) Player of the Year in Jazmon Gwathmey – they limited her to 19 points shooting 8-17 from the floor, and held the 6-foot-2 guard to just three rebounds.
The next game against Louisville, DePaul again was tasked with dealing with Atlantic Coast Conference (ACC) Player of the Year Myisha Hines-Allen. What'd the Blue Demons do? Hines-Allen scored just four points over the final 30 minutes of the game after opening the first quarter with 10.
Two games against players of the year – two wins.
"In the game against Louisville, our goal was to keep Myisha Hines-Allen in a mortal place, and Jacqui (Grant) did that," DePaul coach Doug Bruno said. "Our goal against Gwathmey was to keep her in a mortal place, not one of these game where the kid from Ohio State – Kelsey Mitchell – gets 45 (points)."
Next up for DePaul is Oregon State, which boasts both the PAC-12 Player of the Year in Jamie Weisner and PAC-12 Defensive Player of the Year in Ruth Hamblin. Keeping them in a mortal place, as Bruno put it, will be difficult. Add in Sydney Wiese and the Beavers have a dangerous trio similar to DePaul's.
Chanise Jenkins knows Hamblin and Wiese very well, having played with or against them at the World University Team Games. Hamblin represented Canada while Jenkins and Wiese represented the United States. While it may be intimidating for some going up against nationally recognized players in three-straight games, Jenkins doesn't feel any pressure; she is the Big East Player of the Year herself.
"It doesn't make me play any differently. I'm still going to play to the best of my abilities to help my team win," Jenkins said. "There's not any pressure, it's not a mental side note like, 'Oh, you have to outplay them because you're the player of the year too.' It doesn't work that way."
While Jenkins and Jessica January will likely be on Wiese and Weisner duties, it's up to Grant from the opening tipoff to handle the 6-foot-6 Hamblin. Having played two seasons at the University of Illinois before transferring to DePaul, Grant feels like she's comfortable playing against bigger inside players.
"Right now, she's the best player in America to me. Definitely having (Big Ten experience) under my belt, having played against those big girls definitely had me feeling a little bit more confident," Grant said.
Bruno doesn't make much of Grant's prior experience against Big Ten opposition; he says she's gained plenty of experience her first year at DePaul.
"Jacqui has had experience this year against Myisha Hines-Allen…she's had experience this year in South Bend against Notre Dame's (big players), she's had experience against Breanna Stewart from UConn, she's had experience against the big's at Texas A&M, so she's had experience against some really talented players this year," Bruno said. "I thought she did a great job the other day fighting and battling Myisha Hines-Allen and I think that's the experience that we really should be worried about."
Megan Podkowa thinks the team as a whole is up for the challenge of playing against the players of the year. She admits any team in the country would love to have players like Hamblin and Weisner, but that won't discourage them at all come Saturday.
"It's huge that they have the players of the year…but I think we've had experience playing against the girls from Louisville and James Madison," Podkowa said. "And, we have a player of the year on our team too, so I think we'll be ready."