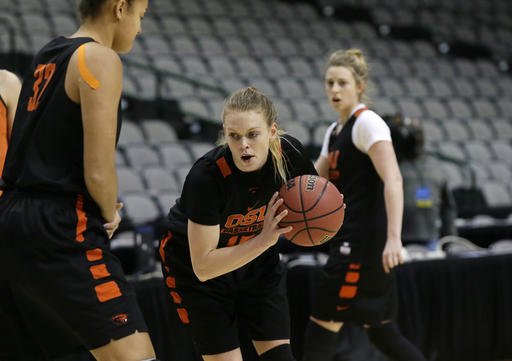 DALLAS — Against No. 3 Louisville in the second round of the NCAA tournament, the key to success was not allowing the Cardinals to dramatically out-rebound DePaul and limiting the play of Atlantic Coast Conference Player of the Year Myisha Hines-Allen.
They did just that by keeping the rebounding margin to 37-29, in favor of Louisville, and holding Hines-Allen to just four points over the final three quarters.
Up next is No. 2 Oregon State and it's going to take a similar effort – and then some – to upset the Beavers.
"They're really big … so they're really tough to box out and defend," Megan Podkowa said. "That height adds a different level to their game. Rebounding and defending will be the biggest keys."
"We've seen a lot of them on tape," DePaul coach Doug Bruno said. "They've got the PAC-12 Player of the Year in Jamie Weisner and they have Sydney Wiese, who is another very talented backcourt player. They're just overall a really well coached team."
Weisner averaged 17 points per game and 5.4 rebounds per game en route to capturing her conference's player of the year award this season. Wiese was just behind her with 12.5 points, 5 assists and 5.9 rebounds per game.
Not only do the Beavers have two outstanding guards, they have one of the best inside presences in the game in Ruth Hamblin who is scoring 11.9 points per game, grabbing 9.9 rebounds per game and swatting away 3.4 blocks per game. The 6-foot-6 center from Canada has been a force not many have been able to stop in the PAC-12.
"I think anyone would love to have a girl like her on the team," Podkowa said. "They can lob it in to her, she makes layups, she rebounds, she has some moves in the post, so she's definitely going to be a really difficult matchup."
Oregon State's scoring defense is the fourth best in the nation holding teams to just 50.4 points per game, while DePaul has the nations sixth best scoring offense averaging 81.2 points per game. The Beavers also boast the best field goal defense in the country limiting teams to shoot just 31 percent per game.
"The Big East has prepared us (and) our non-conference schedule has prepared us to play some of the best defensive teams in the country," Bruno said. "Defensively speaking, you don't get much better than playing against UConn, Notre Dame, Baylor, and then all of the teams in the Big East. I think our players are going to be ready to go."
[Read more coverage of the 2016 NCAA tournament]
One thing that gives the Blue Demons a bit of an advantage leading up to the Sweet Sixteen they didn't have leading up to the games against James Madison University and Louisville is spring break. Dealing with finals was stressful on top of preparing to play in the NCAA tournament – this time the focus is purely on Oregon State.
"We're not really torn between what is our main priority right now, so just being out of finals and bring on spring break, we get to focus solely on the games now," Chanise Jenkins said.
Limiting one of the two stars – Weisner and Hamblin – is the key factor to success. It would be impossible to ask a team to shut down the PAC-12 Player of the Year and Defensive Player of the Year in the same game, but keeping one at check is doable. Keeping the rebounding margin close, as in the Louisville game, will be important too.
Ultimately, it will come down to experience and there's no coach or program in this regional with more of it than DePaul. Bruno is coaching in his 14th consecutive NCAA tournament and the Blue Demons' big three of Podkowa, Jenkins and Jessica January are featuring in their second Sweet Sixteen in three years. Career experience, coupled with experience throughout the season playing some of the toughest teams in the nation is what can give DePaul its first Elite Eight appearance ever.
"To be able to make history here at DePaul would be awesome. I think coach Bruno has done a really good job preparing us for road games and how to win on the road with the tough schedule that we played earlier in the season – at Notre Dame, at Baylor, at Texas A&M, at Northwestern," Podkowa said. "I think that's why we're so good on the road and we'll have a lot of confidence going into this game."
DePaul plays Oregon State at 5:30 p.m. in Dallas. The game will be broadcast on ESPN.