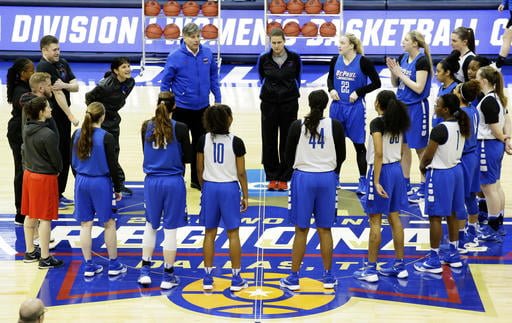 DALLAS — Megan Podkowa and Chanise Jenkins' careers have come to an end.
"This is the true Senior Day. Everybody has Senior Day at campus, but this is the true Senior Day, the last game of the seniors' careers," DePaul coach Doug Bruno said. "They are the first set of seniors to graduate that's helped our team go to two Sweet Sixteen's. They've been able to do something that nobody else has been able to achieve."
While the duo may have had a forgettable NCAA tournament performance this year – combining for just 45 points, 22 rebounds and 23 assists in three games – their career contributions to the program are unforgettable.
Podkowa and Jenkins led the team to a pair of Sweet Sixteen appearances in three years, along with a pair of Big East regular season titles and Big East Tournament championships.
"I think my career has been amazing here with the Sweet Sixteen's and tournament championships," Podkowa said.
She leaves with a Big East Tournament MVP from the 2015 win, Big East All-Academic recognition, Big East Scholar-Athlete of the Year and averages of 13.6 points, 7.8 rebounds and 3.1 assists per game her senior year.
Jenkins exits the program with the most appearances all-time with her 141st coming against Oregon State in the Sweet Sixteen and finishes her career as the Big East Player of the Year averaging 14.5 points, 3.3 rebounds and five assists per game as a senior. Like Podkowa, she loved winning titles and making the NCAA tournament runs, but it's her early times at the school she remembers the most.
"Myself first committing to DePaul, being in the conference room with the current DePaul players that were there and verbally committing to coach Bruno and the team and just every game we've won," Jenkins said. "I cherished every moment with my teammates and I couldn't thank them enough for the amazing five years I've had at DePaul."
While the basketball-related memories are most prevalent, it's the non-basketball activities they both say they'll miss the most.
"Having like 12 or 13 sisters … when I was crying in the media room, having Jess and Chanise there to hug me pick me up, that's the thing I'll miss the most," Podkowa said.
Jenkins echoed the family aspect of the team, but knows leaving won't change anything.
"Every behind the scenes party or action we've ever had in our dorm rooms, every single moment that I've had – doesn't matter if it was sad or happy or anything like that," Jenkins said.
"Just having that sisterhood and that feeling of knowing that you're miles away from home, you still have your sisters there right behind you and you can just walk upstairs to their room or walk downstairs to their room … it's just a great feeling to know that someone's always going to be there for you. To know that our friendship is going to last throughout the years is amazing."
Losing two players of Jenkins and Podkowa's talent is tough on any team. As the heart and soul of the Blue Demons their senior year, seeing that leave on a sour note is never easy. Bruno knows what type of players he's losing, but more so the type of people he's seeing graduate.
"They've given themselves, they've given each other and they've given DePaul a very, very great season," Bruno said. "I'm really, really proud of them as people.
"It's going to be hard to replace these two special seniors."