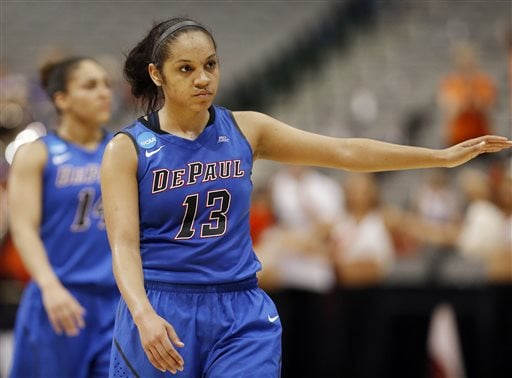 DALLAS — After the loss to Oregon State in the Sweet Sixteen, DePaul coach Doug Bruno didn't seem as distraught as most coaches would be after seeing their season come to a close. Sure he's losing two seniors who have impacted the team immensely over the past few years, but what lies ahead is cause for optimism.
Bruno's culture
There are just seven active NCAA women's basketball coaches with longer careers at one school than Bruno. The experience he's gained in 30 years at DePaul is invaluable and it's taught him how to handle any situation, good or bad. His approach to a season ending is likely based on what he's learned after three decades with the Blue Demons.
"Every season is a new season. Every team is a new team," DePaul coach Doug Bruno said. "Every season has a life of its own."
The culture Bruno has created during his time at DePaul is a constant stream of success, regardless of what happens the season prior or whom he loses at its conclusion. Fourteen consecutive NCAA tournament appearances do not come with luck, nor does it normally come at schools without a steady stream of four-star and five-star athletes. In fact, only Connecticut, Notre Dame, Stanford, Tennessee and Oklahoma can claim a similar streak to DePaul's.
"In women's basketball if you don't win a national championship, nobody knows who you are," Bruno said, "That's not a function of us at DePaul … that's a function of our great sport."
National titles aren't something Bruno worries about each season because he isn't at Connecticut or Notre Dame. His beliefs are to grow his athletes, grow his program, but most importantly, grow the sport of women's basketball as much as he can.
Even without the McDonald's All-Americans some other elite programs recruit each year, Bruno has managed to keep DePaul consistently in the top-10 in scoring and assists. The program he's built and maintains in Chicago is among the best in the nation, even without the recognition it deserves.
Looking Ahead
Losing Megan Podkowa and Chanise Jenkins will certainly leave a void for the team to fill. The same was said after the 2013-14 season when Jasmine Penny graduated, but her leadership was instantly replaced with Brittany Hrynko and Megan Rogowski the following year. When they graduated, Podkowa and Jenkins stepped in to lead.
Next year, players like Jessica January, Brooke Schulte and Jacqui Grant will take the reins and lead the Blue Demons.
No matter what, Bruno finds a way to replace seemingly irreplaceable players with either new recruits or players making dramatic progress in the offseason. He's always done a great job involving the distant and immediate future for the team throughout the season.
Take sophomore Lauren Prochaska, who will be one of Bruno's options to slot into Jenkins' position in the starting five next season at guard. Earlier in the season against Chicago State, Bruno handed over the team to Prochaska in the fourth quarter and allowed her to get a taste of what she'd be in for alongside January.
Another option he will have at that position is incoming freshman Kelly Campbell. The 5-foot-9 guard can command the floor and score from anywhere on the court. Whoever Bruno ends up going with will have big shoes to fill.
January will undoubtedly replace Jenkins' role as a leader on the team. Though the team's mentality is focused on sharing the ball, January will be the focal point of the offense throughout next season due to her uncanny ability to distribute the ball effortlessly and score both in the paint and from deep.
As for Podkowa, sophomore Mart'e Grays will probably be the forward to replace her, especially after her impressive NCAA tournament play. Grays notched her first double-double against No. 11 James Madison in the first round with a line of 16 points, 10 rebounds and four assists, followed that up with nine points, four rebounds and three assists against No. 3 Louisville and capped it off with a 14-point, six-rebound performance against No. 2 Oregon State.
Though, it was her outstanding defensive play to frustrate Atlantic Coast Conference Player of the Year Myisha Hines-Allen that really stood out. That, and banking in a 3-pointer in consecutive games. She already has one eye on the 2016-17 season.
"We're going to come in and focus," Grays said. "Even though we're only losing two (players), we have to come back ready with the same focus and same intensity and hope to start another great season."
The other two players to round of the starting five next year will be Schulte and Grant.
Schulte led the team in rebounding against Oregon State, which shows her versatility as a guard to not only knock down shots when needed, but also be a presence on the boards. She believes Podkowa and Jenkins' roles leading the way has brushed off to better not only her, but the team as a whole.
"I think with the leadership we've had with our seniors, everyone on the team has been phenomenal. They got us where we are today," Schulte said. "With their positivity and their leadership, along with our great coaching staff, we're going to build off that and because I've been playing with them for four years and they've rubbed off on me."
[Read more NCAA tournament coverage]
Grant accumulated 33 points and 12 points in three NCAA tournament games. What really showed the type of player she can be for DePaul next season is the way she started off the game against Oregon State scoring the team's first seven points and not letting PAC-12 Defensive Player of the Year Ruth Hamblin have much success on offense or defense in the first half. Just having that sort of confidence to end a season will only carry her into the offseason and next season on a high note.
"We're all really motivated. We'll have a big senior class next year, so a lot of us are going to be really motivated this summer and getting better in the gym and really working hard," Grant said. "We've got a lot of freshmen coming in, so we've got to teach them our ways and we're definitely going to strive for more."
Two of the incoming freshmen for DePaul are Chante Stonewall and Campbell. The three-star guards are rated 90 and 89 respectively on ESPN's high school women's basketball recruiting page and bring an immediate scoring threat to DePaul's offense. Stonewall is from University High School in Normal, Ill. and Campbell comes in from Saint John Vianney High School in Holmdel, N.J.
Same Goal
DePaul will have four seniors and four juniors next season who have had a taste of NCAA tournament success. After playing a difficult schedule this year facing several top-10 teams throughout the season, Grant feels like it only helps them moving forward to play against the best.
"We want to show how tough and confident we are in ourselves that we can play with these teams," Grant said. "There's (Connecticut) and Notre Dame who are really good and then there's everyone else.
"We want to be on top of everyone else, then contend with (Connecticut)."