Men's tennis dispatches of Xavier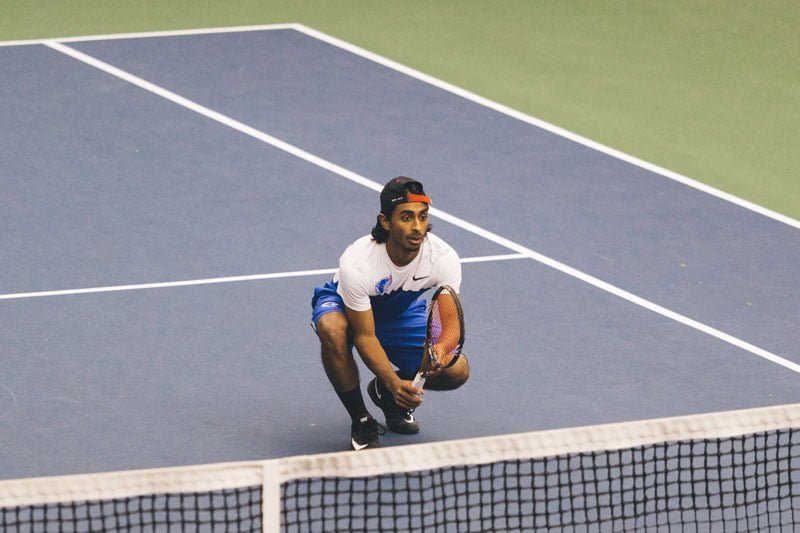 The DePaul men's tennis team remained undefeated in Big East conference play with a 4-3 win over Xavier University on Friday evening at Lakeshore Sport and Fitness Club. It was the team's sixth consecutive win against its conference rival.
"The guys got the double point today, which was vital," head coach Matt Brothers said. "The momentum of that first point typically proves to be key. We got off on the right foot today."
The Blue Demons won the first doubles match, thanks to the No. 3 doubles pair,  Alex Galoustian and Jan-Willem Feilzer, who made quick work of their opponents 6-3. After Paul John and Conor O'Meara narrowly dropped the No. 1 doubles match 6-4, it was up to the upperclassmen, Sten Leusink and Nathan de Veer to clinch the doubles point at No. 2. The Dutch tandem took a commanding 3-1 lead after an early break and didn't waver as they went on to clinch the point with a 6-4 win.
After capturing the critical doubles point to put DePaul ahead, the squad carried the momentum into singles play.
"Winning the doubles point was really important for us. The energy was really good," John said. "The energy from doubles helped us get off onto a good start in singles."
DePaul quickly jumped out to a 2-0 lead after de Veer's efficient 6-1, 6-2 win over Xavier's Gabriel Chaves Araujo. The Demons got their third team point from Leusink, who's been battling sickness and various injuries all season. The Lijnden, Holland native snapped a six-match losing streak with a win over the reigning Big East Player of the Year Zach Mueck.
"I've played him before, so I knew how to play him. I started off with a game plan that wasn't how I suppose to play," Leusink said in regards to starting the match down 1-3. "He started off well, but I broke him back with my new game plan and then I had him under control for the rest of the match."
Xavier wasn't quite ready to give up the fight, as they rebounded with two commanding, straight-set singles wins at No. 3 and No. 4. It was up to seniors Kyle Johnson and John to clinch the match, as they battled it out at No. 2 and No. 6 singles respectively.
After a breezy 6-2 first set win, it seemed John would take the match uncontestedly. However, his opponent Jack Dykena elevated his game in the second set and pushed the Canadian to the brink. Ultimately, John's experience helped him overcome his feisty opponent in the tiebreak and clinch the match at 4-2.
Johnson was the last Demon to finish. He had a good fight at No. 2, ultimately losing two tight tiebreak sets 7-6, (6), 7-4 (4).
DePaul's win over Xavier is only its seventh win of the season, but the team still remains undefeated in conference play. The remainder of its season will be conference matches played at home, which Brothers referred to as "conference season."
Brothers said that Friday's win was huge for the team, especially considering the squad's myriad of health struggles this season.
"I have a lot of confidence in these guys if we're a complete team and everyone physically is ready to go," Brothers said. "It's just been an anomaly of a year where we've only had a few matches where all of our top guys are (completely healthy)."
Despite the ailing team, the players are still keen to finish out the season strongly.
"I'm trying to get myself playing well, especially after my sickness for a couple of weeks," Leusink said. "I'm trying to get the others guys going as well. I tell the guys… we have four more weeks, so let's just give it our all and try to win the Big East."
The Blue Demons are back on their home court at the Lakeshore Sport and Fitness Club on April 16 against Creighton University.