With less than six months until the Olympic cauldron is lit in Rio de Janeiro, it seems odd to consider how close Chicago once was considered to be in the same position. Thought to be an early favorite, Chicago's Olympic aspirations for 2016 were cut short when the International Olympic Committee selected Rio de Janeiro in 2009.
One thing is for certain: a victory for Chicago would have meant major changes and projects would have been nearing completion by this point. Some of these changes would have altered neighborhoods in considerable ways.
The center for the games would have been a new 80,000-seat track and field stadium in Washington Park. The stadium would have also played host to the opening and closing ceremonies. Also proposed for Washington Park was an aquatics center that would have hosted swimming and diving events.
After the Olympics, the main stadium was to be deconstructed and replaced with a smaller 10,000-seat venue.
On the city's West Side, Douglas Park would have been the site of a velodrome for cycling competitions.
DePaul political science professor Larry Bennett suggests that out of all of the city's neighborhoods, Washington Park would have been impacted the most.
"But in terms of the velodrome in Douglas Park, it's very specialized," Bennett said. "It's not an easy thing to convert. You can't play basketball in a velodrome, so I'd question its long term impact on the area."
One of the bid's selling points was the considerable amount of existing venues and facilities. McCormick Place would have been utilized for weightlifting and judo competitions, and Soldier Field would have played host to soccer matches.
But the Olympics can bring more than just the construction of sporting venues. A more controversial aspect of Chicago's bid surrounded the proposed site of the Olympic Village, which would have housed the majority of athletes.
Originally, the plan was to build the Olympic Village near McCormick place. But the city did an about-face when the site of the former Michael Reese Hospital became available. According to a 2009 Chicago Tribune report, the city purchased the land for $86 million a few months prior to the host city selection.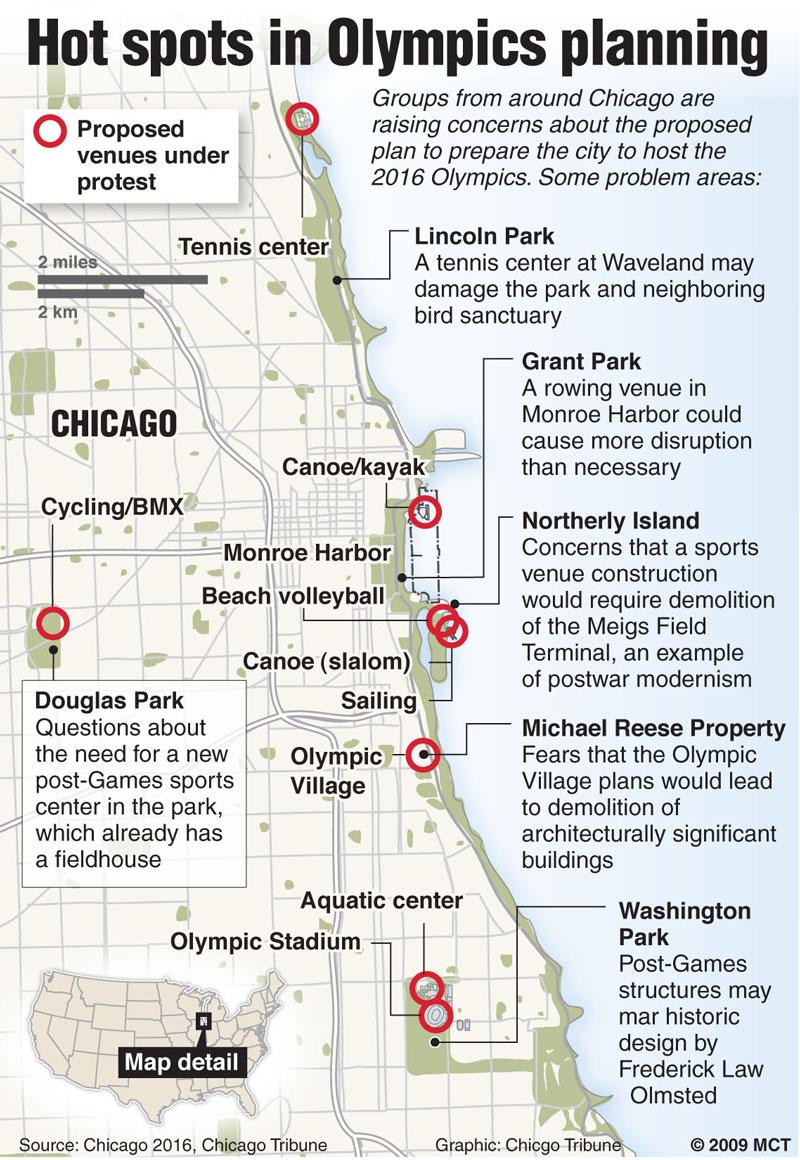 Following the Olympics, the site would have been redeveloped for use as mixed-income housing and retail. The impact on the surrounding area caused some debate and concern.
"While it is pure speculation, various organizations and political figures that worked in and represent the Bronzeville community were excited to learn that mixed-income housing would follow in the aftermath of the Michael Reese site's usage for Olympic Village housing," Michael Bennett, a DePaul political sceince professor said.
"They discussed the way in which that residential addition could augment housing choices that are currently available in Lake Meadows and South Commons housing developments and perhaps spark new demand for struggling commercial establishments in the area," Bennett said.
Some were concerned that development could have spurred gentrification.
"However, there were others who feared the specter of gentrification that often accompanies any new housing development in an area that is in such close proximity to the Loop and that has growing demands for more upscale housing from institutional interests such as Mercy Hospital, the Illinois Institute of Technology and the University of Chicago," Bennett said.
Both professors Larry Bennett and Michael Bennett worked on a 2008 study of the bid that examined expenses and the potential impact of Chicago playing host to the world's largest sporting event.
Their study found that the majority of neighborhoods that would have likely had the largest number of Olympic venues were also areas of high poverty in the city.
Using data from the 2000 census, the study found that over half of residents in Washington Park, the would-be site of the main stadium, live below the poverty line.
One plausible theory regarding changes to the city would have been Chicago's transportation and infrastructure.
Former Chicago Tribune reporter Philip Hersh covered the Olympics for more than 30 years. Hersh said the bid committee faced a challenge selling the prospect of infrastructure improvements to the public, however.
"If you want to look at possible longer term changes, look at transportation. One almost certain benefit to hosting the games would have been that the government likely would have freed up funds for infrastructure work," Hersh said. "And with Obama's influence, this could have been done. But Chicago 2016 had a hard time selling this to the public. They couldn't promise that money would be freed up."
If we continue to play the hypothetical game of Chicago hosting the 2016 Olympics, what would DePaul's role have been in the games?
DePaul president Rev. Dennis Holtschneider, C.M. was a member of the bid's exploratory committee. Holtschneider explained that DePaul students could have played a bit of a part in the games.
"The Olympic Bid Committee was planning to invite Chicago's college students as both volunteers and temporary employees, working in every area from athletics management, hospitality, translation services and more.  Our students would have had many opportunities to work on the Olympics," Holtschneider said in an email.
Though the majority of venues were located away from DePaul's campus, the question of DePaul using the venues after the Olympics was discussed.
"DePaul was asked if we had any intentions of forming swim or diving teams that could use those Olympic facilities afterwards.  We said no.  We were also asked if our track program would be interested in using the track facility slated for Washington Park.  We responded that we'd be glad to rent the facility from time-to-time to host Big East and NCAA track meets," Holtschneider said.
So why did the bid fail? Despite some indications during the bid process that Chicago was a favorite, something clearly derailed the city. Communication professor Michael Conklin expressed the thought that Chicago approached the bid from the wrong direction.
"In my estimation, Chicago did not get the 2016 Summer Games because it worked its campaign too much from the top down instead of the bottom up," Conklin said.
"While it collected seemingly high-profile endorsements, made global treks for presentations and put on a great dog-and-pony show hosting the selection committee, it did not connect directly with enough IOC voters, a mixed bag of mostly amateur, part-time, unsophisticated administrators of athletics in second and third world countries," Conklin said.
But both Conklin and Hersh said Chicago had one more thing working against it: the lure of South America. Despite a very capable bid from Chicago, with Rio de Janeiro, the Olympics could venture to South America for the first time exposing the world's largest sporting event to a new continent; a thought that could have made Olympic marketers and sponsors eager to reach a new audience.
"Chicago clearly met the standards, it would have been far superior to Brazil. But it lost because the fix was in for Brazil, and former IOC president Jacques Rogge wanted the first Olympics in Brazil," Hersh said. "But the actual Chicago bid was an excellent bid and it undoubtedly would have been carried out well."
Perhaps the bid's largest proponent was Mayor Richard M. Daley. A Chicago Olympics could have capped off a Daley legacy.
"I think it is likely Mayor Daley would've run, and won, re-election if Chicago got the Summer Games," Conklin said. "Our bid was huge with him. Don't forget the World Cup opening ceremonies in 1994 were held here, along with several of the matches. He was impressed with that."
"Most mayors love big events in their cities," Conklin said. "It's a good way to defer attention from problems, but, in this case, I think it also would've been profitable for Chicago. This was the case for Atlanta in 1996, the last time the Summer Games were held in the U.S. Most of the facilities to be used for competition already existed in Chicago."
A change in administration has also appeared to hurt any chance of a future bid. Mayor Rahm Emanuel's current administration has made no plans to pursue a bid.
"Rahm Emanuel is not really that different from Richard Daley," Conklin said, concerning the differences in leadership between Daley and Emanuel. "After all, he got his start in politics working for Daley. If Rahm is a different mayor, it is because he is facing different problems than Mayor Daley. In effect, he is faced with paying debts left by Daley. If the tables were turned, Daley would be making many of the same decisions being made by Rahm."
However, the United States is in the running to host the 2024 games. After public opinion showed deep opposition, Boston pulled out of the running last summer. Two-time summer Olympic host Los Angeles stepped in as the American entrant in the race. Los Angeles will face off against Paris, Rome and Budapest in a contest that will be decided next year.
"The irony of Chicago not getting the Summer Games is this: If it had stuck to it and tried again, I am confident they would be coming here in 2020. Historically, cities are unsuccessful sometimes two to three times before they finally land them," Conklin said.
For Los Angeles, it's another shot at playing host. Chicago edged out Los Angeles as the United States' 2016 pick.
Los Angeles is also seen by some as a potential savior to the Olympic movement as a whole at a time when many cities, and nations, are questioning the practicality of playing host. For the 2022 Winter Olympics, Oslo, Stockholm, Krakow and Lviv, Ukraine all dropped out, while a public referendum kept Munich from even competing. Regardless, Chicago won't be the city to restore faith in the Olympic movement.
"It would take Los Angeles to win and do well with them. If L.A. can't do it, nobody can. The city has dramatically transformed itself since 1984," Hersh said, referring to the last time Los Angeles hosted the Summer Olympics.
For the foreseeable future, the world's largest sporting event will not be stopping in Chicago. If you find yourself in Douglas Park or Washington Park, consider the Chicago Olympics that almost once were.