The track athlete who beat cancer and dreams of an animation career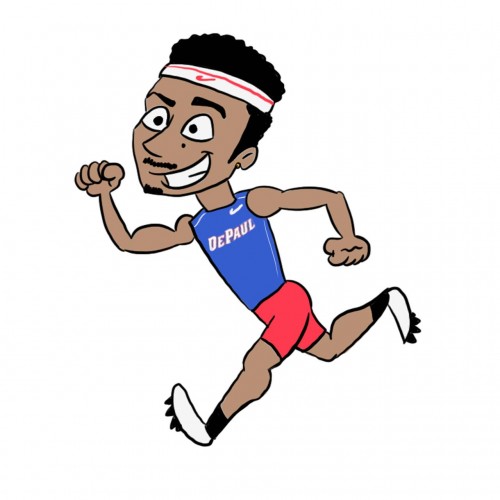 Googling "Chaz Bottoms" probably isn't a common experience for students at DePaul. If you decided to search that two-word phrase — maybe you overheard someone say it at a party, it's probably a name but you're not entirely sure — what you would find would vary dramatically based on what you clicked on.
If you clicked on the first link, you would find "Chaz Bottoms," the student and talented track athlete. You would read about Chaz's accolades as a sprinter. Through his sophomore season, he has already won two Big East championships in the 4x400m and been awarded a spot on the Big East All-Academic Team.
If you clicked on the second or third link, you would be sent to chazbottoms.com and the Youtube page "CBTV." There, you would find animated shorts such as "Superman Vs. The Daily Planet" and "A Walk to School." As a filmmaker and animator, Bottoms has won awards such as "Best Student Short" in the Gary International Black Film Festival and "First Prize" in the Spring Creek Film Festival.
Just the Internet search alone would reveal a nigh-impossible combination of traits: student, athlete and filmmaker. In fact, Bottoms is the only student at DePaul who embodies all of those traits. But, improbable as it may be, there's more to Bottoms.
At the age of six, Bottoms lost his father to liver cancer. To Bottoms, his father became his "guardian angel." Even as a child, he used hardship as motivation.
"I just loved cartoons growing up, I loved to draw," Bottoms said. "I used to make my own little common books and little books. So I taught myself animation when I was seven or eight years old." At that age, Bottoms was supposed to be the consumer of cartoons, not the producer.
He spent much of his time watching DVD special features on animation and reading books like Disney's "The Art of Animation."
Bottoms knew early on that he could compete in track and field at the collegiate level. In high school, Bottoms was a four-year letter winner at Saint Bennedictine High School in Cleveland, Ohio. His senior year, he sent an email to the DePaul track and field coach, Stephanie Townsend, and six months later signed a letter of intent to run for DePaul.
During a routine physical, doctors discovered a lump on Bottom's right testicle. He was in the first stage of testicular cancer. It was his third week at DePaul. One week later, Bottoms had surgery.
"It was one of those things where it all happened so fast that it didn't hit me at first until the day of the surgery," Bottoms said. "It hit me when my family was there."
"I was about to get into my scrubs and (doctors are) about to stick me with anesthesia, it was my last conscious moment and my (step) dad said a prayer, hoping the surgery went well and everything. It was at that moment that I kind of had a mini breakdown."
The surgery was successful and Bottoms never needed chemo.
Many people might perceive cancer and surgery as reasons to alter their lifestyles. Perhaps cancer could be seen as a sign to quit. Bottoms never quit, competing for DePaul that same season.
"If anything, this proves to me that I was meant to be here," Bottoms said. "I'm going to make the most of my time while I'm here, whether it be with film or track, I'm going to make the most of it."
Bottoms credits much of his recovery to his competitive nature. However, Bottoms believes he is just as creative as he is competitive. Possibly the most impressive feat Bottoms accomplished was conflating the two sides of himself.
"Competitive nature in animation is just wanting to create the best product or the best film, or the best representation of the idea you want to leave with your audience," Bottoms said. "With track, there are times when you realize, 'okay, the way I've been told to run the race, that doesn't really work for me. I've hit that wall.' So, you continue to get better on the track by using different ways, techniques, methods and you can get creative with that."
Bottoms does not wish to pursue a professional career with track and field. While he's at DePaul, he wishes to be one of the first captains of the team to win the Big East championship.
As a filmmaker, Bottoms is working on his reel to submit to internships and studios like the rest of his peers. He hopes to one day fulfill his life-long dream of working in a studio.
After beating cancer, how tough can a few studio executives really be?