Frats, other groups say sexual assault prevention is 'on all of us'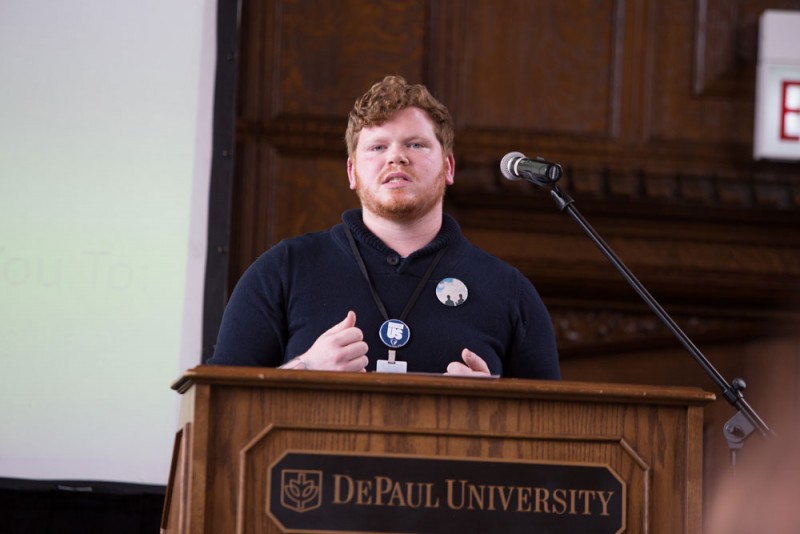 The ornate decorations of Cortelyou Commons were in contrast with the topic those in the wood-paneled room were discussing on Friday. The building, on the outskirts of DePaul's Lincoln Park campus represents the old school, the traditions that have stayed. But those present — members of Sigma Phi Epsilon (SigEp) and other fraternities and sororities — were there to discuss a new way of dealing with an age-old problem: sexual assault.
The issue is one that has drawn the attention of the city, as well as the state, and in April, national Sexual Assault Awareness Month (SAAM), organizations at various levels get to make their grievances more visible and create plans to address them. Though DePaul's activist community and the Office of Health Promotion and Wellness took on the prevention of sexual assaults, state lawmakers and advocacy groups around campus have in essence done the same by applying the statement "it's on us" to themselves, too.
The theme for this year's SAAM focused on the possibility of prevention and the need for conversations to break old traditions of victim blaming, as well as the importance of consent. SigEp hosted and led Friday's discussion in conjunction with the Office of Health Promotion and Wellness, but other student groups and offices, such as the athletic department, have taken part in the national campaign.
The initiative has garnered support from celebrities and companies, as well as the White House. The pledge is a personal commitment to help keep people safe from sexual assault, and, according to the site, "it is a promise not to be a bystander to the problem, but to be a part of the solution."
Though incidences of sexual assault at DePaul have not been under the national media's spotlight, there has been media attention surrounding the handling of sexual assaults locally.
"Just because we haven't had a sexual assault like those at University of Virginia or schools in California, doesn't mean we can't show that this matters to us," Suhayl Dhumadia, a member of Sigma Phi Epsilon (SigEp), said. "We're trying to be not only the best frat on campus, but the best organization and that only happens when we take a stance on issues that matter to us and to the campus."
Dhumadia helped organize SigEp's "It's On Us" event, which brought in Brendan Yukins, a survivor and the prevention educator of Rape Victim Advocates (RVA), an organization dedicated to supporting sexual assault survivors, to talk about the importance of talking about sexual assault and the perpetuation of rape culture.
The work of the two groups coincides with Feminist Front's message to remove the onus of prevention from the victim, or survivor, and place it on the accused, as well as environments that allow rape to occur and go unresolved.
In 2014, the most recent data from the school, DePaul reported 19 sexual offenses between its Lincoln Park, Loop and residential facilities. In 2013, across all of DePaul's reported campuses, there were only nine. In the time since these statistics were released, DePaul announced a new Title IX coordinator and, more recently, a Title IX investigator, a role DePaul has never had before.
There are still gaps to bridge, however, and members of SigEp are not the only ones identifying the problem and trying to apply solutions.
State lawmakers also seem to be taking the "It's On Us" pledge, proposing and in one instance passing legislation to prevent sexual violence in colleges and universities. The Preventing Sexual Violence in Higher Education Act, passed in 2015, stated that Aug. 1, 2016, all higher education institutions shall adopt comprehensive sexual and relationship violence policies. This must include, at a minimum, a definition of consent, procedures pertaining to what happens if students report a sexual assault and an institutional procedure for addressing those reports among other things. 
Since the issues of sexual assault go much further than DePaul's campuses, bills have been proposed at the state level to help survivors. Broadening the conversation of prevention coincides with sexual assault prevention policies at other schools in order to reduce the number of students affected.
State Rep. David Harris proposed the Investigations of Sexual Assault in Higher Education Act, which aims to turn over the investigations of sexual assaults at campuses with a campus police department over to municipal police forces. By doing this, Harris said, cases may get a more thorough investigation.
"I question whether or not university and college police departments are doing an adequate job investigating this," Harris said. "I think a major question is whether or not there is a bias to not push this or make it highly visible at these schools. Municipal police are highly trained to deal with these things."
DePaul's public safety department would not be directly affected by this legislation since it does not have a campus police force. Student responses to public safety do coincide with some of the major reasons why the act was first proposed.
"Sexual and relationship violence prevention and response work is undertaken through close collaboration among many campus departments, student organizations and community agencies," Bob Wachowski, director of public safety, said.
The notion of close collaboration between groups and departments is not solely for public safety and the administrative level. Plans to spread out the responsibility of prevention extend beyond Greek letters or party lines because the ultimate goal, to decrease sexual assaults and increase safety, are beneficial to all.
Yukins talked about systemic issues and the importance of advocacy groups. It takes two years, he said, for a case to get to court, and that's where the RVA and its network of resources, volunteers and counseling services comes in.
"We noticed that there wasn't someone who was guided by a survivor-focused agenda — law enforcement, medical staffs and family may have their own perspectives," Sharmili Majmudar, executive director of the RVA, said. "The reality is that survivors have to navigate many systems and coping on their own. Advocates can help with that burden."
In order to lessen that weight, preventing sexual assaults, and defining consent, are issues that Dhumadia, his brothers at SigEp and those supporting the "It's On Us" initiative find most important.  The frat also donated $3,700 to the RVA.
"Over the past few years there have been events in the DePaul community that caught everyone's eye," Andrew Keller, a member of SigEp who also helped set up the event, said. "We can't just let this go because we're on campus."
The goal is to continue spreading awareness and keep the movement and campaign going. The next step is to just keep the momentum going.
"It's important to raise awareness and make sure that people are keyed into the issue," Yukins said. "I hope people broaden their perspectives on (sexual assault), and they don't just work to change the environment in their own fraternity or sorority, but at the school."