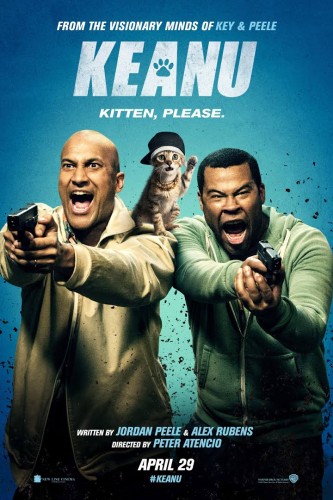 Cute little kittens purr as they doze on their cat furniture and scratching posts. Tight cages align the walls encapsulating the homeless kittens that desire a new home. Attendants roam the shelter; feeding and giving care to the loving cats that motionlessly stare with those round, crystal eyes. In the middle of all of this, though, is a round table with six chairs positioned around. Atop of the table lies a tablecloth featuring animated cats scattered all around it.
This, right here, is the press interview location for the upcoming movie, Keanu, behind the comedic masterminds of Jordan Peele and Keegan-Michael Key.
Jordan Peele, 37, and Keegan-Michael Key 45, best known for their comedy duo name, Key and Peele, visited the Chicago Bucktown Tree House Humane Society for a Q&A on behalf of their upcoming film, "Keanu." Along for the ride is Jason Mitchell, 29 ("Straight Outta Compton"), another star of the film. The film opened April 28.
"Keanu" is Key and Peele's first feature film following the conclusion of their successful Comedy Central TV show, "Key and Peele," which ran for 5 seasons accumulating 55 episodes and sketches. Many of these sketches made their way to YouTube, where audiences have viewed sketches like "Continental Breakfast" over 11 million times.
What do you guys find different about doing a movie compared to the normal Key and Peele TV show?
KEEGAN–MICHAEL KEY: Big difference is that it's longer. 
JORDAN PEELE: Might be the biggest difference.
KEY: You can't have another experience like that. There's nothing like looking at an 80-foot screen, and that's why we have movie stars. They're in the firmament. We're looking at them – we go to the temple to watch them, and that's never going to go away. The biggest thing is that it's finding a thread you can take a moment in a sketch and you can go boop-boop-boop really fast. You have to build fast to be in and out in 3 to 4 minutes. But here there has to be a thread. You can do just about anything you want in a sketch, but in a movie you've got to keep this consistency in character. 
Jordan, you mentioned in "Sick in the Head" by Judd Apatow that you guys like to act like a mirror of what's going on in society. How did that come into play when you were writing the script and in production?
PEELE: This movie is our love letter to film. It relates to the question of masculinity, what it means to be African-American, what the types that have been made with a predominantly African-American cast, and the types that haven't been made. Ultimately, this is a chance for Keegan and I to be protagonists of a film. I've never seen a movie that centers around guys quite like us and there are a lot of dudes like us. I think most people in the country are like us, we're nerds. We love content, we love watching movies, and we're also softies. I think there's this idea that masculinity, being a man means you have to be some kind of tough guy. That's just not us, and that's not a lot of people, but we will get tough for our dog, for our cat, for our family, for everyday life. 
JASON MITCHELL: It's cool that you all make this world though, in which the average person can be the hero. It's what's special about it, because like regular people with regular feelings. Most people don't get involved with gang violence and all this other stuff. It might seem like a huge world for those people who are caught in it, but in the real world, it's like no! I'm not living my life like this, and it's special that two regular guys can create this world in which this regular guy can be a hero.
How does the film approach the question of what it means to be black in America?
KEY: I think something we talked about a lot was being African-American is not a monolithic experience. And I think it's important that everybody should understand that on all levels for all races and people is that you're going to get different gradations of humans no matter how much melanin you have in your skin. That's been something we explored a lot in the movie – that you have two cultural experiences happening at once. It's not – there they are: black people. It's not skin color, it's culture, culture, culture, culture.
PEELE: It's two guys – a fish out of water comedy. It's two African-American men thrown into a genre that we see in a lot of black movies. We're thrown into New Jack City; we're thrown into the Wire. We have no business being in these movies, and I think part of it is exploring – why is the genre and the crime genre and the gang violence genre, why is that how we've told the story of the African American experience almost exclusively? That's a big part of it.

Jason, coming off of "Straight Outta Compton," and Jordan and Michael coming off of Key and Peele, you guys are back in the game. I'm wondering how does it feel to have a completed film again and touring around, doing what you guys do best?
MITCHELL:It's really what we love to do. All of the rest of the stuff that comes with it and all of the amenities are great. Don't ever get me wrong, this is the best job of my life, but being behind that camera and seeing the fruit of your labor, it's like the best.
Jason Mitchell portrayed Eazy-E in the recent Oscar contending film, "Straight Outta Compton." Being paired with Key and Peele is a dream come true for the emerging actor.
KEY: It's very surreal. It's indescribable to say your dream came true. It's what we talked about when we were kids, and when you get older, there are all these machinations and maneuverings to do all that to have a career. But to be at the place where you wanted to be when you were 9, or when I was 12, or when I went to see "Raiders of the Lost Ark," or when I went to see "Empire Strikes Back," and to be able to be in that world, the moment, the culmination is when you can be in a movie theater, because you can't experience cinema unless there's humans watching the screen. To watch the screen and to watch other humans watch the screen, there's nothing like it, and there never will be anything like it in the world.