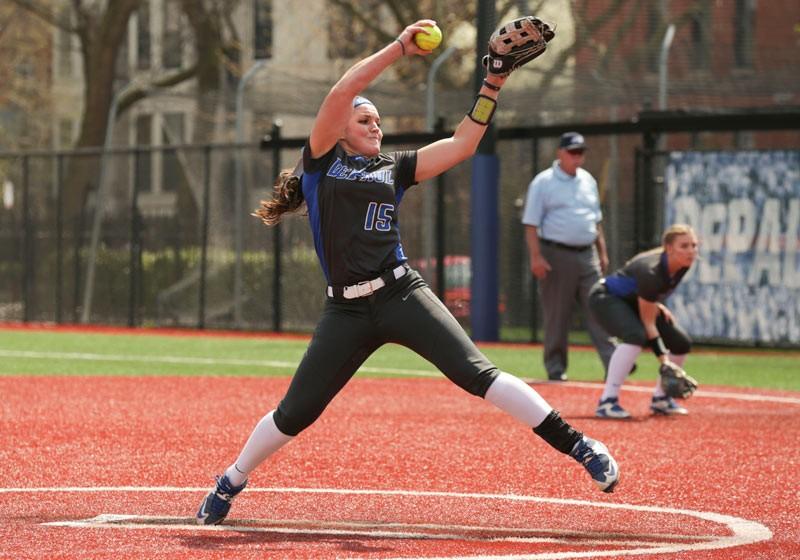 Morgan Maize hadn't pitched for the DePaul softball team since her freshman year.
Now a senior, not only is she the Blue Demons' best pitcher boasting a team-best 3.66 earned run average, but she leads the team with a .393 batting average and nine home runs. It wasn't until the beginning of the summer leading up to her senior season, though, when Maize found out she would be pitching again.
"I just worked all summer on trying to get the motion and working on some pitches that I remembered and just texting back-and-forth with Lindsay (Chouinard)," Maize said.
Chouinard, her pitching coach, saw something special in her the moment she joined the team in Maize's sophomore year and has enjoyed every moment coaching her.
"I knew right away that she was somebody really special and somebody I was excited to coach," Chouinard said. "The great thing about Morgan is she's always done every single thing we've ever asked of her. Asking her to pitch for her last season, that's a lot to ask of anybody."
Maize admits she was really nervous heading into the season. Having not pitched competitively in three years, it was difficult for her at first to get back into the mindset required for a pitcher and said it was "definitely a challenge."
"But I also really like challenges, so that was one good part of it," Maize said. "I think it was a little bit of excitement, but a lot of nerves."
The one thing she has had to work on the most this season is her mental game as a pitcher and admits she's "still working on it."
"When you go from playing second base and you're in the field and you're getting balls here and there, (it's different)," Maize said. "Pitching, and being in every single play, it's a lot about how you can handle a lot of situations and I'm still learning how to handle them. It's a lot of mental stuff."
Her senior season didn't quite start out the way she was hoping as the Blue Demons went 8-20 in their first 28 games, including two losing streaks of at least five games. Maize was 6-12 as a pitcher during this stretch and struggled to find her groove.
"Our season started off pretty rough," Maize said. "I think we had a really tough preseason and I was also still learning how to pitch, but I think that it definitely got us ready for (the) conference and so far we've had really good conference play."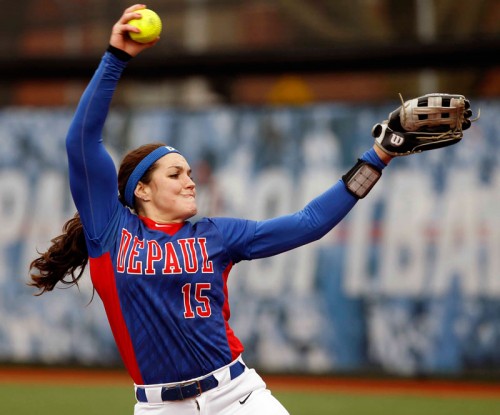 "Really good" is an understatement, considering the team is 13-3 in the Big East having lost only one series —against Butler — all throughout conference play.
Not only that, but Maize has only improved as the season progressed. Against Big East opposition, she's batting .481 with five home runs, 23 runs batted in  and only four strikeouts. She's also 10-2 as a pitcher with a 2.50 ERA and is holding opposing batters to just a .237 average.
"Morgan throws like a No. 1," head coach Eugene Lenti said after a game earlier in the season in which she held Butler to one run in a 9-1 romp by DePaul. She  tied a career high that day with nine strikeouts, further showing how DePaul softball has benefitted from her emergence as a top of the rotation starter.
Having someone as versatile as Maize who is able to take control of the game through her pitching or hitting has been invaluable to the Blue Demons this season. Chouinard said her progression as a player is just part of the journey they've been on together.
"She found her role on the field and she knew she was able to hit and she knew she was able to contribute from that side of things," Chouinard said. "When I watch her pitch, I have this really strong, proud feeling just knowing that, in essence, we've kind of been in this together from the start."
At this point in her career, hitting is almost second nature to Maize, but pitching still seems somewhat foreign. Despite pitching in 35 games this season, she admits she's still nervous every time she steps onto the mound.
"(I'm) working on overcoming that and channeling it in a positive manner instead of going crazy," Maize said.
With the Big East tournament coming up on May 13-14, Lenti and Maize's teammates will look to her to lead them offensively and defensively.
"It's very important to have (Maize) fresh for the Big East tournament," Lenti said.
What is going to help DePaul the most is how much of a team player Maize is and how eager she is to do her best every single time she steps up to the plate or takes the mound. She feels responsible for the success of the team and does everything in her power to maintain the current level of success.
"If she does make a mistake pitching or she does give up some runs, she feels like she has the outlet where she can help the team get back in the game and she's obviously done that numerous times," Chouinard said. "She really is the center of this team. They rally around her and she certainly has her moments where she needs them to pick her up, but when all is said and done, you know with Morgan she's going to give you everything she has, every time she's out there and that's really all you can ask from your senior.
"This team would be nowhere near where we are without her."