Trump accepts GOP nomination, vows to restore "law and order"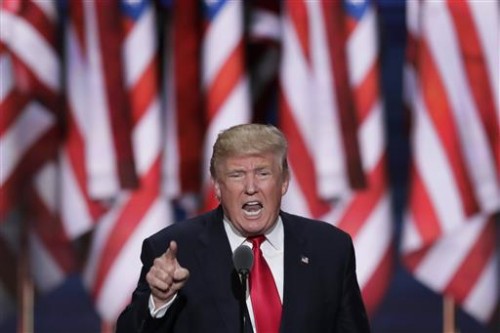 Speaking in Nixonian terms of restoring "law and order," Donald Trump accepted the Republican for president Thursday night before exuberant party delegates in Cleveland.
The nominee, in unusually dark terms for an acceptance speech, sought to cast an image of an America plagued by rampant urban crime, unable to protect its borders from undocumented immigrants, bound by "disastrous" trade agreements and not respected around the world or able to adequately tackle terrorism.
"Together, we will lead our party back to the White House, and we will lead our country back to safety, prosperity, and peace. We will be a country of generosity and warmth. But we will also be a country of law and order," Trump said.
In the nearly hour and 15 minute speech, Trump doubled down on several of his signature policy positions from building a border wall between the United States and Mexico to his pledge to ban the immigration of all people from countries with terrorism problems.
The billionaire pulled no punches when it came to his opponent, presumptive Democratic nominee Hillary Clinton, describing her legacy as one of "death, destruction and weakness."
"After four years of Hillary Clinton, what do we have? ISIS has spread across the region, and the world. Libya is in ruins, and our ambassador and his staff were left helpless to die at the hands of savage killers," Trump said. "Egypt was turned over to the radical Muslim brotherhood, forcing the military to retake control. Iraq is in chaos."
Trump also criticized Clinton for her record on trade, taxes and for "proposing mass amnesty, mass immigration, and mass lawlessness."
Clinton was portrayed by Trump as out of touch and above the law, something he used to claim himself as a champion for everyday Americans.
"I have joined the political arena so that the powerful can no longer beat up on people that cannot defend themselves," Trump said. "Nobody knows the system better than me, which is why I alone can fix it."
With the GOP convention over, the spotlight will now turn to the Democrats, who hold their party next week in Philadelphia.
Winners and Losers from GOP convention

Winners

Donald Trump – His convention was full of head-scratching errors, poor planning and unforeseen situations (see Ted Cruz below), but Trump came out the official nominee for the Republican Party, which is a remarkable achievement considering where pundits placed him just one year ago.
His speech was polarizing: Democrats and liberals cringed listening to it, but Trump succeeded in driving home a message to Americans negatively affected by globalization, worried about terrorism and anxious about immigration. It was a bleak picture of America, that's for sure, but it also expressed what many Americans are feeling.
Mike Pence – The GOP vice presidential nominee gave a nice speech Wednesday night where his good-guy demeanor shined. Despite being overshadowed by drama earlier in the night with Texas Sen. Ted Cruz, Pence showed exactly why he won the veepstakes. He's a clean-cut family man with impeccable conservative credentials, something Trump needed in order to unify the party. His record on LGBTQ rights will make him an enemy of the left, but were any of those folks going to vote for Trump anyways?
Fun side note: Pence's daughter Charlotte (pictured below, far right) just recently graduated from DePaul, where she studied digital cinema and English and was a member of the Chi Omega fraternity.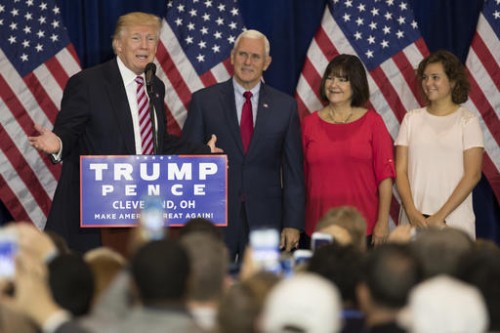 Cleveland – "The Mistake by the Lake" and home of the NBA champion Cavaliers handled this convention perfectly. Civil unrest was kept to a minimum and most chaos was confined inside the walls of Quicken Loans Arena. It's safe to say this rust belt city boosted its image this week.
Political satire – If anything, people owe a debt of gratitude to Trump and the Republican Party for bringing Jon Stewart out of retirement. Appearing on Stephen Colbert's Late Show, Stewart lambasted Fox News anchor Sean Hannity for double standards when discussing Barack Obama versus Trump. Check it out below.

Losers
Ted Cruz – In what was a massive, massive gamble, Cruz decided to speak at the convention and not endorse the party's nominee, Donald Trump. "Vote your conscience," he said.
It backfired immediately.
GOP officials from all corners of the party heavily criticized the Texas senator and lamented him for his "self-serving" ways. There was no doubt Cruz was setting himself up for 2020, but withholding his support for Trump made it blatant. If Cruz never intended to support Trump, it probably would have been smarter to just stay home.
Chris Christie – The New Jersey governor was already having a bad week after not being picked by Trump as his running mate. It got worse when he gave his speech on Tuesday, where he towed a dangerous line as he led a mock trial of Clinton. Describing various actions Clinton took as secretary of state and then asking a fired-up crowed to render a verdict of "guilty or not guilty," Christie was in effect criminalizing politics. Plus, it simply was not effective.

Delegates chanting "lock her up, lock her up!" – Advocating for the jailing of the presidential nominee of the opposite party is something one would expect to hear in a third world country. Plus, it just makes the GOP look bad, as Republican Sen. Jeff Flake (Arizona) righty pointed out. No matter how much Republican voters despise Clinton, she is not going to jail and advocating for such an outcome is not how the party will win in November, especially in crucial swing states.

#NeverTrump – The movement attempted some maneuvers on Day One to try and unbind delegates, but was unsuccessful as Trump took full grasp of the Republican Party. Those still dedicated to the movement appear to have only three realistic options come November: vote for Hillary Clinton, vote for Gary Johnson, or simply leave the presidential race blank on the ballot.
Diversity – America is a diverse country, the Republican Party is not. This was on full display at the convention, where most of the speakers and attendees were white and many issues important to minority communities were either ignored (criminal justice reform) or dismissed (immigration reform).