In flooded Louisiana, a cleanup and a search for bodies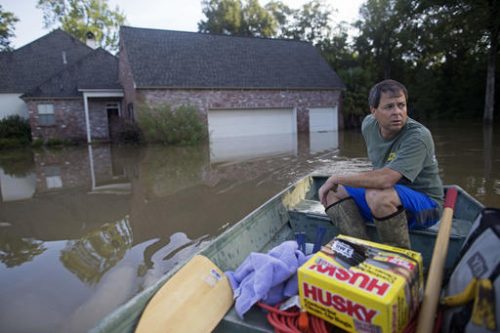 Authorities went door to door and car to car to check for bodies Tuesday, and homeowners began the heartbreaking task of gathering up soaked family photos and mucking out houses dank with bayou mud, as the floodwaters started to recede across parts of southern Louisiana.
Even as the water fell in some areas, it was rising in other places downstream, where people furiously filled sandbags and fled to shelters.
Officials painted a stark picture of the crisis so far: at least 40,000 homes damaged and 11 people killed in some of the worst flood
ing in Louisiana history, touched off by as much as 2 feet of rain in 48 hours. Over 30,000 people have been rescued since Friday, with more being brought to safety by the hour.
There were scattered reports of looting, and Gov. John Bel Edwards said parishes with widespread damage would be placed under curfew beginning Tuesday night.
The smell of muddy water hung heavy in the air as people donned surgical masks and began the back-breaking job of ripping out soggy carpet, drywall and insulation. They cleaned out spiders and cockroaches that had bubbled up through the sewer grates.
Raymond Lieteau, 48, returned to his home in the Woodlands neighborhood of Baton Rouge to survey the damage Tuesday and begin cleaning up. The water line on a mirror showed that he had more than 5 feet of water inside his home.
"My furniture is all over the place," he said. "It's just amazing."
The bedroom floors were buckled and the walls bowed, and the swimming pool, once a crystal-clear blue, was filled with brown water.
His wife, Daniella Letelier, put on rubber gloves and began sorting through stacks of family photos, removing them from their sleeves and placing them on a table to dry out. Many of the photos were of her 15-year-old daughter, Olivia.
"I can't live without her pictures. It breaks my heart," she said.
Officials started going house to house to make sure everyone was accounted for and searched the countless cars that had been caught in the flooding.
"I don't know we have a good handle on the number of people who are missing," the governor said.
More than 60,000 people had signed up for assistance from the Federal Emergency Management Agency, and 16 parishes were added to the federal disaster declaration, bringing the total to 20.
And help was coming from quarters beyond the federal government.
Performer Taylor Swift told The Associated Press that she is donating $1 million to flood relief. She said the state's residents graciously welcomed her when she kicked off the U.S. dates of her "1989 World Tour" in Louisiana last year.
"The fact that so many people in Louisiana have been forced out of their own homes this week is heartbreaking," the 26-year-old said in a statement. "I encourage those who can to help out and send your love and prayers their way during this devastating time."
In Livingston Parish, one of the hardest-hit areas with about 138,000 people, an official estimated that 75 percent of the homes were a total loss.
In Tangipahoa Parish, Parish President Robby Miller said at least 7,500 homes had flood damage, meaning they took on anywhere from an inch of water to water up to the roof. That number could go as high as 10,000, he said, which would be about a quarter of the homes in the parish.
Officials from Livingston Parish were in Baton Rouge on Tuesday to talk to federal officials about getting some sort of temporary housing for their first responders — a sign of the housing crunch that's likely soon too come with so many people out of their homes for weeks and perhaps months.
Rivers and creeks were still dangerously bloated in areas south of Baton Rouge as the water made its way toward the Gulf of Mexico. In Ascension Parish, some small towns were already inundated. In St. James Parish, authorities called for volunteers to help fill sandbags.
Nearly 800 evacuees were gathered in a makeshift Red Cross shelter established in Gonzales at the Lamar Dixon Expo Center, a multipurpose facility that has hosted rodeos, car and truck shows and concerts. Even more people escaping the flood were at an RV park on the site.