DePaul grad nabs Student Academy Award
During the seven months Carter Boyce put into creating his animated short film, the then DePaul student had no notion that what would be his senior capstone project would ultimately land him a Student Academy Award for Animation.
"It's honestly just hard to put in words how I feel," Boyce said. "First you can't believe you made it to the semi-finals, and then next thing you know, you're in the finals."
Boyce's 3-D animated short, "Die Flucht" (German for "The Escape"), was shown for the first time in its entirety at DePaul's annual student film festival, Premiere, hosted by the School of Cinematic Arts. Completing the film only a day before entries were due, the approximately 1,400 hours of work the 28 year-old recent DePaul grad had put into the short paid off when he walked away with last year's Undergraduate Jury Award, the Judges' Choice Award and Best Animated Film.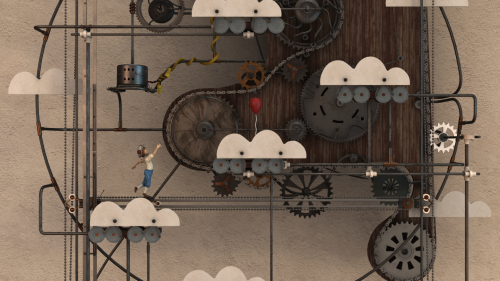 From there, "Die Flucht"—the simple story of a toy figurine attempting to catch a balloon on a kinetic-type fixed track that breaks down—has made rounds at a number of film festivals across the country, from Illinois to Traverse City, Michigan to Cleveland, Ohio, and on Sept. 22, Boyce, along with the other student finalists, will fly out to attend the 43rd Student Academy Awards ceremony in Beverly Hills.
"It's been mind-blowing these past couple months, and especially these past couple weeks — I've been counting down the days," Boyce said.
The student finalists will experience a week full of film industry activities and events prior to the ceremony itself, where it will ultimately be revealed which Academy Award they won — first, second or third. Though for Carter Boyce, the film itself is more than mere awards, but rather a connection to his past.
"I was always a big builder of things as a child, any type of contraption, Rube Goldberg, you name it," Boyce said. "And 3-D animation had always been a place where I could take that skill set, so for my last school project, I wanted to revisit those roots."
As any real builder would, Boyce made sure the physics and machinery behind his kinetic cycling sculpture created in "Die Flucht," would actually work and operate in real life.
"My one rule was that the animated machine had to work, like it could actually be built," he said.
But while much of "Die Flucht" comes from Boyce's past experiences and knowledge, the recent grad stated his time at college played a great deal in the creation of the short.
"I had been teaching myself how to animate and play around with programs on the computer before I went to DePaul," Boyce said. "But one of the major things I learned at their school was how to tell a story and how to make a film. There's technical stuff and then narratives."
Gary Novak, director of the School of Cinematic Arts at DePaul, couldn't be more proud of Boyce representing the school's program.
"I remember watching that animation and it truly blew me away. It is absolutely excellent," Novak said. "When people look at the work the students are producing are out here, it not only highlights the quality of the program and the faculty — I mean these guys are working professionals—but most importantly it says a lot about the talent of these students.
"The quality of this program is measured by its alumni and Carter Boyce has made his mark, and I hope others follow."
While Boyce's achievement as an alum is undeniably a historic first for the university, he won't be the only DePaul affiliate receiving a Student Academy Award.
"It's Just a Gun", written by Dan Klein, an assistant professor of the School of Cinematic Arts, will also be awarded at the ceremony later this month.
Affected by the never-ending gun violence stories in the news, Klein's 12-minute short film captures the life of a gun, from its manufactured creation to every hand it passes through, and every life it takes.
"I remember seeing two stories around the same time; one about this massive build-up of arms stockpiling, and then you have yet another tragic senseless shooting somewhere in the states," Klein said. "And I'm thinking to myself how many different hands a gun goes through and how far it travels."
"Guns are routinely in rapid transformation from in a tragic crime scene to out of one, and that's an interesting perspective to take."
In what was Klein's first experience writing for a director besides himself, a small unpaid crew of 30, plus a quick four days of shooting, reminded him why he chose this career path in the first place.
"When you're working on a set where you can just tell that each and every one — top to bottom — the director, the actors, the gaffer, when every one cares about the film deeply, that's when it becomes re-affirming to the question, 'Why did I choose to do this?'" Klein said. "This film was nothing short of collaborative, professional and just all around killer, these guys were great. These guys would bleed for this project, they deeply cared."
"I don't think any of us expected this (Student Academy Award) though. You don't think it's real and then you start reading about it in Variety and Deadline, and then Hollywood Reporter."
Though much like Boyce, the award and ceremony was not only staggering to comprehend, but meant more in the greater picture for DePaul's School of Cinematic Arts.
"It's interesting to come back here, and return to a film program that has developed so quickly and so rapidly. It's a huge accomplishment for DePaul and Carter Boyce, and this just speaks volumes about the kids coming out of here," Klein said. "This school has grown fast from when it was first introduced, and that's because of the faculty and students that come through here.
"I hope incoming students feel inspired by what Carter's accomplished here."