Holtschneider to Bruno: "You made DePaul proud"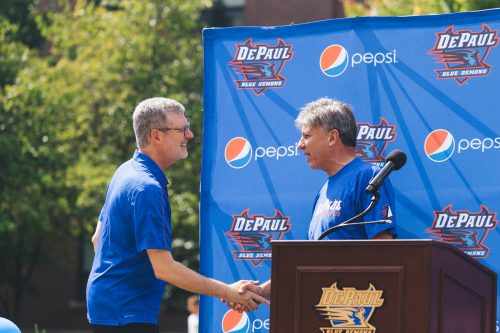 The journey to Rio for DePaul women's basketball head coach Doug Bruno started a decade ago.
"The phone rang in February 2006, and I was asked to be the head coach of the 18-and-under and 19-and-under teams for two successive years," Bruno said. "(Carol Callan, the women's National Team director)said, 'Take a few days to think it over', and I said, 'I've just taken a few seconds because that's all I need. If the United States of America is asking I'm going to say yes'."
Ten years later, students, student-athletes and staff packed into DePaul's quad Tuesday to congratulate Bruno for his second appearance as assistant coach on the gold medal-winning U.S. women's basketball team in the 2016 Rio Olympics
The Olympic team, led by UConn women's basketball head coach Geno Auriemma, went 8-0 during the two-week stretch and clinched the gold medal with a decisive victory over Spain. The team controlled the court throughout the tournament, beating opponents by a commanding 37.25-point average.
"You made DePaul proud, you made the United States proud, but the truth is, you do that every day, " said DePaul President Rev. Dennis Holtschneider, C.M. before introducing Bruno to the stage set up in the quad.  "Doug, on behalf of all of us at DePaul University, congratulations."
At the ceremony Bruno attributed his success to the fact that he wasn't coaching for personal gain, but in service to the United States. He thanked his fellow coaches and his players for their support, and credited DePaul for making the opportunity a reality for him.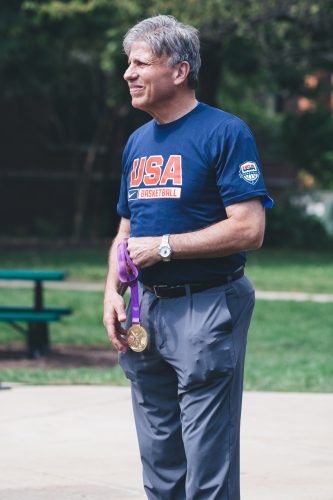 He drove his statement home by symbolically removing his USA basketball shirt to reveal a DePaul basketball shirt was greeted by applause from the crowd.
"I never ask my players to be as good as the best in the world, but I ask them to have the intangibles that transcend talent," said Bruno. "I ask my players to have that energy, that effort, that work ethic, that passion."
Bruno concluded his speech by exiting the stage by high fiving his team while students began to loudly cheer "We are DePaul!"
"I really believe all that we do is about achievement," said Bruno. "You don't do this every day to be celebrated. If you're only in it for the celebration, you're in it for the wrong reasons. But when you come back and there are banners with your picture on it, and you have a president who wants to have a special ceremony, that's a big deal. I'm very thankful for Father Dennis for having this."
Bruno has been an integral part of the U.S. National team since 2006. After his success with the teams in 2006 and 2007, he was named assistant coach for the U.S. National team in 2009 and was part of the coaching staff for the gold medal team in the 2012 and 2016 Olympics. He has also been a part of the coaching staffs that led Team USA to first place victories in the 2010 and 2014 FIBA World Championships.
Bruno is known for his all-inclusive coaching style, and he pushes for the DePaul women to pass the ball around before finding a shot. One of Bruno's goals for every game is for his players to record an assist on two out of every three baskets. Last year, DePaul ranked 2nd in assists per game and 3rd in total assists in the year at 746 trailing only UConn and Baylor in that category.
"I think that's what DePaul ball is, it's never been about one single player," said DePaul senior guard Jessica January. "Whoever's hot that night is going to get the ball, and whoever's not is going to pass. That's kind of always been how we play."
This, coupled with Olympic head coach Geno Auriemma's similar coaching tactic, was very apparent in the Olympics this year.
Elena Delle Donne, the 2015 WNBA Most Valuable Player, acted as more of a role-player on the team and averaged about five shots a game, down from her average of 16 shots a game with the Chicago Sky. Overall, the team averaged a stunning 28 assists per game, well over opponents 16.5.
Aside from his work as the DePaul basketball coach, Bruno also hosts a camp for girls ages 7-18. He credits his work with players of all ages as one of the reasons he has become a well-rounded coach at the Olympic level.
"I love the sport," said Bruno. "I'm coaching ten-year-olds and they're teaching me, I'm watching and recruiting high school kids, that's teaching me, I coach collegiate players every day and they're teaching me, and when you're coaching the best of the world, you're learning at every level."
"It's really cool to see Bruno on the team coaching," said January. "It was really interesting watching how they played in the exhibition games and seeing how they'd play together once they get some practice together."
Bruno's love of the sport and coaching has led him to success at the collegiate and international level. In 2016-17, he will enter his 31st year coaching at DePaul, where he leads the Blue Demons, who come off a Sweet Sixteen appearance the previous year.