Holtschneider begins last year at DePaul on positive note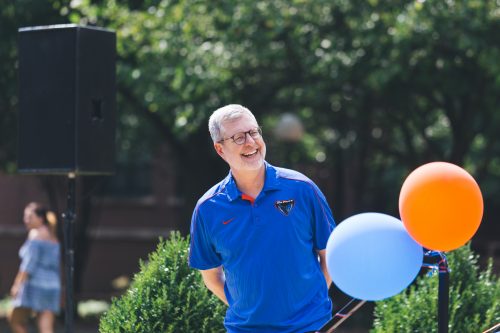 Entering his thirteenth and final year leading DePaul, Rev. Dennis Holtschneider, C.M., seems at ease. With a record-setting fundraising campaign complete, all ten colleges set to be appropriately housed in with the eventual completion of the new School of Music Building, and with preparation for a new strategic plan approaching, the Vincentian priest felt the end of this academic year was the right time to vacate the presidency.
Yet Holtschneider understands there is still much to be accomplished this year, especially in light of contentious debate over the presence of free speech, safe spaces and trigger warnings on college campuses playing out at DePaul.
The university is only three and half months removed from alt-right blogger Milo Yiannopoulos' visit, which saw election-year tensions boil over as students clashed with the Breitbart editor's supporters, most of whom were not affiliated with the university, as well as an army of followers on social media.
In an interview with the DePaulia, Holtschneider reaffirmed that "DePaul must do better" and is taking steps to do so.
"For DePaul, what we've said is we've never had policies of not accepting speakers because of controversy (attached) to their ideas," Holtschneider said. "And indeed, we've had very controversial people over the years, whether that's Ann Coulter, the president of the Minutemen, or name your list."
"But in the midst of this conversation, people raised an interesting question. They asked, is there anybody who's ideas
are so devoid of actual content and they're just meant to demean human beings and that's their intent, or to get some kind of rise or create some kind of reaction, that the university wouldn't offer its platform and it's name for that kind of speech?" Holtschneider said. "And our policies, our procedures don't speak to that question. So what I said is that it's a fair question. The example I've used is would we have the head of the KKK? And the answer's probably not. But we don't have anything in our policies one way or another. So we will convene a task force that we had several years ago on speech and expression to give some thought to that question."
While the task force has not yet been set, Holtschneider hopes it will have recommendations by the end of the academic year. But whatever recommendations are made, they will have to meet a high bar, he said.
"(The bar is) higher than even most of society because we have to. This is where we engage the world's ideas and we find them wanton or worthy. And we do that in debate. And we do that in letting them stand up against competing ideas and seeing which ideas turn out to be stronger," Holtschneider said. "To do that, you need to have the ideas at the table. So any language that the task force will find is going to have to hit a very high bar. So it's going to be a very interesting exercise as they think through that question this year. "
Yet while the university grapples with questions on speech, Holtschneider sought to make a distinction between speakers like Yiannopoulos and conservative writer Ben Shapiro, who in July was barred from speaking at DePaul because of safety concerns. While the decision left the university open to criticism from the city's editorial boards and people across the ideological spectrum, Holtschneider kept the door open for a potential Shapiro appearance in the future.
"When Milo was proposed to come back again this fall, we spoke about safety concerns, but we also spoke about the content of his messages. Ben Shapiro's, we didn't. Ben Shapiro is very different in that regard. He is very conservative, he's very controversial, but he has something to say," Holtschneider said.
"So this one was not about the content at all. This one was strictly about the safety. And if you look at the statement, it said 'at this time.' I can imagine a time where the safety and security issues may not be at the level they've been at recently at Cal State or Penn State. We specifically used the words 'at this time' intentionally."
Repeating what he said in June, Holtschneider said there was no connection between his leaving and calls from some student groups for his resignation.
"And we thought, no, because that hurts the search. I kind of took a deep breath and said, 'well, people are going to wonder about this, but just need to stay on schedule,' and that's what we did."
While not involved with the search process himself, Holtschneider said it was imperative for a university president "to love the intellectual life" because "if you don't love it, you shouldn't lead it." He added that knowing how to run a large, complex organization helps too.
For a prospective DePaul president, Holtschneider said they must love the mission.
"You should love the work that is done in St. Vincent de Paul's name," he said. "You shouldn't just be coming to love it now, something in your life, you should have cared about people and giving them a chance in life and launching them forward. And that should be a real part of your heart."
Once the academic year is complete, Holtschneider will go away for a year to give the new president "the breathing room he or she deserves." Then, unless his religious order says otherwise, Holtschneider will return to his tenured faculty position in DePaul's College of Education.