Women's soccer moves into Big East play
Going into the week, DePaul women's soccer was struggling offensively and had spent almost a month playing away from Wish Field. Since August 25, the Blue Demons played six straight matches on the road, going 2-3-1.
They had finished the road trip with a 3-1 victory against Western Michigan, a possible sign for an attacking outburst about to come because it continued when they finally returned home to Wish Field on Wednesday. After giving up the first goal to Loyola, they exploded for four unanswered goals from four unique scorers. In their Big East opener on Sunday against Xavier, they were lighting up the scoreboard again with multiple goals, and are back to .500 with a 4-4-2 overall record, and a 1-0 record in the Big East.
"It feels really good, we had a hard on- the-road schedule so it feels really good to finally come home and play in front of our home fans," sophomore forward Franny Cerny said. Cerny chipped in a goal and an assist in DePaul's victory over Loyola.
The non-conference slate featured games such as San Diego, which resulted in a 3-2, double-overtime loss, a 5-1 drubbing at the hands of Long Beach State and a 1-1 draw at Hofstra, in addition to a 2-1 loss at William and Mary. However it did also feature the Western Michigan win, and a 5-0 scoring frenzy at Army, which showed what the Blue Demons could do when the attack was clicking.
"I think our non-conference play is going to prepare us for conference," junior midfielder Jessie Schmidt said. "I think we're going to come out strong and know
what we need to do to beat good teams." The non-conference slate seems to have helped already as the Blue Demons took out Xavier on Sunday, starting off the Big East season with a win. The Blue Demons were picked to finish second in the conference in the preseason, and so three straight wins have the Blue Demons feeling good.
"I think we're definitely on the rise,"Schmidt said. "The fact that we did have a very hard non-conference schedule helped us because we played great teams and were able to pick our game up. I think that's going to be a great starting point going into conference (play)."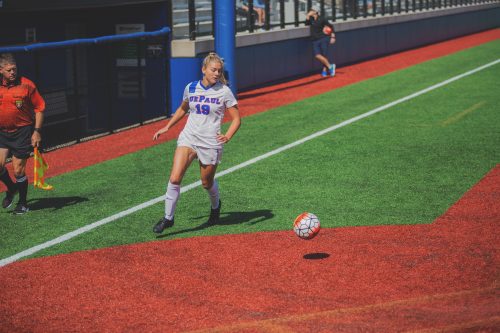 Head coach Erin Chastain was happy with the result on Wednesday because it allowed the Blue Demons to rotate players in and out which also built up the team's confidence.
"I think it puts us feeling good right now," she said. "It's nice to be home and nice to score goals and get a lot of people in the game."
While DePaul was picked to finish second in the conference, they'll have a tough road to get there with teams like No. 3 Georgetown, No. 44 Marquette and No. 73 Providence all ranked above DePaul in RPI. The Blue Demons themselves clock in at No. 116, which makes a strong Big East season a must for NCAA tournament consideration.
"We know that it's going to be a different level every game," Chastain said. "It's going to be tight games and battles and who wants it more."
Even during the road trip, Chastain said there was never a drop in intensity or fire.
"I think overall our team comes out to practice and grinds and is excited about the Big East season," she said. "Even though some of the results haven't gone our way this season, our group is just excited about what we can do in Big East play. "
DePaul has one more home game this week, a 3 p.m. match against Creighton on Thursday.