The DePaul women's volleyball team is now 2-1 in Big East play after beating Villanova 3-1 in Friday's home game – a much different score compared to the loss the Blue Demons suffered just this past year.
Perhaps it was the visible smiles and contagious energy from DePaul's starting line that helped the Blue Demons get off to a 4-0 run in the first set. Senior, Colleen Smith's serving helped propel the team to reach new heights in both energy and performance – energy that never seemed to quiet down.
In fact, it rattled the Villanova cats so much, that Coach Josh Steinbach received a yellow card for storming onto the court after a disagreement with the ref's call.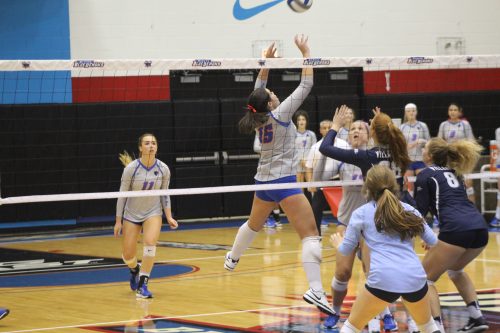 "Villanova is a great team, (and) any team in our conference is going to be able to come back and challenge and be resilient," Head Coach Nadia Edwards said.
The second set was no different, with the Blue Demons totaling 16 kills; courtesy of senior, Jasmine King and sophomore, Brittany Maxwell. It seemed as if nothing could stop their momentum – until Villanova woke up.
The Cats took the third set at 25-21, with junior, Allie Loitz and sophomore Amanda Pederson-Henry as Villanova's heroes for the night. The two teamed up to reach a match total of 16 and 13 kills, respectively.
"Just coming out of the locker room, it was the other side that really started to warm up," Edwards said. "They were serving a lot tougher, they were hitting a lot harder, [and] they really tried to expose our defense. So it's a good testament to our conference and the level that we're always going to play at."
Still, the home crowd helped DePaul reignite their fire to close the fourth and final set, 25-21. It was Maxwell's unexpected tip that made all the difference for the win, and even had her mouthing the words, "Oh my God, oh my God!"
"I wasn't nervous for the set," Maxwell said. "I was just kind of late, because I was behind Haley (Bueser) when she was passing, so I wasn't sure if I was going to get up there in time. I just booked it up to the net and tried to do whatever I could with the set."
It's that kind of effort that continuously shined through not only for the sophomore, but everyone on the team.
"I just think we have a lot of depth on our team, from passers to our servers, and to our offense," Edwards said. "So I think on great days like this, our offense is distributed to not just one person, but many people, [so] we get many people involved. And I think we want to be like that, because it makes it tougher for other teams to defend and know where the ball is going."
Sure, Villanova put up a good fight – but the Blue Demons never had a doubt in their mind that tonight's outcome would be any different. "I think it's time to show people what DePaul is really made of," King said. "Honestly, by our mantra, it's our time. We work hard in the gym everyday, so it's time for us to show people (that.)"
The Blue Demons walked off the court with three players registering double-digit figures, including Maxwell, King, and junior, Caitlyn Coffey; 19, 15, and 10 kills respectively. Senior, Colleen Smith led the team with 47 assists and 10 digs, accomplishing a double-double for the fourth game in a row.
"I think we had a lot of fun playing for each other [and] that's our goal," King said. "We're here to play for each other, (and) everybody did their job. So if everybody's doing their job, we're going to beat some teams out here."
The Blue Demons return to the McGrath-Phillips Arena tomorrow at 6 p.m., where they'll go head to head against Georgetown.
"We have to stay just as focused, just as hungry," Edwards said. "Georgetown is a great team… (We just have to])provide the same continuity, the chemistry, and the energy that we had tonight."