The final beam placing ceremony was held at the new DePaul basketball arena at McCormick Square Wednesday. Attendees of event, including six DePaul basketball players, were allowed to sign the beam before it was lifted into place at the top of the arena.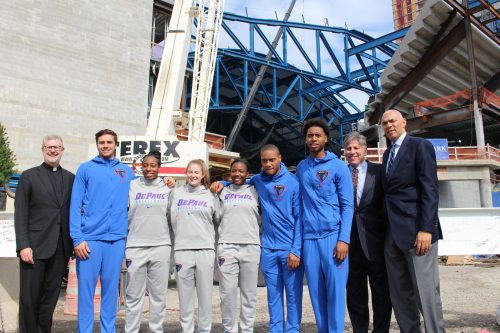 Prominent public figures such as Third Ward Alderman Pat Dowell and Deputy Mayor Steve Koch joined representatives of DePaul including Father Dennis Holtschneider, Athletic Director Jean Lenti-Ponsetto and the men and women's basketball coaches Dave Leitao and Doug Bruno in "topping off" the arena.
"We're a year away from completion, and with construction moving on time and on budget, we have to thank all who contributed on this project," said Metropolitan Pier and Exposition Authority CEO Lori Healey. "We have to thank you all who worked on this project. Chicago's newest neighborhood."
After the speakers concluded, Healey invited the speakers, coaches and players to sign their names on the beam. Afterward, the players gathered in front to take pictures with the Chicago Iron Workers Local #1 union, and the beam was lifted.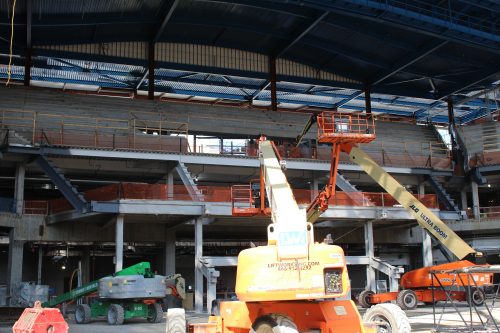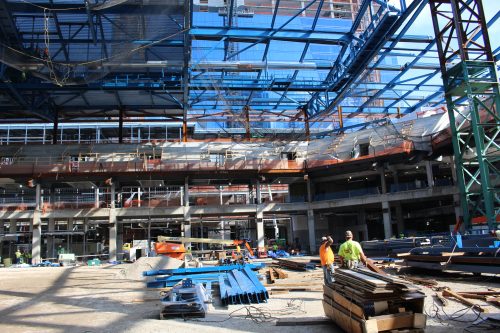 The MPEA broke ground for the project a year ago and have made kept pace with the original** schedule. As of now, the arena will be completed next September, and will make its debut for the 2017-18 DePaul basketball season.
"It's a really exciting moment for us, at the university, to watch this go up," Holtschneider said. "(I can't wait) to bring recruits here and show them where we'll be playing and to talk to our alumni, who are incredibly excited about coming to this new location."
The arena has been a major selling point for recruitment at DePaul. Although DePaul is a Chicago school, the men's basketball team has played in the Allstate Arena in Rosemont since it opened in 1980. Now the team will play in the center of the city.
"DePaul belongs in Chicago and is owned by Chicago, and, now, to be in the middle of downtown Chicago and represent this great community is just mind boggling for me," said Leitao. "We're working extremely hard to make sure we'll be ready come that first game (and) that we can give our fans what they've been long (waiting) for."
DePaul freshman guard Devin Gage, sophomore guard Eli Kane and junior guard Max Strus from the men's basketball team came to sign the beam, and sophomore guard Tanita Millender, junior guard Ashton Millender and junior guard Lauren Prochaska attended from the women's team. The coaches believe these players will lead the team in the new arena for its next few years.
"We put 4,000 people in our Phillips-McGrath Arena and we're looking forward to the day we put 10,000 people into this great arena down here in the South Loop," Bruno said.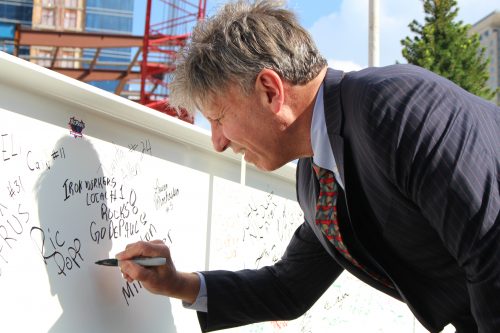 The arena was officially announced in 2013, and DePaul committed by becoming the first long-term contract for the arena.
"We have to bring something to the neighborhood that makes it a place people want to come down to and live, and enjoy and entertain themselves and bring life to the streets at (the) corner of Indiana and Cermak," said  Deputy Mayor Koch. "We needed a partner that wants to bring life to it, and DePaul University came in, a great partner in all kinds of things in the city, and said 'we want to be a part of this' and Father (Holtschneider) said 'we're going to commit, not just our resources, but, most importantly, our students athletes and our program.'"