The demolition of the old Children's Memorial Hospital is over half way complete — and the $350 million development project that includes apartments and retail stores is ever closer to becoming a reality in Lincoln Park.
The developers, McCaffery Interests and Hines, plans for the complex to hold apartment buildings with 540 units, up to 60 condominiums and some 160,000 square feet of retail.
The housing the complex will provide may greatly benefit DePaul students who want to stick near campus, as long as they can afford its "luxury" the developers have promised.
The old Children's Memorial Hospital site is scheduled to be raised by November, according to the plan presented to the community. Construction is estimated to begin in December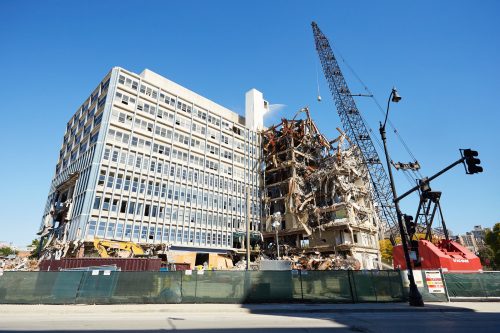 and last about 2 ½  years, meaning apartments and stores should be open sometime in early 2019.
The six-acre complex stretches between Lincoln Avenue, Halsted Street and Fullerton Avenue. Everything in between is to be raised, except for a couple of historical buildings the developers say they may use for materials to furnish new buildings.
The Children's Memorial Hospital has long been a significant institution in Lincoln Park. The philanthropic widow Julia Foster Porter founded the hospital in 1882 as an eight-bed cottage. The hospital's mission then, as it still is today, is to care for children and pediatrics.
Yet after 130 years of expansions and use, the old buildings eventually began to diminish the hospital's ability to help their patients.
"We had outgrown the hospital," Julie Pesch, public affairs director at Lurie Children's Hospital, the complex where the hospital was relocated to in 2012. "We were turning away at least 200 patients a year, and that's a lot. They really needed our care."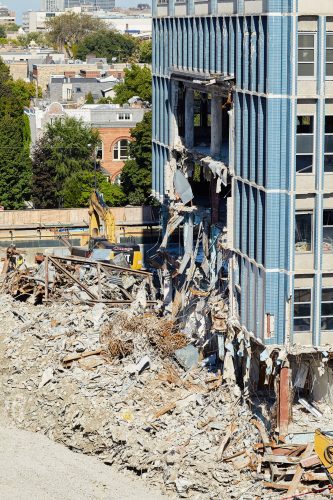 Many of the old building's floors could not hold necessary equipment. There were no private rooms, forcing children with a variety of conditions to endure the same temperature, lighting and privacy.
By 2004, the hospital's board of directors finally decided that a move to a new hospital was in order. They ended up choosing a location in Streeterville, on land sold to them by Northwestern University. The old property was sold for $50 million, and it took four years to sell it, finally being bought by the developers in 2012.
The arrangement was suitable for the hospital because of its contract with Northwestern University's Feinberg School of Medicine. Students have the chance to learn at the hospital, while the hospital obtained prime real estate to build its new complex.
"It's always best when your hospital is on the campus of your medical school," Pesch said.
In the hospital's new location, they can better serve another institution: the Prentice Women's Hospital. Sick children from Prentice would come by ambulance to the hospital in Lincoln Park. With the new Lurie Children's Hospital located right next door to Prentice, sick children can simply be transported down a hallway connecting the two complexes.
Being in Streeterville has allowed the hospital to recruit more specialists and raise more money for research. That's key, Pesch said, because most big cities have one standalone children's specialty hospital.
A number of public hearings occurred after the developers' announcement to demolish and rebuild, hosted to inform residents how they might be affected by the redevelopment.  Their concerns ranged from historic buildings to underground pests.
One of the most historically-significant buildings in the Children's Memorial complex is the Nellie A. Black building. The developers plan to clean its insides and then tear it down, but said they might use parts of the facade for some of the new buildings.
But most of the old Nellie A. Black building will be destroyed. Other buildings in the complex will have a similar fate. The old Martha Wilson Memorial Pavilion building will be taken down, but pieces of it will also be used for new buildings.
The Nellie A. Black building was built in 1932 by developer Pickney and Johnson. It was used by the hospital's nurses and interns, and is notable for its brick exterior and Renaissance revival architecture.
These two buildings are two of the oldest structures in the complex, according to DNAinfo.
Developers plan to turn the Nellie A. Black building into a senior housing complex, called "Belmont Village." It will be a seven-story building with 150 units and 120,000 square feet.
As of right now construction crews are demolishing the buildings, but once they open up the basements, they may meet a well-known frustration: rats.
Many Lincoln Park residents have expressed concern of the issue, as the rats may move to new places once the complex is demolished. Many residents have decided that feral cats are the best solution.
Rats are also expected to emerge from other construction projects in Lincoln Park, like the DePaul School of Music and the Lincoln Center. All three were under demolition at the same time.
Many of these feral cats are placed in a resident's backyard or garage, according to DNAinfo. For 28 days, the cats live in crates, until they are finally released to hunt the rats.
Traps and poison are not as effective as feral cats because when rats are killed in their home, new rats move in. Feral cats, meanwhile, hunt rats and compel them to stay away due to their scent and smell.
With apartments due to be for rent in early 2019, DePaul students seemed enthusiastic about living in the new complex that will replace the Children's Memorial Hospital site.
Adrian Phua, a senior and economics major, said he is interested in living at such an apartment complex as long as the interior is up to date with modern appliances. His max price is about $800. But safety is his foremost concern.
"I think safety is very important because Chicago is not as safe as I thought when I first came here," Phua said.  He was almost robbed in the Loop a few years back.
Katelynn Karner, a freshman living in the Clifton-Fullerton dormitory and a political science major, said she is also interested in the new complex. Next year, when she moves into her new apartment, she wants to be located near DePaul "because it would be 10 times easier especially during winter," she said. "It would just be easier to get around."
Her main concerns are if the apartments are comfortable, other DePaul students live in the building and if she can afford it. Her max price is about $900.
"I wouldn't want it to be expensive," Karner said. "But it is in Lincoln Park, so it would be."