Chicago basketball scene is about to get exciting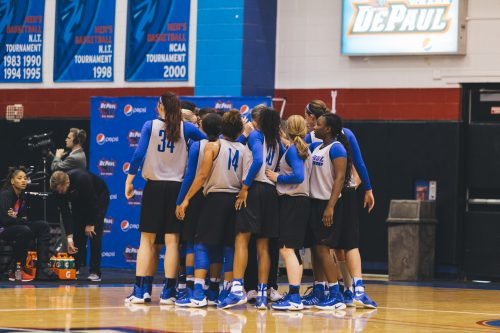 Every year, the head coaches of Chicago's five Division I college basketball teams get together at a luncheon to talk about the upcoming seasons and all 10 teams always seems to be on the rise.
This time around, that actually seems to be true. There's a couple of men's programs where there is nowhere to go but up, including Chicago State (4-28), Illinois-Chicago (5-25) and DePaul (9-22). Loyola Women's basketball is attempting to move on past the firing of Sheryl Swopes after allegations of player abuse and will they move forward with the youngest coaching staff in the country. Chicago State (4-25) and Illinois-Chicago (12-18) can both improve this season.
Chicago college basketball is on the cusp of returning to prominence, and DePaul can play a large part in it. Chicago has not had a men's team make the NCAA tournament since DePaul and UIC both made the tournament in 2004. Loyola has not made one since 1985 and Chicago State and Northwestern have never made the tournament.
But maybe this is the year that changes. Northwestern comes off of a 20-win season and seems to be on the cusp of breaking their long streak – a common thread in Chicago sports these days. On the women's side, DePaul comes off a Sweet 16 appearance and have made 14 straight NCAA tournaments and Northwestern was ranked as high as No. 12 in the nation at one point.
But for excitement in Chicago, it all comes down to the new DePaul arena in the South Loop. The DePaul women's team is going to be strong and will be able to host some high-profile games in that new arena, and the men's team will have a huge recruiting tool for young athletes looking to play in a prime location.
There's a reason that "Home Court Chicago" has been the marketing slogan used so much by DePaul: it's a return of DePaul men's basketball to the city of Chicago, but it's also a level up from where the Blue Demons used to be. It's certainly a step up from the on-campus Alumni Hall that served as the home for the Blue Demons until 1980. The arena not only brings a home in the city for both DePaul teams, but it also upgrades their position. It's in an exciting part of the city and it aims to really put DePaul back on the map.
The arena will help, but it also depends on how the teams do inside it. Women's head coach Doug Bruno talked about how rivalries only happen when the teams are able to beat each other. The DePaul and Northwestern women's teams have traded wins the past couple of seasons and Loyola was able to shock the Blue Demons last season. The DePaul and Northwestern men's teams have also traded wins the past few seasons and have a contract to keep them playing each other for the next couple of years. DePaul will play Northwestern, Chicago State and UIC this season.
The state of Chicago college basketball has been stagnant from the men's perspective for the past several seasons, but it seems to be on the edge of becoming lively again. Maybe Northwestern makes their first NCAA tournament, maybe DePaul rebounds from the damage that has been done to the once proud program, and maybe UIC can come back from their struggles as well.
Chicago might be on the cusp of seeing some really exciting college basketball over the next few seasons. For as legendary a basketball city we're in, it deserves nothing less than a fun and exciting college basketball scene.