Lost Boyz Inc. connects community and sports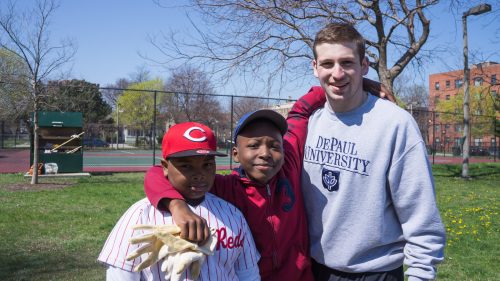 A few years before 2008, the South Shore Little League folded, leaving many of the kids in the area without a sport to play competitively in the springtime. In response, ex-coach for the folded South Shore league and DePaul alumnus, LaVonte Stewart, created Lost Boyz, his own youth baseball league.
In its first year, Lost Boyz was just one youth baseball team, consisting of 15 kids, Stewart coached himself. In his program Stewart was both the head of the league as well as a coach, and because of this, he spent more time and became very close with the kids on his team. He realized they needed more than just a baseball coach; they needed a mentor.
Today Lost Boyz has expanded to six teams and now includes softball for girls, but it is more than just the simple baseball league it was at its inception. Now, Lost Boyz considers itself a mentorship program. The organization works to get the children involved within the community and collaborate with community leaders.
"Everything that Lost Boyz does involves mentorship," Stewart said. "Whether you're a coach, whether you're an academic tutor (or) whether you're any other program person, whoever comes in contact with the kids becomes a mentor. We don't use that term loosely."
Stewart attended DePaul University graduate school from 2013 to 2015 where he earned his Master of Public Administration degree. While at DePaul, Stewart also became the vice president of DePaul's chapter of Pi Alpha Alpha, the honors society for public service.
One of the biggest goals of the Lost Boyz organization is to have a lasting "impact" on the kids who go through the program. The organization not only wants the children to succeed in their personal lives, but to form a tighter bond with stakeholders in the community, including business owners and law enforcement.
"Our youths have been improving their relationship (and) their perspective on policing in their community," Stewart said. "That's been a big focus the last three years (even) prior to Laquan McDonald and all of this big rise in looking at police brutality."
Stewart started Lost Boyz because he feared for the newest generation of children growing up in the South Shore neighborhood, the same place where he spent his youth. He saw there was a rise in crimes involving minors, both as the perpetrators and the victims, so he felt he had to set a positive example for the children he coached. He also knew that, aside from his parents, he didn't have many role models growing up.
"I started playing baseball when I was seven years old," Stewart said. "I ended up playing high school ball well enough that I was able to get a scholarship to play ball in college, played a little semi-pro and then I just kind of screwed it up (. . .) there was this other side of me that was just so drawn to the darker side of black Chicago. I ended up putting myself in a lot of precarious predicaments that I shouldn't have been in. (Then I) ended up going to prison."
After getting out of prison, Stewart was set to change his own life for the better. So when he had the chance, he created Lost Boyz.
Stewart is also a father, and he didn't want his two daughters or his two-year-old son, at the time, to fall into the same "pitfalls" he had trouble avoiding while he was younger. The best way he saw to set an example was as a baseball coach and as a role model.
While working towards his graduate degree at DePaul, Stewart studied different developmental theories, and found one that perfectly fit what he was trying to accomplish at Lost Boyz – sports-based developmental theory.
According to Daniel F. Perkins and Gil G. Noam the authors of "Characteristics of sports-based youth development programs", "programs that take a community youth development approach create opportunities for young people to connect to others, develop skills and use those skills to contribute to their communities, which in turn increases their ability to succeed."
The Lost Boyz program gives the children an initial "life skills" assessment after sign-up, which helps the organization figure out what they should focus on in each of the children – both on the field and off. Although the organization focuses on pre-high school children, the Lost Boyz staff has developed relationships with the children that have transcended the league. At this point, some of the original athletes that have kept in touch are now finishing high school and entering college.
According to Stewart, Lost Boyz' proudest accomplishments are the children who succeed after ageing out of the program. Children like D'Artrey Brinson, now a second year student and baseball player for Olive-Harvey City College, is being actively scouted by Division 1 schools.
Stewart's local league team played against Brinson's team when he was younger, and after the league folded, the two reconnected when Stewart recognized Brinson on the street and asked him to join Lost Boyz.
"(Stewart) had been working with me personally since I went to high school," Brinson said. "He basically helped me get in (Olive-Harvey). He helped me do the application to get in here. I think the kids that take the program seriously (. . .) are the ones that succeed in life."
In his first year with the team, Brinson, a left-handed pitcher, had a 11.41 earned run average and started five games, recording one win and three losses. Although he didn't produce stellar pitching numbers his first year, Brinson pitched the fourth most innings for the team, quite a feat as a freshman.
While at DePaul, Stewart used Lost Boyz as his case study for many of his assignments and projects. That caught the interest of many of his classmates and professors at the time.
Because of this, Stewart was able to forge a connection to the DePaul softball program. He formed a connection with DePaul athletics director of Marketing, Karen Loiacono, who helped bring DePaul softball players like former pitcher, Mary Connolly, to the Lost Boyz practice field to help coach the girls' fast-pitch softball players.
"(The DePaul) connection is huge," Stewart said. "(The kids) can kind of visualize themselves being in that position and kind of adhere to somebody that tells them what it takes to get there and what it takes to stay there. So that's mentorship in a way of itself."
Lost Boyz also works similarly with other Chicago colleges like Northwestern, UIC and Chicago State.
Stewart may have graduated, but Lost Boyz still has connections with DePaul. Junior Sam Shipko began working last year as a tutor for the organization and he immediately felt like a member of the team.
"(Stewart) introduced me to everyone right away," Shipko said. "I felt like family right away. That was the main thing that made me stick with the organization."
While playing on a Lost Boyz baseball or softball team, children can access free-of-charge tutoring to help them with their studies.
"The biggest challenge is trying to connect with the kids," Shipko said. "The kids I like to focus on maybe come from a single-parent family. Maybe I don't know their mom and dad. If there are kind of a few unconnected dots within the family, (then) those are the kids we try to work with. The kids who need extra reinforcement."
In 2008, Lost Boyz started out with a budget of $1,000, 15 kids and three volunteers. Nine years later, the budget has grown to $145,000, over 120 kids and over 40 volunteers, and recently, the organization opened its first office.
Though they still have goals for the future, the people of Lost Boyz are proud of what they've accomplished thus far.
"The South Side of Chicago (has) some great people out there, but there are some people who ruin the neighborhood," Shipko said. "So drugs sales, gang activity (are) two things that label the South and West Sides of Chicago, but people need to realize that there are kids there who are dying to do well in their lives."