Student body most racially diverse in DePaul history
The face of the United States is changing as the population becomes increasingly racially and ethnically diverse. According to the Pew Research Center, if this trend continues, the "U.S. will not have a single racial or ethnic majority" by the year 2055.
Much like the nation as a whole, the DePaul student body is becoming increasingly diverse. The university's student population for the fall 2016 quarter is the most diverse in DePaul's history, with students of color — those who self-identify as African American, American Indian/Alaska Native, Native Hawaiian/Pacific Islander, multiracial/non-Hispanic, Asian and Hispanic/Latino — making up 36 percent of the overall student body.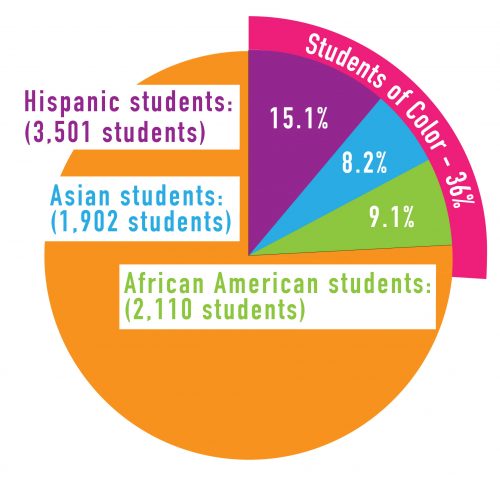 DePaul's Office of Institutional Diversity & Equity has openly cited diversity as a core institutional value of the university and celebrated the historically diverse fall 2016 student body in an official statement.
"We are very proud that DePaul has achieved record-breaking diversity in our student enrollment this fall," the statement said. "This success was achieved by deliberate intent based on DePaul's mission and commitment to diversity." 
DePaul's student body has more Hispanic students than ever with 3,501 Hispanic students, or 15.1 percent of the overall student body. This number is even higher for undergraduate students with the 2,820 Hispanic students constituting 18.3 percent of DePaul's undergraduate population.
There are 2,110 African American students enrolled at DePaul, making up 9.1 percent of the university's student body. This is the second largest proportion of African American students at DePaul in the university's history.
Additionally, there are 1,902 Asian DePaul students enrolled at DePaul this quarter. Asian students make up 8.2 percent of the fall 2016 student body, more than any other quarter in recent history.
The fall 2016 student body is about as  racially diverse than the nation as a whole. According to the United States Census Bureau, white Americans make up  61.6 percent of the United States population as of July 2015. This quarter, 64 percent of DePaul students identify as white. Asian Americans currently make up 5.6 percent of the country's population, but 8.2 percent of the DePaul student body self-identify as Asian.
However, DePaul is behind national demographics in representation of Hispanic and African American students. The United States Census Bureau reports that 13.3 percent of the population is Black or African American and 17.6 percent of the American population is Hispanic. At DePaul, only 9.1 percent of students are African American and 15.1 percent are Hispanic.