Women: No. 1 Contenders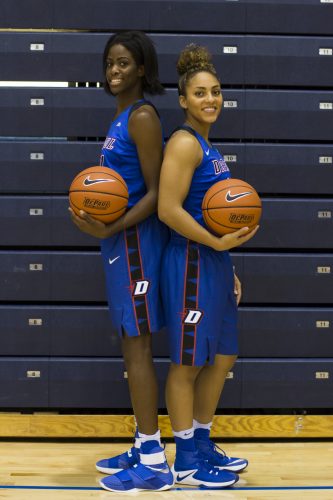 DePaul looks primed to win their fourth straight Big East title, but Creighton looks to rise up as well.
Conference records in parentheses, all conference records are Big East unless otherwise noted. Teams listed in order of  preseason coaches' poll.
DePaul Blue Demons 
25-8 (16-2)
DePaul looks to be as strong as last year, led by senior guard Jessica January. They'll have to replace the graduated Chanise Jenkins and Megan Podkowa, but they seem primed to win regardless.
Creighton Bluejays
17-17 (8-10)
Creighton tied with DePaul on top of the Big East standings in the preseason poll, and for good reason. They get Marissa Janning back from injury and have one of the most experienced teams in the conference.
Marquette Golden Eagles
14-16 (9-9)
It's been quite a turnaround for the Golden Eagles under third-year head coach Carolyn Kieger. The Golden Eagles return all five starters, including the reigning conference Freshman of the Year.
Villanova Wildcats
19-11 (12-6)
The Wildcats had a tough break at the end of last season when they lost Caroline Coyer to a season-ending injury, but return this year led by sophomore guard Adrianna Hahn.
Georgetown Hoyas
16-13 (9-9)
Natasha Adair saw the Hoyas improve themselves by 12 wins last season and will bring a high-scoring team. Dionna White and Dorothy Adomako were the No. 2 and No. 3 conference scorers last season.
St. John's Red Storm
23-9 (11-7)
St. John's won last year's Big East tournament but this year will be missing a couple of key pieces to that team. Jade Walker will be the top returning scorer for the Red Storm with 9.3 points last year.
Seton Hall Pirates
23-8 (12-6)
For the second year in a row, Seton Hall will return only one starter in Lubirdia Gordon, but they are bolstered by transfer JaQuan Jackson. They've benefitted from transfers heavily in the past.
Xavier Musketeers
17-13 (8-10)
The Musketeers return two starters from their season that saw them start off strong in the conference but ultimately stutter toward the end. They have experience, but it might not be enough.
Providence Friars
5-24 (1-17)
New head coach Jim Crowley has a mighty task ahead of him in turning around Providence, and this year looks to be a shaky transition, although the Friars do return four starters.
DePaul Women's '16-17 Schedule
Maggie Dixon Classic
11/11/15 vs. Appalachian State | 8:00 p.m. CT
11/12/16 vs. TBD | 8:00 p.m. CT
11/19/15 vs. Northwestern | 7:00 p.m. CT
Gulf Coast Showcase
11/25/15 vs. Western Kentucky | 12:30 p.m. CT
11/26/15 vs. TBD | TBD
11/27/15 vs. TBD | TBD
12/01/15 at Connecticut | 6:00 p.m. CT
12/05/15 vs. Prairie View A&M | 12:00 p.m. CT
12/10/15 vs. Notre Dame | 7:00 p.m. CT
12/15/15 at Temple | 8:00 p.m. CT
12/18/15 at Loyola | 2:00 p.m. CT
12/20/15 vs. Tennessee-Martin | 7:00 p.m. CT
12/28/15 at Georgetown | 1:00 p.m. CT
12/30/16 at Villanova | 6:00 p.m. CT
01/02/16 vs. Providence | 8:00 p.m. CT
01/04/16 vs. Creighton | 7:00 p.m. CT
01/08/16 at Seton Hall | 1:00 p.m. CT
01/10/16 at St. John's | 6:00 p.m. CT
01/13/16 vs. Butler | 7:00 p.m. CT
01/15/16 vs. Xavier | 2:00 p.m. CT
01/21/16 vs. Marquette | 7:00 p.m. CT
01/27/16 at Creighton | 7:00 p.m. CT
01/29/16 at Providence | 11:00 a.m. CT
02/03/16 vs. St. John's | 7:00 p.m. CT
02/05/16 vs. Seton Hall | 2:00 p.m. CT
02/10/16 at Xavier | 6:00 p.m. CT
02/12/16 at Butler | 12:00 p.m. CT
02/19/16 at Marquette | 1:00 p.m. CT
02/24/16 vs. Villanova | 7:00 p.m. CT
02/26/16 vs. Georgetown | 12:00 p.m. CT