Last season, many would have said now-junior guard Ashton Millender was a breakout player for the Blue Demons.
Millender was the go-to sixth woman off the bench and came in to, usually, give then-senior guard Chanise Jenkins time to rest while fulfilling a similar role.
Because of the way she stepped up her sophomore year – doubling her points-per-games average, working for rebounds and steals, and scoring double digits in 13 games – Millender was named DePaul's most improved player of the 2015-16 season.
However, this year, Millender will have an even tougher task. She will have to share the bulk of the deep looks as the primary deep threat with the loss of junior forward Mart'e Grays. Obviously, DePaul has many other players in their lineup that can go deep – like senior guards Jessica January and Brooke Schulte –, but most are more effective in other roles.
Last season, Ashton Millender was the first sub off the bench and averaged 22.5 minutes a game – the most of any non-starting player on the team. This year she cracked the starting lineup after last year starters Jenkins and Megan Podkowa graduated.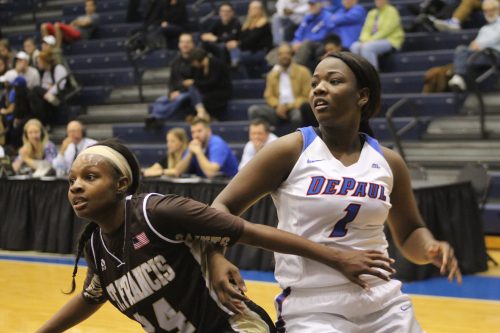 This year, Millender looks to take over Jenkins' role as the go-to deep man. She will play an important role in DePaul's size-challenged offense by stretching opposing defenses by forcing them to cover her outside the line – her most dangerous place on the court.
Millender also has been working on the defensive side of her game. She usually assists Brooke Schulte up front by trapping the opposing team and forcing jump balls.
"(I work on defense) a lot. I'm not that quick, so I try to get better (tactically) and think in front of good players," Millender told the DePaulia last season.
At the end of last season Millender was ninth in the Big East with a .359 3-point field goal percentage. That percentage also led the team aside from Amarah Coleman's .385 percentage. However, Coleman only went deep 26 times during the season whereas Millender put up 145 three-point attempts.
"Ashton had a great run down the stretch last year and we just expect her to pick up where she left off last year," head coach Doug Bruno said. "She's just a good solid guard."
So far, in the two exhibition games, Millender's role has been limited due to a foot injury and because Bruno has been stretching the bench in order to find chemistry between the four incoming freshmen. However, in those two games Millender was able to find three open threes and averaged 8.5 points.
The Blue Demon women will look for a return to form for Millender next weekend in the Maggie Dixon Classic. Last season, Millender beat her freshman season record of 12 points when she scored 14 points against Southern Illinois. She didn't stop there.
Millender had 13 double-digit games last season as opposed to her one game last season. As a starter, expect Millender to increase that number to about 20 games this season, especially as the primary deep threat for the Blue Demons.
Another aspect of Millender's game that should improve this year is her assist per game. Last season, Millender ended the season with an average of 1.1 assists-per-game. Millender needs to increase those numbers to at least three assists per game especially if she is going to take over for Chanise Jenkins, who had a 4.8 assists per game average during her career with DePaul.
In the exhibition game against St. Francis, Millender had three assists in her 20 minutes of game time. She will have to achieve numbers similar to those in order to be effective in Bruno's "DePaul Ball" system.
Millender will likely make her first start as a Blue Demon next weekend in the Maggie Dixon Classic.