DePaul dominates St. Xavier 124-67
The women's basketball team came out firing in their first exhibition game of the season against the St. Xavier Cougars.
After senior guard Brooke Schulte's jump shot scored four seconds into the game, the Blue Demons lead for the entirety of the game.
In the dominant 124-67 win over the Cougars, every single Blue Demon that came into the game made it on the score sheet.
The Blue Demons played their usual high paced game, and soon, fatigue set on the Cougars. Fatigue hindered the play of the Cougars who began to give away balls off of errant passes forced by the early full-court press by DePaul
The Blue Demons forced 17 turnovers and had 16 steals in the game. Senior guard Jessica January recorded six steals in just 15 minutes of play time in the game. Freshman guard Kelly Campbell, who led the team in minutes played, was aggressive in the paint recording seven offensive rebounds which was a big factor in DePaul's 28 second-chance points.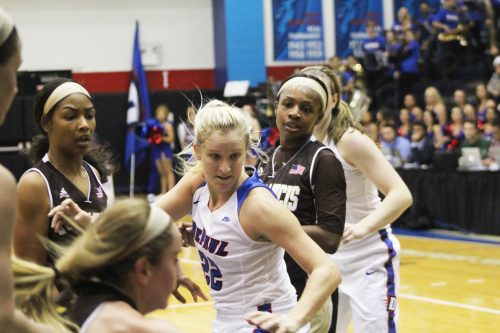 January also lead the Blue Demons with 24 points and went 10-12 in the field.
The Cougars managed to put up 39 points before the half, but because of DePaul's stellar offensive performance, the court still was tilted in the Blue Demon's favor. The Cougars recorded five points from fast break plays early on in the first two minutes of the game, but were unable to continue due to the aggressive press of the Blue Demon women.
Coach Doug Bruno liked what he saw from the press, but he admitted the team needed to learn to play without it as well.
"One of the important things about our program is that we not only execute open-court basketball, but we also execute in the half court," Bruno said. "So, we've still got a long way to go. You know, we've worked on it a lot the second half of tonight and you can't do everything."
Due to the early lead, Bruno worked the bench early looking for winning combinations. Throughout most of the second half at least four freshmen were on the court, and the Blue Demons tried out senior forward Jacqui Grant with both freshmen forwards Meri Bennett-Swanson and Chante Stonewall.
"(The freshmen are) picking stuff up just like any good basketball players do," January said. "(They're) getting in the games and seeing the rotations and seeing how things work out. It's good to see them play."
In the fourth quarter, the Blue Demons tightened up their defense and only allowed four points, while playing Campbell, Stonewall and freshman guard Claire McMahon for all ten minutes.
The game concluded 124-67 and DePaul's offense stayed strong, recording 24 points in both the third and fourth quarters.
The Blue Demons open up their regular season against Appalachian State next Friday.