No. 22 DePaul women's basketball rolls Tennesee Martin 100-68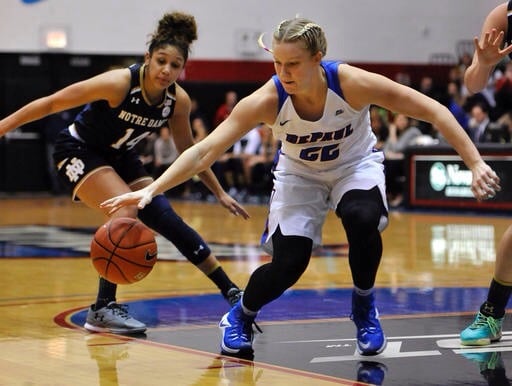 From the opening bucket, No. 22 DePaul women's basketball was in charge of the game as the Blue Demons (8-4) defeated Tennesee Martin (3-9) 100-68.
Senior guard Brooke Schulte led the game with 27 points, which is the most for any Big East player this season and a career high for her.
The Blue Demons were in complete control from the onset. They ran out to a 24-7 lead to start the game, then kept building. At the end of the first quarter, DePaul led 31-12. The second quarter was more of the same as they ran away with the contest and led 58-26 at the half, following a Claire McMahon three at the buzzer.
At the break, Schulte led the game with 17 points while January had 13. At this point, nine Blue Demons had scored.
In the third quarter, Schule broke her previous career high of 21 points and confused to make her new record through the game. DePaul led 79-46 at the end of the period.
The fourth quarter saw a majority of bench players get minutes as the Blue Demons cruised to a 100-68 victory.
This was the last game for the Blue Demons before Big East play. They travel to play Georgetown in the opener on Dec. 28, before playing at Villanova two days later.