Injuries, wins pile up for DePaul women's basketball
Prior to the start of the 2016-17 DePaul women's basketball season injuries had already taken their toll on the team. Coach Doug Bruno's projected starter, junior forward Mart'e Grays suffered a season-ending torn achilles tendon injury. Now, four games deep into Big East play, DePaul has lost two more starters to injury: junior guard Ashton Millender and senior guard Jessica January. Despite this, the team is 4-0 in the Big East.
From now until she had surgery to repair her broken index finger last Tuesday, January was the go-to shooter on the Blue Demons offense. January averaged a team-leading 15.3 points-per-game and played an average of 29 minutes-per-game. Even after missing the past four games, January still has the third most points for the team.
Before missing the past eight  games with shin splits, Millender has been the team's primary deep threat and has attempted a team-leading 67 three-pointers and has a .388 average this season.The loss of their most consistent three-point-shooter is tough for the Blue Demons who must use their outside game to make up the lack of size below the basket.
Even with the loss of these starters, DePaul was still 5-0 in conference play and currently is sitting on a seven-game win streak. The Blue Demons are no strangers to injury so far this season and players like junior guard Lauren Prochaska and freshman guard Kelly Campbell have had to step off the bench to fill the roles of January and Millender as best they can accomplish.
"I cannot say enough about Lauren Prochaska," Bruno said. "She's been a great role player and she's really handled well emotionally the ups and downs of playing 20 minutes one game and played two the next."
Prior to the injuries, Prochaska was an early sub off the bench for Bruno, usually giving Schulte or Coleman a chance to rest. She possesses great vision and finds the open woman on the court. Since she was chosen to start in place of January, she has lead the team in assists in all but the Creighton game, however she scored her season-high seven points in that game.
"Kelly Campbell is a grit player," Bruno said. "She's a freshman that I have no qualms at all about why she's playing or should she play. Her offense will find itself, but (she) went and grabbed (six) loose balls (against Creighton)."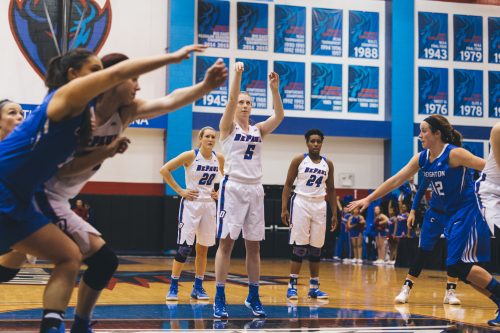 When Millender missed her first game midway through December, Bruno tapped Campbell for the starting spot. Before she started Bruno said Campbell was "first off the bench" and that "she could probably start right now." Now she must fill that role. Although she's a freshman, transitioned from high school to college ball very easily. She showed off her scoring ability in the exhibition games, and has recently taken over a role player position on the team. Since Big East play, Campbell hasn't finished a game with less than five rebounds.
Much of DePaul's continued success is due to the other seniors continuing to lead the team after the loss of January. In the second half of the season so far, senior guard Brooke Schulte has taken over as the team's go-to scorer. Schulte is still just below January in her point-per-game average, but she has scored over 20 points in her last three games against Big East teams.
"(Schulte's) got this scoring ability and we got to get her open, she's got to shoot the ball," Bruno said.
Senior forward Jacqui Grant has also played tremendous basketball recently. After the early loss of Grays, Grant has had to stand tall as the only starting forward for DePaul. Grant already has five double-doubles this season, three of which have come the first three games after DePaul lost January to the finger injury.
"(Rebounding) allows (Grant) to be a presence," Bruno said. "(. . .) If you can also understand the importance of offensive rebounding, I thought (Grant) got some important offensive rebounds and those have translated into put-backs and easy buckets for us."
The injuries to the Blue Demon women have forced coach Bruno to pare down the team to a seven player rotation which also includes starting junior guard Amarah Coleman, sophomore guard Tanita Allen and freshman forward Chante Stonewall.
"One of the tough parts about sports (is) when people get hurt," Bruno said. "At the same time, I'm just really proud that the players are adopting our attitude of 'no excuses'. (. . .) We're just taking the approach that this is our team, this is who we have and this is what we're going to get it done with."
The consistent play of the Blue Demon women is a relief and a credit to both the team and the coaches, and maybe the team will have time to practice with a healthy squad as Big East play draws to a close in late February and into March.