Men's basketball has regressed on offense
DePaul men's basketball has an offense problem. 
Even with the eye-test, it's easy to see that DePaul is struggling on offense. They've put out the same starting five in all 16 they've played and two starters, freshman guard Brandon Cyrus and junior forward Joe Hanel, have scored 5.2 and 3.7 points per game respectively. This puts a lot of scoring pressure on the other three starters.
Out of those three starters, senior guard Billy Garrett Jr. has been the only consistent scorer as of late. Garrett, by most measures, is having the best season of his career. His points per game average is two points higher than all other years and he's shooting more than he has in previous years. We'll see how the Big East schedule affects those statistics, but he's also hit double figures in nine of his last ten games. Garrett has been good and consistent.
Outside of Garrett, it's hard to find consistency. Sophomore guard Eli Cain was averaging 20 points per game for a good portion of non-conference play, but has only hit double figures in two of his last five games. Junior forward Tre'Darius McCallum has come on well the past few games, but it's still too early to say he's been consistent. He has put in double figures in four of his last five games.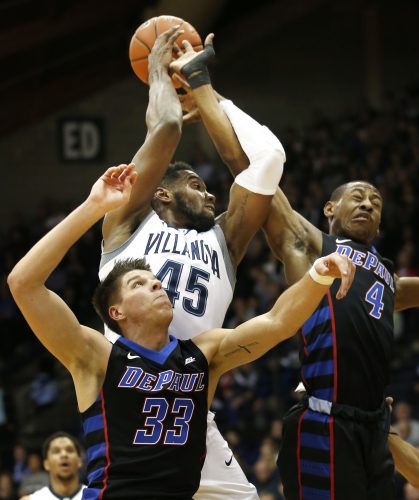 As the Blue Demons weaved their way through the non-conference schedule, the offense has not been consistent, even in singular games. One half can be completely different from another.  DePaul has pulled out some nice comeback wins against Missouri State, Drake and Southeast Missouri State, but the latter two opponents should never have had to be comebacks in the first place. The offense has been completely shut down in some games, such as their Northwestern loss, where they were down 54-18 at the half.
Kenpom, a college basketball statistical aggregate website, says that DePaul has only beaten one team inside the top 250 college teams (Missouri State), and that their offense has regressed from last year using their main offensive statistic, which shows average points per 100 possessions. It's called Adjusted Offensive Efficiency (AdjO) and they've regressed from 103.3 AdjO in 2015-16 to 102.2 AdjO in 2016-17. That's been a big enough difference to drop them 20 spots in the rankings between this season and last season, and this is with at least 16 more games of Big East defenses to go through.
The defense is about where they were last year in terms of Adjusted Defensive Efficiency (the same statistic as AdjO, but in terms of points allowed). Basically, head coach Dave Leitao's second year has not seen much progress at all. There's been defensive stagnation and offensive regression and the bench has seen a five percent drop in minutes played between these past few seasons, which means the depth has not been available for Leitao to mix and match his lineups, not to mention injuries to what were supposed to be key role players in graduate senior Chris Harrison Docks and freshman forward Levi Cook.
The first three games of Big East play have seen DePaul play very well for a whole game against then No. 1 Villanova, very well for a half against St. John's, and not well at all for a whole game against Seton Hall. The rest of the Big East schedule does not look kind for the Blue Demons, which means they're going to need some offensive consistency.
If Hanel and Cyrus are not going to produce much offensively, then Garrett, Cain and McCallum are going to need to step up simultaneously. Harrison Docks is going to need to be a productive bench option and the inexperienced bench is going to adjust to Big East play, otherwise it will be another long conference season for DePaul.