August Wilson had one simple guideline for when his installment of "Fences" was to be produced for the big screen: an African American must direct the film. Who better to direct and star in "Fences" than Denzel Washington?
If we have any inclination of American dramatic literature, it's surely known that Wilson's Troy Maxson (played quite consciously both on-stage and film by Washington) holds a prized possession of verbal communication. His wife Rose's (also starring on-stage and in the film by the inimitable Viola Davis) plainspoken mannerisms mesh and fuel as a pinpointing counter attack of the Maxson marriage.
Jim Bono (Stephen McKinley Henderson's meaty role, which adds to his extensive list of Wilson's stage plays) acts as Troy's best friend and coworker. The two can be found splitting a bottle of beer in Troy's backyard daily after work, either going off about Troy's failed baseball career or his task of building a fence to secure the perimeter of his land. Cory (Jovan Adepo) is Troy's son whose football career is diminished by his father and due to racial opposition. The two don't see eye to eye and, like any teenager, Cory fights for what he wants to do.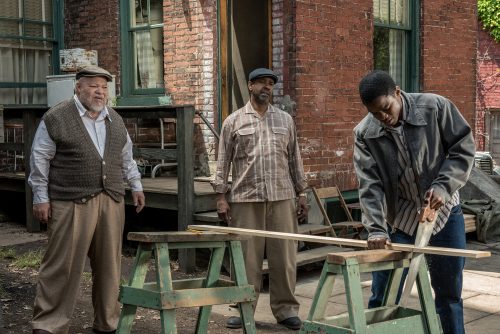 Henderson and Adepo joined "The DePaulia" for an interview about their roles in August Wilson's "Fences" directed by Denzel Washington.
The screenplay for "Fences" is almost identical to the actual play. August Wilson penned the initial screenplay as part of his "Pittsburgh Cycle," a series of 10 plays that charts the African American experience through the 20th century. "Fences" was marked as the first play he intended to adapt into a film.
He died before seeing the masterpiece come to the screen.
After the revival of the play on Broadway in 2010, Denzel and many of the cast members had a fluent transition to the film given that the material was so familiar to them.
"Fundamentally, as an actor, we make sure to say August Wilson's words. It is so important, when you have such a great writer, to say the words," Henderson said. "You have to know where you stand after you leave a scene as the story is still going on, so you can't just play your life. You're playing a whole human soul and that's much more than just saying line.
"When you're on the stage, you have to be considerate to your audience. The back row needs to hear you. But for film, being in an actual backyard in Pittsburgh, that life level of truth stays. It's intimate and it's inspiring because of that."
The film's Christmas release opened to some high critical acclaim, securing a run for some Golden Globe nominations and generating buzz for other Academy Awards. Generally speaking, the film does in fact feel like a play, but the powerful performances and the wordy script accumulate its own sense of cinematic realism.
"The power of forgiveness is the demon of the story. It's exhausting to hold grudges. They can hold you back from ever succeeding in life. That's something Cory desperately needed to come to terms with," Adepo said. "He wasn't able to do that until he got away from that element and then he was able to see the world and perhaps find love. If he hadn't come back, I'm not sure that he would have been as open to hear whom Troy really was."
"It's important to know that it is possible to have proper communication with a father with open dialogue. One of the most regretful things of Cory's character is that he never got to make amends with his father. That's something I would not wish upon any young man."