Spoiling DePaul's conference win streak, the Marquette women's basketball team went home with an overtime victory 102-101. Adding insult to injury, DePaul's long list of injured players only worsened after losing junior Lauren Prochaska to what appeared to be an ankle injury in the third quarter.
After a quick locker room break, Marquette began the third quarter with two unanswered shots — a sight that would set the tone for the rest of the game.
They would continue to go unanswered until Prochaska fell to the ground with an injury.
Noticeably crying, Schulte was right by the junior's side to help calm down her teammate.
"We really struggled after Lauren got out," Coach Doug Bruno said. "It took us a long time to get the game back stabilized, (but) we finally did."
It's almost as if Schulte took the injury as a sign to step up her game – she continued to rack up points and assist the team with a 52 percent overall field goal percentage.
The game allowed for DePaul players to reap success in double-figure points, with seniors Brooke Schulte and Jacqui Grant putting in 35 and 27 points respectively. Schulte broke her previous career-high of 27 points.
"At the end of the day, I'd rather have a win and score zero points," Schulte said.
This is the second game where Schulte and Grant have turned out with huge numbers for the team, but they admit there's never been pressure to repeat these types of performances.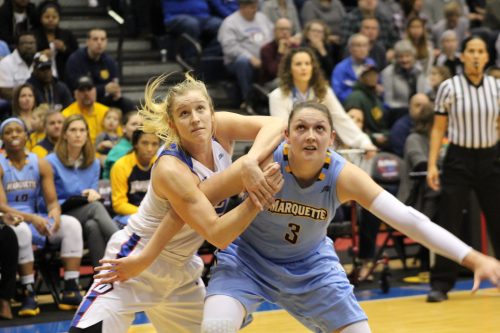 "I think throughout the adversity with injuries and losses throughout the season, our team has bounced back from a lot," Schulte said. "It's not just from one person, and it's not just between me and Jacqui that takes the load – it's our team as a whole."
The fourth quarter brought a different tune, with Marquette finding themselves only three points behind DePaul with 7:04 minutes left on the clock. DePaul had been up by as much as 15 points at the half, so it was an insurgency by the Golden Eagles to come back into this game. Soon enough, it was tied.
The last minute played out to be more of a game of hot potato, with each side answering with shots of their own with tie, after tie, after tie. DePaul gained a lead with four seconds left, but Marquette answered to send the game into overtime. This is where the Golden Eagles finally took advantage and won 102-101.
"You never like losing, ever, but at the same time, you either have class or crass," Bruno said. "Marquette is a good team, we got beat by a good team."
While Bruno recognized Marquette's solid defense and DePaul's effort to rebound with a total of 52, he couldn't quite let go of one fundamental part of the game.
"When you earn the right to make a layup, you have to make the layup," Bruno said. "I'm going to look at that tape and I'm sure we're going to find four or five, just point blank put backs that we didn't knocked down."
DePaul had a total of 19 turnovers, with Marquette racking up 10 steals.
"(We put ourselves) in a position to win this game, (but) through the sloppiness of our handling and Marquette's pressure," Bruno said. "You put that all together, Marquette gets a win and we go home defeated."
This was DePaul's first loss of the conference season and ended their 10-game win streak. With so many injured players, including senior Jessica January and junior Ashton Millender, Bruno acknowledged that more Big East teams like Marquette are giving the team a run for their money.
"Everyone knows how much we miss Jessica January, because she's the preseason player of the year," Bruno said. "Everyone knows how much we miss (junior) Ashton Millender, our second leading scorer, (but) because Lauren Prochaska doesn't score the most, you don't really understand what we miss in Lauren Prochaska. She was a huge aspect of the game, because she can handle any pressure from the game, and that obviously didn't happen when she went out of the game."
DePaul is now 8-1 in conference play, and 16-5 in the overall season.
The Blue Demons return to the McGrath Phillips Arena on Friday, Jan. 27 against Creighton.