Chicago hip-hop artist reflects on musical influences
Your typical 18-year-old usually does not tackle deep topics such as death, loneliness or failure but for the Chicago based hip-hop musician Dannie Amnesia, these are the aspects of his life that have shaped him and his lyrical work.
"My ma taught me to always offer food if you go to someone's house, I only have half a hash brown," Amnesia said as he crinkled up the empty McDonald's bag he holds in his hand.
Chicago's bitter cold winter wind springs off him as he grasps his surroundings walking into the old Lincoln Park apartment.  Curious, he asks about a picture hanging on the wall featuring Pink Floyd's album cover of "A Momentary Lapse of Reason."
His beaded chain hangs loose from his neck as he leans over sitting down. Humble, polite and incredibly wise, Amnesia's story sticks in countless Chicago classrooms and streets as he bounced around from neighborhood to 'hoods' and from school to school.
Amnesia's life shifted as he moved in with his aunt before moving back in with his mother in Oak Park while later continuously relocating in Chicago. His legs stretch out from the couch as he reflects on his past.
"You see, my ma, she could have been a mom that acted like she had just lost her child, but she let me go out and see the world," Amnesia said.  "She's my best friend.  I'm blessed."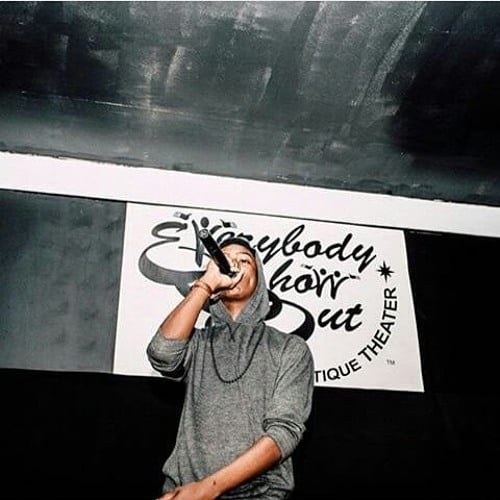 His latest work features songs entitled "These Drugs" and "Half My Life" that all contribute to telling the story of the teenage artist and his musical journey that began at 12-years-old, when his mother gave him a CD featuring Common, among other featured artists.  He looks back at his creative process as pure natural urge.
"I started off writing stories in detention one day – without beats," Amnesia said.
Laughing, he recalls how he would use free 30-day trials of digital audio programs from his mother's computer while she was at work.  He would link the program with different user accounts to continue using the program when the trial would expire.
Amnesia points to production wizard Mike Hero, a former musician faculty member at the now closed Melody Elementary School, as an individual who made the idea of music a reality.  Hero and his brother Dave Hero now own Trackforce Productions, LLC.
    "Someone came into a science class asking for a Daniel. I didn't know nobody, nobody knew me, I'm at a new school," Amnesia said.  "They asked if I knew how to rap."
In "K-Town" on Chicago's West Side, Amnesia was able to utilize Mike Hero's production assistance.  With Hero's help, Amnesia released a few songs such as "Believe in Me" and "Dreams" in 2014.
With faith as a defining characteristic of the young rapper, God acts as his source of stability in a life filled with personal obstacles.
"God showed me things," Amnesia said, while snapping his fingers. "A lot of things that I didn't want to happen, that were bad things led to good things."
     His reddish pink shirt combo pops out in the relatively dark room, as a bright lamp shines behind him.
Pushing his hands over his face, "A lot of the stuff I am learning now, it comes from looking back at the past," Amnesia said.
A past that has shaped him into a self-aware individual.
"Remember what I said about forks in the road," Amnesia said. "I failed seventh grade. I wasn't no dummy. I was just getting in trouble."
Taking a second, one could tell that his thoughts beat loud in a head filled with knowledge.
"I was 14 and the day came, I was really doing seventh grade again," Amnesia said.
"Being a kid, being young, I was depressed as hell."
The music of Amnesia references isolation and depression but illuminate themes of self-belief and confronting personal demons, as one lyric states, "Everything that you believe, everything, it's in your heart. When you die, your soul remains."
As he finishes his education at a local Chicago alternative school, the hard work of Amnesia has led him to a gain a following as a young Chicago rapper.
Paraphrasing the Bible, Amnesia states, "With much wisdom also comes much sorrow."
Zoe Kraft, recent director of Amnesia's latest music video "Black Boy" produced by Emma McGinn said, "I think he knows how to write about feelings people don't understand."
"I wouldn't probably say things as willingly as I would as when I put it on the track," Amnesia said. "I've been a lot of places bro (…) I stay on my feet."