Garrett breaks school free throw record
With 4:42 left to play in Tuesday night's game against Georgetown, DePaul's senior point-guard Billy Garrett Jr. scribed his name in the record books by sinking his 529th career free throw to pass Stephen Howard for the most career free throws in program history. 
Howard played for DePaul from 1988-1992 under coach Joey Meyer, son of DePaul's winningest head coach Ray Meyer.  During his time playing at DePaul, the Blue Demons made the NCAA Tournament three times and the NIT Tournament once.
"I actually lost track of where I was at (in relation to Howard's record)," Garrett said after DePaul's 76-73 loss to Georgetown.  "But yeah, it feels good to have a record."
Head coach Dave Leitao says that a free throw record, no matter how insignificant it may seem, is not something to be taken lightly.  "Free throw shooting is a remarkable feat, because, not only is (Billy) really good at it and he's a career 90 percent foul shooter, he gets there a lot."
"Shooting free throws is not easy," Leitao continued. "Everyone might think it's easy, yeah, just step it up and know it down, but if it were easy, everyone would shoot 90 percent."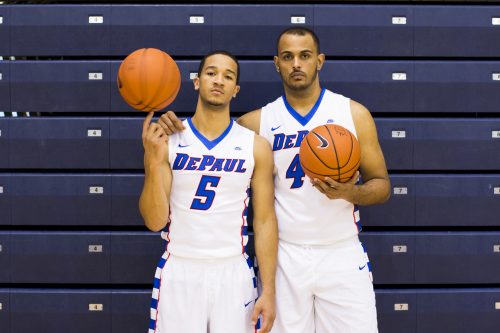 Garrett now holds the program free throw record with 532 successful shots at the foul line, and currently sits at number 11 on DePaul's all-time scoring list with 1,496 points. "It's an honor to have a record at DePaul University, a place with such a storied basketball history," Garrett said, "so to have my name atop a record is humbling and the result of all the hard work and people who've helped me along the way."
Garrett's record setting night comes in the twilight of a collegiate career overflowing with personal accomplishments, but void of major any team accomplishments – the senior is currently trying to avoid a fourth straight season with 20-plus losses.
"You have to know (Billy) and his family to understand what he's put into this program," Leitao said. "And he hasn't gotten back what a lot of guys want to get back which is NCAA Championships, Big East tournament wins, and 20 win seasons which is a dream for anybody, that's why you go to college."
"From top to bottom the culture has gotten better," Garrett said speaking on how the program has evolved over his four years with the team.  "I don't know if it has resulted in wins, clearly, but I don't have any doubt that it's going in the right direction."
Reflecting on his star point guard,  Leitao said, "From the day he stepped on campus before I got here, and the year plus that I have been with him, he has been remarkable. Remarkable as an athlete, remarkable as a human being. There may be guys that can jump higher, and do all that, but there is not going to be another Billy Garrett in terms of what his legacy means for DePaul basketball."