Music awards take a chance on independent artist
The Grammy Awards is one of the biggest nights in music, from the red carper arrivals to show-stopping performances. But this year's ceremony had a Chicago touch, and he goes by the name of Chance the Rapper.
The 23-year-old Chicago native, made history by being the first artist to win a Grammy for a streaming-only album. This past June, the Recording Academy announced that streaming-only releases will now be eligible for Grammy nominations, giving artists like Chance the opportunity to be awarded for their work. This includes recordings released on Spotify, Tidal, Apple Music or Google Play. Recordings released on YouTube, Soundcloud Go and Pandora still remain ineligible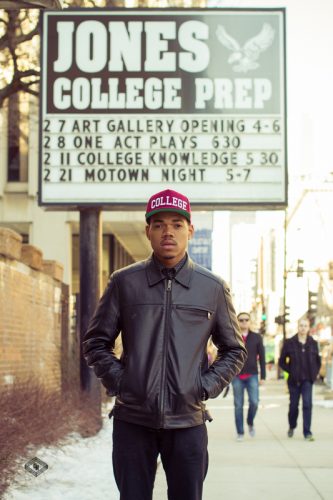 Chance, who also made history at this year's ceremony by remaining unsigned to a label, earned some noteworthy titles for his mixtape Coloring Book, including Best Rap Performance, Best Rap Album and Best New Artist, a category that hasn't been awarded to an African-American since Lauryn Hill walked away with the title in 1999.
However, it wasn't too long ago that he was performing at talent shows and festivals, as a student at Jones College Prep, located on Chicago's Northside. The artist's first mixtape, "10 Day," was inspired from the ten days of suspension during his senior year at the high school back in 2011 for smoking weed. According to Rolling Stone, it was during that suspension period, that Chance wrote the first draft of that album.
With all of the rapper's recent success, it appears the school is singing a different tune. Dr. Joseph Powers, the school's principal, is proud of Chance's success and remembers him as being a free spirit always wanting to put on a show.
"Obviously, he was at school, went to classes like anybody else and so forth, but was always doing something that was creative, had obviously the strong interest in music, going way back, even before he was in high school.," Powers said. "He performed at our various talents shows. We used to have our Jones Fest, which was kind of an outdoor venue we would do in the spring time and he performed at that. I remember seeing him several times during those years. So, I'm not surprised he went into the field of music, it's just surprising how quickly everything has developed for him. It's pretty exciting."
Chance is not only inspiring students at his alma mater, but also students on Chicago's college campuses. Amanda McLin, a student at the School of the Art Institute, relates to the rapper due to them both being Chatham residents. McLin, who also went to Chance's Magnificent Coloring Day tour back in September, has been following the artist since his early days as a rapper.
"Being an unsigned rapper, who's still so impactful, shows that you really can do anything that you want to do. It also gives me hope that we can actually strive for excellence in our careers and still have a heavy hand in our community," McLin said. "There has been so many people to come out of Chicago and other places around the country that get a taste of fame and forget where they came from. Chance is consistently showing us that he is still here from us, and always will be."
Here at DePaul University, students are also expressing messages of inspiration and faith.   When sophomore Patrisia Vekima is not in the classroom, she's writing music. Vekima, being an independent artist herself, admires Chance for his ability to combine spirituality with music.
     "It's the start of a new era. That's the way I see it," Vekima said. "Many independent artists are going to be motivated and inspired because they have a great example. Chance is a great example. And I put all my faith in God and I know he does too, so that's also a personal motivation for me too."
With three Grammy's now under his belt, a possible meeting with the city's governor and a new spring tour just announced, the artist is making his city more than proud. This is definitely not the last will be hearing of Chance the Rapper.