Four Big East titles in a row
Jessica January and Amarah Coleman starred as DePaul clinched the no. 1 seed in next week's Big East Tournament and a fourth consecutive regular season conference championship (2017 title shared with Creighton) in Sunday afternoon's 79-70 win against the Georgetown Hoyas. 
"We have a philosophy here that every game has a life of its own (and) every season has a life of its own," head coach Doug Bruno said. "Next to winning the national championship, the hardest thing to do is win the regular season conference championship, because it's a marathon and not a sprint."
After trading baskets in the opening 30 seconds, the Blue Demons Coleman couldn't miss if you paid her, and January was oozing with excellence in the early goings of Sunday's senior day showdown.
Through the first quarter, Amarah Coleman was perfect from the floor with 10 points, going 2-2 from beyond the arch for the largest contribution to the Blue Demons monstrous 31-point opening quarter.  By the half, the sophomore had 14 points with only one missed shot on a rushed and contested layup in transition.
January did it all in the first half, logging six rebounds, seven assists, 12 points, and a flawless showing at the free throwline.  The preseason Big East Player of the Year dazzled the DePaul's home crowd with a Steph Curry-range three-pointer in the tail end of the first half.
DePaul dropped an efficient 64.3 percent of their field goal attempts, including 50 percent from three-point range.  A combination of staunch defense and poor shooting held the Hoyas to 34.3 percent from the floor, and they failed to convert on any of their four attempts from behind the arch.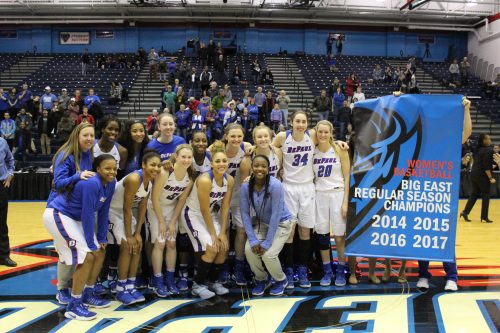 "The Big East is a really good league, and Georgetown is a really good team," Bruno said. "(Our) players did a great job of coming out ready to play."
After 31 points in the first quarter – on pace for a 120-point game — the Demons only managed 17 in the second quarter and walked into the half ahead 48-34.
Senior guard Brooke Schulte had a quiet first half, scoring four points during her brief four minutes on the court, but found an increase in both minutes and production in the second half to become the third Blue Demon with double-digit points.
"Because we're up 20 points, I was able to sit Schulte (and other players with multiple fouls)," Bruno said after the game. "Maybe if I put her back in the game we would have gone into the half up 21 instead of 14, but we have to learn to play without her."
It would not be all smooth sailing for Schulte in the second half.  The 5-foot-9 senior had trouble creating space for herself, and saw multiple shots smothered by Georgetown's fleet of 6-foot-plus centers and forwards. She ended her night with 12 points, shooting less than 50 percent from the field.
DePaul's play grew sloppy in the second half, shrinking their lead to five points by the mid-point of the fourth quarter.  Schulte and Jacqui Grant were the only players to match or improve upon their first half production.
Just over a minute into the fourth quarter, January grabbed her tenth rebound and logged her tenth assist for her second career triple-double (16 points, 13 rebounds, and 10 assists).
January is part of the first class to win four consecutive Big East regular season championships since University of Connecticut in 2011.
"Obviously it's awesome, but we still have the Big East Tournament and the NCAA (Tournament) … so we're not done yet," January said after the game. "I think when the season is completely over we will have more time to reflect on it."