Doug Bruno deserves Big East coach of the year
DePaul women's basketball seemed like their season would take a big hit before the year even began.
They lost one of their starters, junior forward Mart'e Grays, to a torn Achilles. With the injury, they lost their best rebounder and one of their few forwards. DePaul had to move to a four-guard starting lineup.
Throughout the year they've lost junior guard Ashton Millender, one of their best three-point shooters, for three months and counting, and they were without preseason Big East Player of the Year senior guard Jessica January for the majority of Big East play.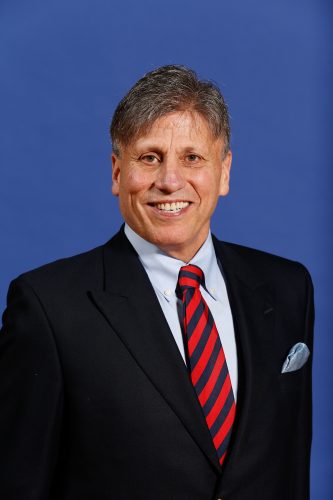 And yet, DePaul is having one of their best seasons ever. They won their fourth straight Big East title and matched their best-ever Big East record, are in a position to host an NCAA tournament weekend and are going to be the no. 1 seed in next week's Big East tournament.
For all of these accomplishments under adversity, Doug Bruno deserves Big East Coach of the Year.
Bruno will be the first one to say that all the credit goes to the players, and that's true. Senior guard Brooke Schulte has played out of her mind, averaging 21.4 points in conference play. She'll be a favorite for Big East player of the year. Freshman guard Kelly Campbell has emerged as a solid starting option and junior guard Lauren Prochaska became a huge piece in DePaul's offense when she got the opportunity to start.
The key, however, is a coaching culture that allows for players to step in and perform under these circumstances. Bruno and his coaching staff deserve credit for recruiting players to create a strong bench that can step in and start.
Bruno also deserves credit for getting the team ready to move to a four-guard starting lineup before the season started. They lost their best rebounder but still led the conference in rebounding margin. They had the best offense in the league and held their own against teams with a bigger back court.
Not to mention, DePaul only has six losses throughout the entire year, and only two in Big East play. Their two losses in Big East play were to Marquette, who has the 36th best RPI in the country. That's by far the lowest of DePaul's losses.
An argument can be made for Carolyn Kieger at Marquette, whose Golden Eagles finished third in the conference. Another, stronger argument can be made for Jim Flanery at Creighton, whose Blue Jays went 16-2 in the conference to share the Big East title with DePaul, their first since Creighton moved to the conference.
Still, at the beginning of the year, DePaul and Creighton were picked to share the Big East title, which ended up being the result. Bruno deserves Coach of the Year is because DePaul had a tougher road to go through when they were down three starters at one point and still tore through the Big East en route to match their best conference record since they joined the Big East, set last year.
DePaul exceeded renewed expectations when three of their starters were injured. Success under those circumstances comes from a stable coaching staff who knows how to make their bench rise up to the starters and perform at the same level. Because of this, Doug Bruno and his staff should be recognized as the best in the conference.