DePaul golf aims to finish the job in postseason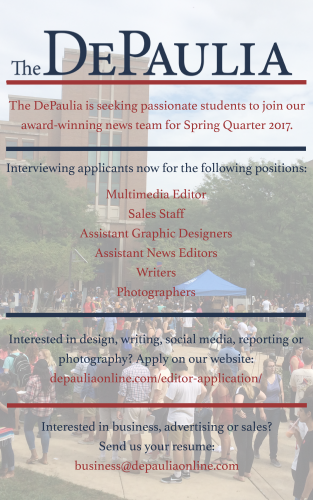 As the men's golf team travels to Iowa for the final regular season tournament before the Big East tournament in Okatie, S.C. (April 30 – May. 2), coach Betty Kaufmann said the Blue Demons need to improve the little things if they want to finish strong in the conference championship.
"We saw a lot of pluses coming out of Chambers Bay last week," Kaufmann said. "It's a tough course and you can see them becoming more resilient because they have confidence and they know if they make some mistakes they can go make some birdies out there because all of this is starting to come together."
A tough course, indeed — Chambers Bay Golf Course hosted the best players in the world at the 2015 U.S. Open Championship, and the Blue Demons held their own.  DePaul placed ninth out of 18 teams and Jonathan Hewett recorded his fifth top-25 finish of the season on rounds of 72, 73, and 72 to finish five strokes over par (Chambers Bay played as a par 71 for the first two rounds and was shortened to a par 70 for the final round).
"This year has been a bit of an improvement for me," Hewett said. "I'm looking to turn pro when I finish (at DePaul), so I've really set some goals to help me start playing well and I've had some good finishes this year."
Hewett, a senior from Clacton-on-Sea, England, has led the charge for the Blue Demons in his final season, leading the team in top-10 (two) and top-25 finishes (five). He ranks tied for second on the team in scoring average at 74.2, behind Freddy Thomas at 73.9.
"I've really got on board with the mental side of the game; I used to think about my score a lot on the course rather than staying in the process and trusting I can play good golf without thinking about it," Hewett said. "I'm going into each tournament with a winning mentality of wanting to finish in the top part of the leader board, and I've been able to do that in about 75 percent of the tournaments so hopefully I can continue to do that in these last couple tournaments."
While golf is traditionally an individual sport, DePaul will need to score well as a team to keep themselves in contention in South Carolina for the Big East championship.  Last year the Blue Demons finished third (out of nine) in the conference championship, and they only have one more tournament in Iowa to prepare for an improved finish this year.
"(We) have the same emphasis each tournament, so I'm looking for us to keep building toward confidence in Iowa because there is a lot of teaching that goes on," Kaufmann said. "This is going to be a good field and a good test and we just have to play our game, take the good with the bad and hopefully do more good. But we have to keep them in the process."
For both coach Kaufmann and assistant coach Marty Schiene, DePaul's success in the conference tournament depends on the little things, and continuing to make small improvements in real time.
"I think if everything comes together with the short game and the mental game we can do pretty well in the (BIG EAST) tournament," Schiene said.