The process of trying to fill Wintrust Arena
There are two missions for the partnership between DePaul University and the Metropolitan Pier and Exposition Authority (McPier) as the first basketball season draws near, but it carries the same motivation: fill up Wintrust Arena.
DePaul's goal is to fill up Wintrust Arena for the University events: 23 total regular season basketball games and graduation. SMG, the entertainment venue management company that has Wintrust Arena as a client, has a goal of adding to that with a total of 50 events each year. 
The challenge comes from trying to build up these numbers from falling attendance for DePaul men's basketball at Allstate Arena, where they averaged 4,923 tickets bought this season. A 2013 feasibility study commissioned by McPier said 9,500 tickets would need to be sold each game to break even on operating costs. DePaul has not hit this number in attendance since the 2006-07 season.
Due to the new location in the city, Wintrust Arena will have a different audience in terms of marketing than the Allstate Arena audience of alumni in the northwest suburbs, DePaul's Associate Athletics Director for Ticket Sales and Operations Marty Murphy said.
"It will be very neighborhood and Chicago centric," he said. "(For Allstate Arena) we focused a lot of our efforts in the northwest suburbs because they're close to the arena. We have thousands of Alumni who live in the Loop and Hyde Park area where it will now be simple and easy for them to get to the game (at Wintrust Arena)."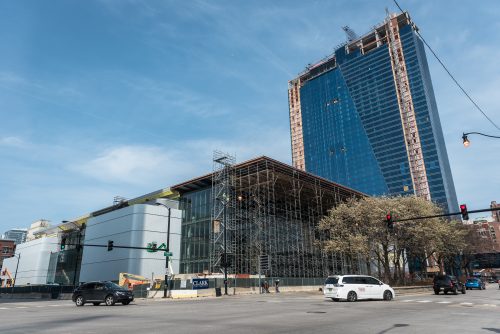 The current marketing is targeting loyal season ticket holders, who will have the first opportunity to buy seats at the new arena. Next are current members of the DePaul community, including staff and faculty, who will be given a 25 percent discount. Season ticket deposit numbers were not provided.
A new specific target will be recent alumni, those who graduated between 2013 and 2017. They will have a 50 percent discount and their season ticket packages, for a section designed for recent alumni in the lower bowl, will be $170 for the season.
"We know you're not making a million bucks yet," Murphy said in regards to recent alumni. "We want to invite (recent alumni) because it's going to be fun to go to a game downtown and be part of the city."
For other season ticket pricing, prices will stay relatively similar to Allstate Arena. 100-level sideline seats will be $30 per game, 100-level corner and baseline seats are $20 per game, same as Allstate Arena.
On the other side of filling up Wintrust Arena is SMG, which tapped former Chicago special events coordinator David Kennedy to run the venue. Kennedy said that he and McPier are assisting DePaul in selling tickets but only in a supportive role.
"The DePaul ticket office is really taking the lead," Kennedy said. "We're trying to sell suites and club suites but more venue management side."
Instead, Kennedy is trying to bring in other events to the arena, including convention talks, concerts and high school basketball games.
"When there's availability when the (DePaul) men and women are on the road we can relocate some (high school) games, maybe do a double header," Kennedy said. "We would love to host as many games as we can. It would be great for high school players to play on the DePaul floor."
Kennedy said there are already some events lined up for the arena in September and October, including After School Matters, an arts and education program founded by Maggie Daley, part of Work Day Rising's annual convention October 9-12, and a few concerts before the basketball season starts. Kennedy confirmed  Nov. 11 will be opening day for DePaul basketball. The opponent has not been announced yet but will reportedly be Notre Dame.
DePaul has right of first refusal on non-convention events and booking events like concerts and other single-day programs have to wait to be booked until after the DePaul men's and women's basketball schedules come out, which typically happens in late summer. Kennedy said he does not have a hard deadline for when the 50-event benchmark needs to be reached.
"It's going to be fluid," Kennedy said. "Once we work with (DePaul's) athletic department that will give us the calendar through March, at that point we know what we can book January through March."
The arena, as well as the Marriott Marquis hotel being built concurrently next to the arena, has been touted as a catalyst for development in the South Loop and both Kennedy and Murphy are hoping residents in the South Loop will be attracted to the new home for DePaul basketball.
"Interest levels are starting to perk up more than ever in the South Loop," Murphy said.
In Rosemont it was a big parking lot and the airport and our neighbors had to drive to get there. There's some people who can just walk to the game now."
Season ticket packages will go on sale in July for the public after the presales end, then single-game options will be available starting in October once the full schedule is known for both teams.