Ne-Hi, Joey Purp and Solange: highlights from Pitchfork Music Festival day 3
And we're back for Sunday at Pitchfork 2017. As the cloudy morning loomed over into the afternoon, the shining sun peaked out just in time for the day's festivities. Many Pitchfork festival-goers' wrists featured three different colored 21+ wristbands as they ready for the final day in Union Park. While the heat started to rise, so did the anticipation for the closure of a groovy weekend of performances and good vibes.
The weekend provided a lot of memorable experiences for both returning Pitchfork attendees and new ones. The lines created a bit of a fuss, but once the music started playing, everyone came to realize the real reason why they are standing in Union Park on a hot summer weekend. From the headliners to Chicago's up and coming finest, Pitchfork expanded their grasp on their featured performers in ways that continues to show that this festival is evolving for a wider audience.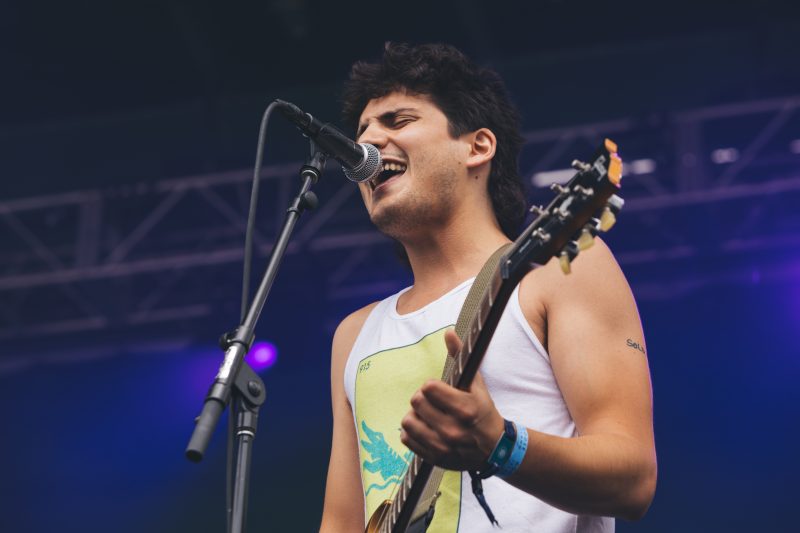 Ne-Hi
Kicking off the final day of the festival, one of Chicago's very own rising Indie-rock bands Ne-Hi performed on the Green Stage in front of a decently packed crowd. Earlier this year in February, Ne-Hi's album "Offers" released to a success from critics and fans. Initially, the four band mates joined creatively to score a friend's film, but given their unique sounds they continued their endeavors. Saturday night, Ne-Hi and Parent played a Pitchfork after show at Lincoln Hall.
The group's nifty guitar sounds meshes nicely with the alternating vocals. Coming a long way from the LP in 2014, singers Michael Wells and Jason Balla hype up the hot crowd with smashing solos and strong, defining riffs. Ending on "You Can Jump into the Fire" by Harry Nilsson, for a relatively new band, Ne-Hi owned up to the size and scale of a midday performance on Pitchfork's main stage.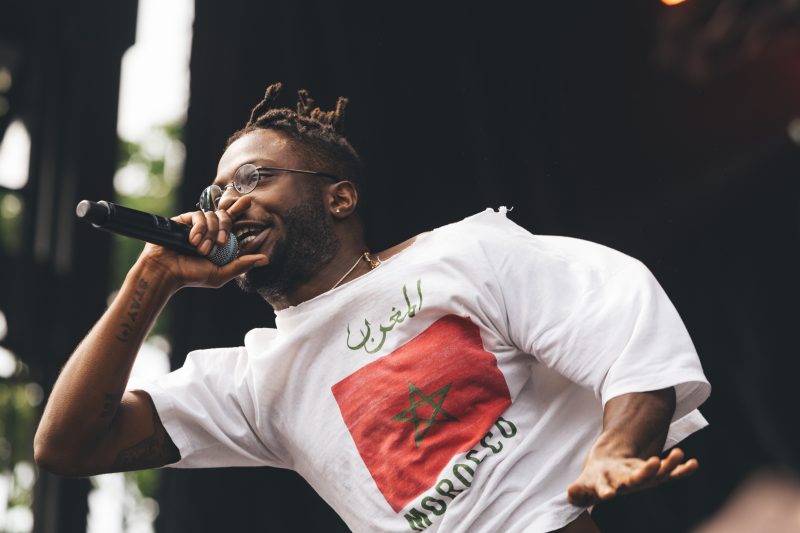 Isaiah Rashad
Taking place at the Red Stage, hip-hop artist Isaiah Rashad from Chattanooga, Tenn. continued the afternoon with his free style verses. After a mistake of loosing track of the words, Rashad stopped a song midway through to readjust and then reconvened. Last year, Rashad came out with his debut studio album "The Sun's Tirade" which also received high critical acclaim.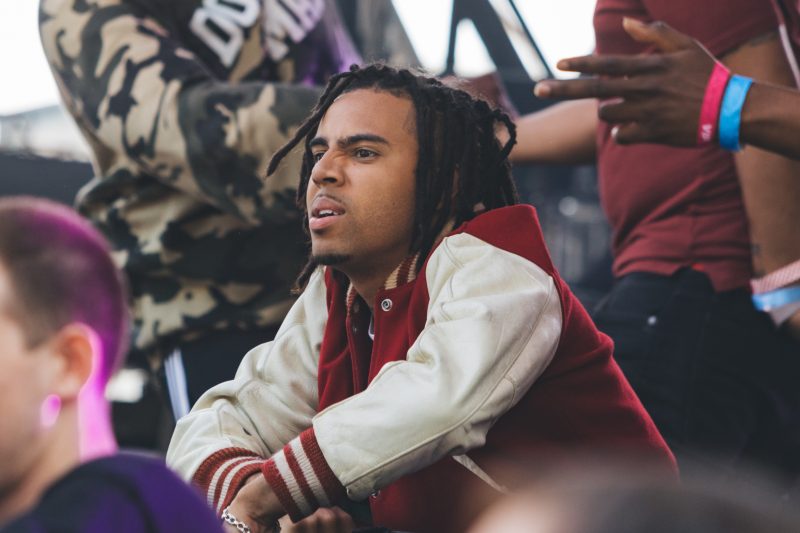 Joey Purp
It's a Chicago filled afternoon as Joey Purp takes the stage. The Chicago rapper has bounced around the city's neighborhoods for much of his youth, but it's reasonable to say that in general Chicago is his home. Coming off of his 2016 mixtape "iiiDrops," which had collaborations with both Chance the Rapper and Vic Mensa, the rapper's set at the Blue Stage featured the occasional appearance of Chicago rappers Towkio and Vic Mensa for a final song of the set. Purp's fan favorite "Morning Sex" was an obvious crowd-pleaser as the rapper spits lyrics about death. This particular set does not rank too high on my Pitchfork favorites, but the energy was there and so was the feedback from the rowdy crowd. "We still alive Chicago? We gotta show them we are alive and well!" Purp said throughout the act.
Solange
Solange had the task of closing down Pitchfork 2017. The last headliner of the weekend once again filled Union Park to the brink. The festival ended on a highly entertaining performance with a full band with horns, choreographed dancers, elaborate stage design, and of course, Solange's soothing vocals. "I thank you so much for allowing me to live my truth through this album. There's a lot of fucking work to do. I just feel so grateful y'all are allowing me to do the work," Solange said. Nearing the end of the show, Solange's energy in "Don't Touch My Hair" capped off the final night of during a cool breeze that swept through Union Park's Green Stage.
As folks started heading for the exits, a glimpse of next year's Pitchfork ran through everyone's mind. As the twelfth year wrapped up, no one knows what to expect. Well, that is Pitchfork's best offering to all music lovers in Chicago.