Former Blue Demon Kustok lands gig with YES Network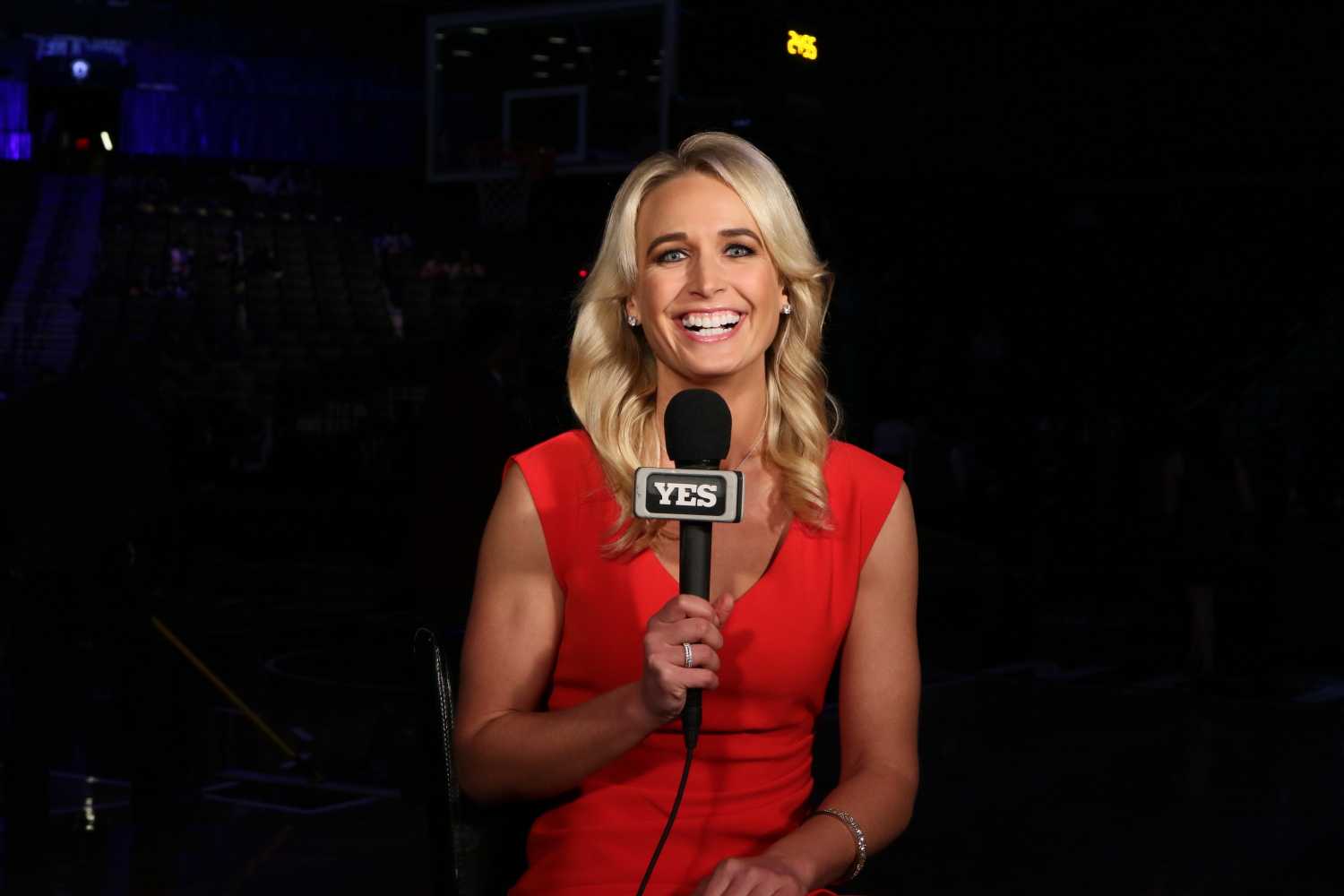 When the news dropped that former DePaul women's basketball player Sarah Kustok had received yet another promotion, this time to the position of Brooklyn Nets primary game analyst for the YES Network, one of her biggest fans wasn't surprised in the slightest.   
"She was a constant competitor, you got to understand that about Sarah," longtime DePaul women's basketball coach Doug Bruno said. "[She] is in the business of sports journalism for the achievement of it, not the celebrity of it."
Inevitably, her illustrious media career, which originated in a college internship and was cultivated through DePaul's communications program, has turned her into a media celebrity even though that probably wasn't her intention.
Despite this familiarity with success, Kustok said that she was a bit taken aback when she initially heard the news, even though the promotion had been a work in progress for months.
"I was blown away by the opportunity and what it meant, what it represented, not just for me but in general," Kustok said. "The opportunity to do something where young girls, young boys watch and see some changes being made in the NBA community or broadcasting in general (more universal acceptance of female broadcasters). At first, I was in a little bit of shock but I was thrilled to hear it. I'm just so excited to get the season started."
She replaces longtime YES Network basketball analyst Mike Fratello, who will transition to a studio analyst role this season. She will work alongside Ian Eagle and Ryan Ruocco, who will share play-by-play duties. Kustok joins Ann Meyers Drysdale (Phoenix Suns) and Stephanie Ready (Charlotte Hornets) as the only female regional TV analysts in the NBA.
It's another impressive accomplishment for a woman who can already fill a small book with everything she has achieved so far in her 35 year life. Here's the abridged version: she served as a Brooklyn Nets sideline reporter for the YES Network for five years before accepting the network's analyst job. Previously, she worked for ESPN, Comcast SportsNet Chicago, Fox Sports 1 and the NBC Sports Network. She was also part of the YES Network's broadcast team that won the 2014 New York Emmy Award for Best Live Sports Series.
She's covered the Chicago Bulls, Cubs, Sox, Blackhawks, the WNBA and the NBA G-league. Coupled with her work at the YES Network, it all adds up to an imposing resume of accomplishments. Yet, through it all, she remains grounded when she has every right to toot her own horn.
"[Kustok] is in the business of sports journalism for the achievement of it, not the celebrity of it."

— Doug Bruno, DePaul women's basketball head coach
"It came from my upbringing, my family, my parents, my brother of just understanding that no matter what happens in life [it's important]to be a good person, stay grounded and humble, and just being good to other people," Kustok said when asked how she prevents the success from getting to her head. "No matter how much success we experience in our lives, there can also be tough times with failures and challenges. It's always important to stay grounded, to stay true to who you are and realize all the people who helped you get to the point where you are at."
Before she was Sarah Kustok the NBA analyst, she was Sarah Kustok the 5-foot-9-inch forward from Orland Park, who played for the DePaul women's basketball team from 2000-04. Long before she met anybody from the YES Network, her boss was coach Bruno and her colleagues were her 14 or so teammates.
"Sarah was one of the best captains I have ever had," Bruno said. "She's always been a great leader. She also just cared about her teammates. She loved her teammates, and she would do anything to make things right for her teammates."
It was through her student athlete experience that she learned the importance of resilience. It has served her well through her humble beginning as a production assistant in college and even better through the long nights and early mornings that are the status quo in her line of work.
In a gesture that has forever changed Kustok's life, DePaul University's athletic director Jean Lenti Ponsetto introduced her to an ESPN executive who was visiting the university to debrief student athletes on careers after sports. The connection scored Kustok an internship as a production runner on an ESPN crew covering Big Ten Conference football. She spent her fall weekends driving around the Midwest to Big Ten campuses assisting production teams in a medley of different tasks, some as remedial as going on coffee runs.
Fully committed to crafting this experience into a professional career, she found that the DePaul journalism program was a perfect place to cultivate her skills and establish valuable connections in the buzzing Chicago media market.
"I can't say enough about the journalism program and the school," Kustok said. "There were so many professors who cared, and cared about you and making you better. I think it is often overlooked how important writing skills are in television. And I think that is the one thing that my education at DePaul was so critical in teaching writing skills that have helped me so much in my career today."
Kustok's new job today wouldn't have been possible without the long list of people who helped her in the past. But insinuating that she got to where she is today only because people helped her is far too simplistic. Through her own ambition and a blue-collar work ethic she has become a role model for those who aspire to follow a similar path.
"The number of young people that come up to me today and say 'I want to be just like Sarah Kusok', I say to them you got to understand here, Sarah didn't start on the top," Bruno said. "Sarah started at the grassroots level. Sarah had to do the media work in sports communication. She had to run the statistics, she had to run and get coffee for producers.
"She didn't start in front of the camera, she started behind it and worked her butt off."