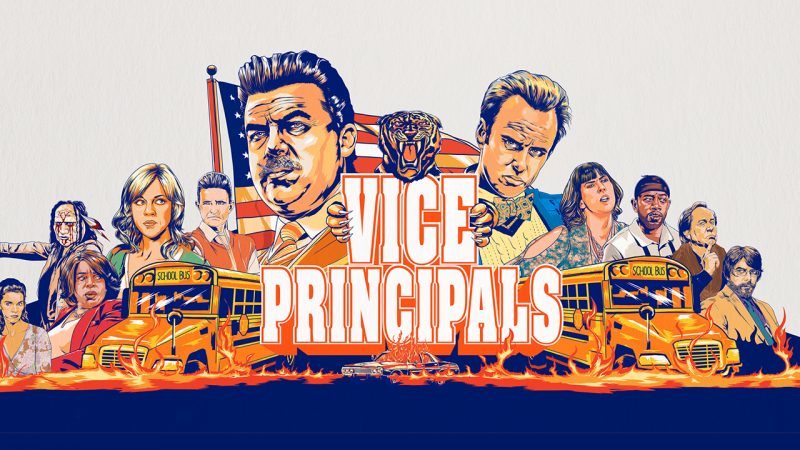 Currently streaming on HBO is the witty and eccentric two-part miniseries "Vice Principals." Season one, in full, is available on HBO now, though the second season is being released on a weekly basis and is on episode three for your viewing pleasure.
Neal Gamby (Danny McBride) is an ill-tempered vice principal in charge of discipline at North Jackson High School. After the principal (a hilarious cameo by Bill Murray) resigns to tend to his dying wife, Gamby imagines himself taking calls as "Principal Gamby" and securing the principal desk. That accomplishment isn't going to come easy for our cantankerous protagonist. Meet Lee Russell (Walton Goggins), the highly flamboyant suck-up vice principal of curriculum at North Jackson High.
The two unqualified, lost-in-their-own-world, disliked vice principals battle for the top position of authority at your typical middle-class area of academia. These co-vice principals jab one another in attempt to achieve the upper-hand in the principal race, but both are slapped in the face when neither receive the infamous employment opportunity when the school board welcomes Dr. Belinda Brown (Kimberly Hebert Gregory), principal of North Jackson High.
McBride co-created "Vice Principals" with Jody Hill. They previously took on those same roles for the HBO sports comedy series, "Eastbound and Down" which ended in 2013. Their frequently returning executive producer and director, David Gordon Green (who directed "Pineapple Express" and the recently released "Stronger" starring Jake Gyllenhaal as Jeff Bauman, the 2013 Boston Marathon bombing survivor), also serves as a collaborator on the project.
HBO coordinated an interview with creator and star McBride and the first season executive producer and the second season director, David Gordon Green, via Goggle Hangouts. 
"There wasn't really anything from our personal lives that inspired it. I've always been fascinated with stories at a school. I was a substitute teacher for a little bit and I always thought it was fascinating how there was one world going on with the students and there was a completely different world going on with the teachers and administrators. Rarely did those two sides get a full understanding of what was happening with the other," McBride said.  "It seemed like a cool place to set a story and jockeying for the head of that world felt like. It drew parallels to the classic 'quest for the crown' story. We love to put high, epic expectations on mundane everyday goals.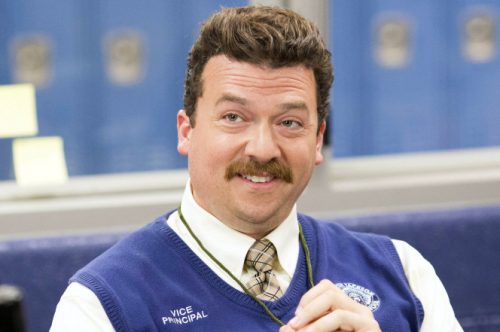 McBride, years ago, attempted to secure writing gigs in Los Angeles. Like many who make the shift out to Hollywood he encountered some struggles in making the dreams a reality. He backtracked and moved back home to Virginia and became a substitute teacher. That shift for McBride shed light upon the student-administrator relationship and the hardships of the educator. That perspective has a glaring resemblance in "Vice Principals."
For a television show, especially a HBO project, it is rather surprising for the production process to shoot back-to-back seasons. The two-season-and-done endeavor proved to be a smooth experience, especially for the crew who have thrown it all the way back to the glory days of college. McBride, Green and Hill met in 1995 on campus at the University of North Carolina School of the Arts.
"One thing that's very valuable is, not just about how Danny and Jody I work together, but having people that keep you in check. A lot of very aggressive elements of our industry and profession can make you cynical, bum you out and make you really competitive. And the greed is outrageous sometimes, too," Green said. "So having a group of people that keep you as grounded as you were in high school keeps the process so human and these people will call you out on your bullshit."
"I think it (the back-to-back production schedule) kept everyone in the zone and focused. It was something we wanted to try and something that was one and done. I get intimidated by shows that have multiple seasons and trying to catch up from that far behind. We like to design our projects to be able to be consumed over one hungover afternoon. That means it's complete if someone spends their whole day getting over a hangover and watching our story," McBride said.
Initially, McBride and Hill wrote "Vice Principals" as a feature script. Yes it became a HBO show, but the longevity of the story has implications that it came from an idea for a movie. As this happens with many writers' ideas, it's character that transpires a story over a longer period of time. This was the case here, too. The creative minds found traits and emotions within certain characters that you simply wish to keep them on screen longer.
"We loved Lee Russell. He jumped off the page instantly. When we wrote the original screenplay, that was the reason why we wanted to make it into a TV show, was for that character. We read a lot of different people who purely had a comedic background and no body had the bite," McBride said.
Gamby and Russell begin the show as arch enemies. They constantly chirp each other in the race for the principal. Once they realize that they both lost, neither are going to accept that defeat. The two co-stars team up as co-principals and commit some dangerous (and potentially criminal) acts in their egregious plan to end Dr. Brown's time as principal. Two completely different styles form a buddy-duo as the show develops and a sense of understanding begins to flourish between them.
"When we first started talking about Walton Goggins, everyone, all of us across the board, were like 'he's exactly the person.' The goofiness mixed with malice would be a fun, delicious thing to watch. The first time I talked to him after sending him the script, he called me up and started talking to me as Lee Russell, without any direction. It was 100% what you see on TV. And that was what we had imagined," McBride said.
The 18-episode series runs through Nov. 19. so there's still plenty of time to catch up over one hungover afternoon. Unlike many network and streaming shows at your fingertips, "Vice Principals" is a quick binge. Tonally, you'll get all the laughs that you're looking for, but on top of that McBride brings a side to his comedic character that has deep, heartfelt emotion. His persona may be problematic, but the love for his family and his job is most important to his selfish character.
"I would get bored when I watched comedies. Somewhere around the second and third act, I would look at my watch. Once I was tired of the jokes I wasn't invested enough in the characters. For us, it seems like it's easy to get laughs and it's hard to get people to invest in your characters and get laughs. So I guess that's just what we are always trying to do – make these people feel real for better or for worse," McBride said.
"Vice Principals" next episode, "Think Change," airs on HBO next Sunday, Oct. 8.
"It's really cool to think of these relationships as family. As we've grown and challenged each other, with this group of collaborators, you always know that the world can reject you but your friends will always be there to push you to be creative and push you to enjoy what you do for a living," Green said.