Tumultuous times? Try Tibetan thought-control
As political strife, disastrous storms and a seemingly constant stream of military conflicts chip away at the hope of many people across the globe, a growing desire for a new way to find optimism and peace in a chaotic world seems to have manifested.
To meet the wishes of people looking for solace in such a time of crisis, DePaul held an event featuring guest speaker The Venerable Thubten Chodron, on Thursday, Sept. 29 at the Theatre School. Chodron, a Buddhist nun, provided insight into the Buddhist modes of thought that can help people struggling through a troubling time.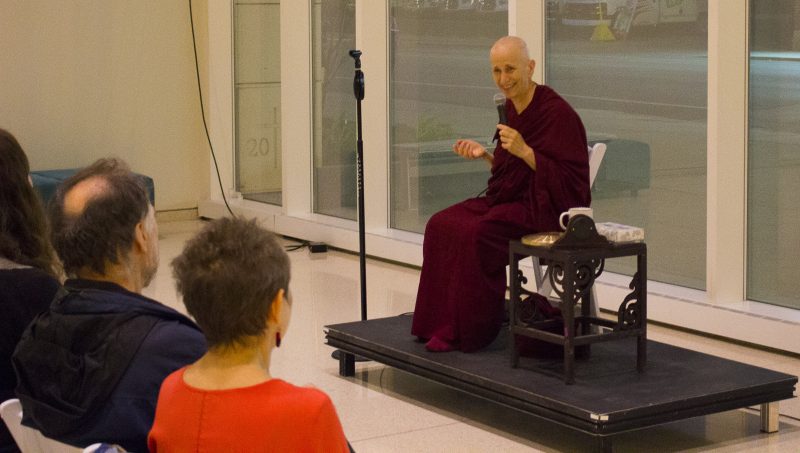 Chodron has studied closely under the Dalai Lama and other renowned Tibetan masters. Chodron has taught the Dharma across several countries including Italy, France, Singapore and in Seattle at the Amitabha Buddhist Center. Chodron also founded Sravasti Abbey, the only Tibetan Buddhist monastery in America. Chodron has many books published on Buddhist philosophy, including her recently released book on the teachings of the Buddhist path, "Approaching the Buddhist Path," the first in a series of books co-authored by the Dalai Lama called "The Library of Wisdom and Compassion."
After being introduced, the audience clapped as Chodron walked slowly up to the short stage. Her burgundy robe enveloped her as she sat down, smiling with a look of joy and compassion.
"Don't applaud me yet, you haven't heard what I've said," Chodron said.
Chodron exudes humility. She guides the audience through a brief meditation before beginning her lecture.
"Before we begin, let's take a moment  to think about our motivations because we're often not aware of why we do what we do," Chodron said. "So first, just check what your motivation was for coming here to start with, there's no right or wrong answers, but just why did you come here? Whatever our initial motivation was, we can build on it and expand on it to transform it into a very broad motivation from which we can learn how to let go of our weaknesses, and enhance our good qualities and talents."
Chodron believes it is one's motivations that truly render the world anew. Chodron says if one leads their life with the primary motivation of love, joy, compassion and equanimity, instead of creating conflict, people can learn and grow.
Chodron says humanity is experiencing troubling times. She reflected on when she was young in the 1960s and 1970s.
"I grew up in the middle of the Vietnam War and the race riots," Chodron said.  "(At the time) I thought, 'Wow, this is a time when we can really make some change and when we can really have an effect.'"
During this time of turmoil, Chodron began to lose faith in ideas such as religion — she questioned why people would support something that causes people to kill each other. She remained cynical about religion until she began seeking classes on meditation.
"When I was 24, I happened to see a flyer for a Buddhist course and I so I went to it and the rest is history," Chodron said. "So I wound up going to Nepal and I really cherish that time living abroad because I think it really helped me as a human being in expanding my mind in many ways."
Junior Jake Broschart has been following the teachings of Chodron for a long time.
"I've read her books, I've listened to her talks," Broschart said. "This is what DePaul needs because we seem divided. These talks help people get on the same page that we are not different from one another."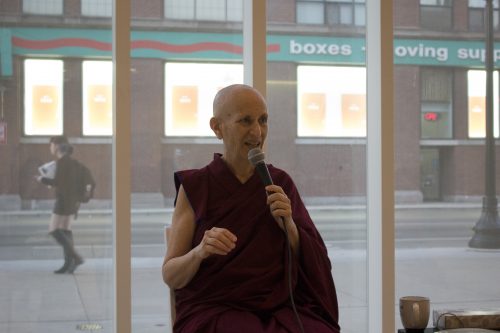 Religious studies professor Frida Kerner agrees with Broschart in that she feels religious perspectives can provide guidance toward accepting people from a variety of backgrounds.
"Religion has a lot to do with social problems," Kerner said. "It's edifying to hear about different tools from religions that can help us solve those problems."
Chodron believes that the only thing people have control over in their lives is themselves, but most of us don't even know our true selves.
"Most of us are so out of touch with ourselves that we have very little control over our own mind and heart," Chodron said. "As a result we are just buffeted around by external circumstance. Something that we think is pleasant arises, and our mood goes up; something we think unpleasant arises and our mood sinks down. My teacher used to tell us that we were like emotional yo-yos."
Chodron says the mind-training methods were developed to help alleviate the adversities people experience throughout their lives. Chodron explains how today's world is wrought with challenges and how these 12th century mind-training exercises are still applicable today.
"(The teaching) starts out talking about us living in an age of degeneration," Chodron said. "It very much is an age of degeneration today in that there is a lot of war, at least more ways to harm and kill each other than in previous gens. Beings have more distorted views on things and so much more confusion in their lives. Beings have much more disturbing emotions flying off the radar be it anger or greed or self-centeredness."
Chodron says it is during these times of great difficulty when humans can truly cultivate control over these mental trainings. During times of ease and relaxation, people tend to become lazier and people usually rise to action during times of great distress.
"There are two choices in dealing with difficulties: you can either get depressed and give up, or you get full of energy and engage and make a positive contribution," Chodron said. "You can either sink or you can swim, and I don't know about you, but I would rather swim. Which one we choose is completely up to us."
As long as the path one takes is positive, Chodron says that life will be fulfilling.
"If we just say it's difficult and there's nothing we can do, then we're making our own direction, and where is that going to take us? Not anywhere good." Chodron said.
Chodron says people will find peace far easier if they treat everyone with love and compassion. According to Chodron, everyone wants happiness and wants to be free of suffering equally, so if one takes this assumption and applies to all living beings, one can cultivate a new understanding for people of differing views.
"If we can approach each and every living being with this kind of knowledge of how we're exactly the same,then you can find a way to communicate with everybody," Chodron said.
Finding this way to talk with everyone in a polite manner is quintessential to a fulfilling life for Chodron.
"We can put people in infinite categories and find some reason why they are different from us and why we don't want to associate with them," Chodron said "But if we look beyond categories, we can tune into that very important sentient being nature of wanting happiness and not wanting suffering. Everything everyone does is in an effort to be happy."