DePaul student opens collaborative space in Wicker Park
Located just off the Western Blue Line stop, a new collaborative workspace for creatives and artists called Foster Studio was recently opened by DePaul sophomore Kieran Hush.
Foster Studio seeks to provide an aesthetically pleasing environment for creatives to work amongst each other. People who become members of Hush's studio can enjoy a special blend of Intelligentsia Coffee, art supplies, gigabit internet, access to a photo studio and other useful amenities while working in a spacious, clean and minimalistic environment filled with verdant plants. 
Hush believes that while the amenities are an amazing addition to the studio, the collaborative experience is what makes becoming a member worthwhile.
"The functional workspace is great and is really essential for the value as a whole. But when it comes down to it, it's these unquantifiable relationships that you can have working together in this environment," Hush said. "Knowing the people that you are working around allows you to enter new depths of collaborative creativity."
Rory Pipia has been a friend of Hush's for several years and became interested in working with him last year when he was beginning to have the ideas of this studio. Pipia began working with Hush to do public relations and provide networking opportunities for the studio.
"I've heard Kieran talk about this a lot over the last year," Pipia said. "What this space would become has changed a lot with all of our influences, but I've always been interested in people working together for art, instead of doing it on their own because you can work better with others."
Pipia says Foster Studio is marketing toward people who want to turn their creative hobby into a career.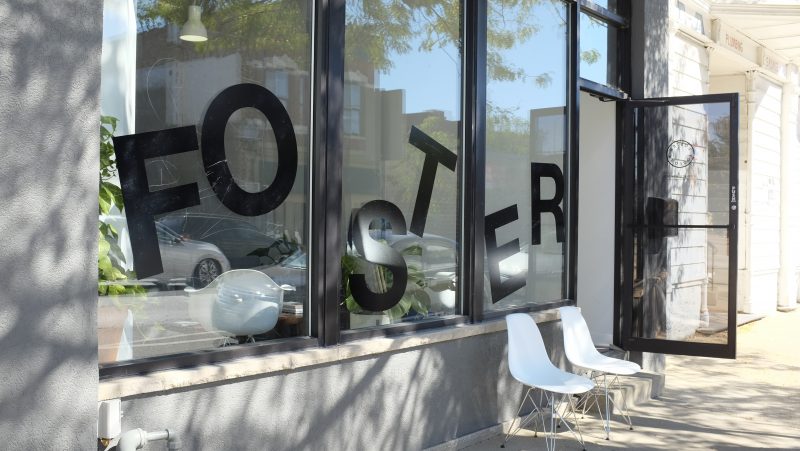 "We're targeting people that want to take that extra step and truly show that they care about and believe in their artcraft," Pipia said.
Another friend of Hush's who works on the backend of the studio is Brooke Raush, a student at Santa Monica College in California. Raush says she became involved with Hush's project through a blog.
"We got involved in this project by starting a blog about creatives not only in Chicago but all over," Raush said. "We were searching for people who did not have enough exposure to interview them about their inspirations and what they do. After that we wanted to actually open a place for people to work out of together."
Like the rest of members of Foster Studio, Raush believes in the power of collaborative work.
"The whole point of our studio is to meet likeminded individuals and to talk about and bounce ideas off one another, and help each other with things that maybe someone else can't do," Raush said. "People's work is better if it's done with the help of others. Groups are stronger than the individual."
Raush says she mostly deals with social media, marketing and email inquiries with another member of Foster Studio, Jon Croney, who also goes to school in California with Raush. Both Raush and Croney say they hope that once the first Foster Studio in Chicago becomes successful, they would like to open a new space in California.
"Since myself and Brooke are away in L.A., we kind of see things from afar," Croney said. "We are reaching out to people in Chicago and in L.A., so that hopefully we can expand out there in the future."
While Hush may still be a student, this is not his first entrepreneurial endeavor.
"When I was younger, I used to just hustle t-shirts," Hush said. "That transitioned into a business of consulting work with screen printing for local businesses in the suburb I'm from."
Even if this studio does not become an overwhelming success, Hush believes investing in oneself, even as a learning experience, is worthwhile.
"We secured an investor and that fell through and then we explored different financial opportunities, but I am funding it entirely myself using my savings," Hush said. "I'm just trying to invest in myself and learn from this experience. The way I see it when it comes to money, is that money is necessary to live, yes, but money is not necessary to be happy. There will be thousands of opportunities to provide for your needs but not thousands of opportunities to have a truly enriching learning experience such as this. I do not want anything to limit me, especially something as made up as currency."
Hush hopes to continue this studio over the next two years while continuing his education at DePaul. After those two years, he plans of looking to either expand or pursue other creative projects.
Foster Studio is located at 1875 North Milwaukee Ave. Memberships for Foster Studio start at $175 per month.