After an exhausting franchise-heavy summer, the spectacle of writer-director Sean Baker pinpoints the impoverished and overlooked outskirts of the happiest place on Earth.
"The Florida Project" is merely a journey of childhood wonderment stashed in a layered world with heartfelt tendencies energized by the economically unstable residents of a brightly shining budget motel sitting a few feet off of Route 192. Its manager Bobby (Willem Dafoe, the only recognizable Hollywood actor in this film, for now) is fixated on the grey area between running his business and caring for the residents who struggle to feed into what is necessary to run his business.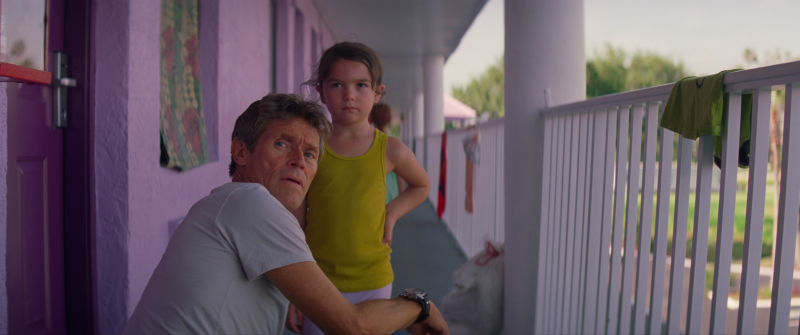 The wide-framed glimpses of not-so-popular souvenir shops – and hotels that actually cater to tourists – lie in-between the route of exploration for a rag-tag team of children on their days off in the summer heat. 6-year-old Moonee (Brooklynn Prince) gathers her playmates Jancey (Valeria Cotto) and Scooty (Christopher Rivera) to spend the day lying about their asthma symptoms to get spare change for a ice cream cone, spying on the old lady sunbathing poolside topless and remaining carefree about the harmful tribulations that their mother's go through to simply get by.
Baker has manifested a sense of setting that demonstrates with minimal plot the specificities of truth while on the edge of the social ladder. Once again, Baker casts non-traditional actors (like in "Tangerine") to convey the understanding of what it means to be driven by wonderment, even if you aren't able to comprehend the harsh realities.
The DePaulia sat down with Baker, the writer-director of "The Florida Project," which opened to a wide release Oct. 6.
"We went into it knowing we were going to make a film about childhood so it made it a bit easier because we were able to pull from our own childhood, everyone has a childhood," Baker said.
Moonee is under the care of her 23-year-old single mother, Halley (the Instagram model Bria Vinaite), who makes her first on-screen debut. 
"When I pitched them (the financiers) this girl from Instagram, thank God they went for it," Baker said. "She met with Brooklynn and Valeria and within five minutes Brooklynn was sitting on her lap. I said, 'don't act like mother and daughter, be like sisters.' Immediately they were singing songs that were in the top 10."
Baker and his writing partner, Chris Bergoch, began working on this project six years ago. Bergoch had always visited Florida and developed an understanding of the subject matter. The initial process they took in researching for "The Florida Project" was very similar to their previous films. Bergoch and Baker also co-wrote "Tangerine" and "Starlet."
"Chris and I feel the most responsible and respectful way to approach these stories is to have the input of the community that we are focusing on," Baker said.
"The details of understanding how the welfare system works in Central Florida and the social services, the child welfare and everything about how these motels are managed, even the local slang, all of that had to come from us doing interviews and us befriending people while spending time there," Baker said.
"Tangerine," Baker's previous film, premiered at Sundance in 2015. Leading up to the festival, Baker was hesitant regarding the material and style of the film due to it being shot on a few iPhone 5's. The comedy follows two transgendered prostitutes in the stretch of Los Angeles on Christmas Eve searching for one of their pimps.
Baker's non-conventional way of depicting his comedic story signifies his apparent arc as an independent filmmaker. The success of "Tangerine" brought value to "The Florida Project" and the systematic approach for the co-writers provided them with one of the most powerful films of the year.
"All of my films have been dramedies and they had a strong dose of humor in them, mostly behavioral humor. "Tangerine" was the first time I was trying humor within the style. This was a choice we made going into it and it was a scary one for me being a cisgendered white guy from outside of that world it felt very dangerous but truthful," Baker said.
"We said that we were going to try it again, we're going to abandoned our original script for "Florida" (initially it was a much darker, mother-daughter script) and go for a total "Little Rascals" thing. And hopefully it's working," Baker said.
Bobby accepts the kids in the motel as who they are: kids. They're on summer break, of course they're going to be running around in the back office playing hide-and-go-seek. Yes, they will accidentally shut the power off for the entire motel, it's inevitable. This parental tendency is what excels Dafoe's performance high above his past work. Nearing his career best, Dafoe shows the rag-tag group youngsters what is missing in their lives, he's ethical in his decisions and he's constantly present.
Moonee, the breakout star, never misses the opportunity for a witty remark or a feel-good laugh. She's vulgar, but that will not diminish her sense of adventure and her commitment to what she sees as a normal life.
"She's one of those 'born to do this,' she's grounded and I think she's going to go all the way. She's a little thespian – that's what she is. She's in the moment, she loves it and she hated to go home everyday," Baker said.
"The Florida Project" premiered at Cannes and concluded a deal with A24 after a bidding war with four other prominent distributors. Later, the film screened at the Toronto International Film Festival to a standing ovation and high acclaim.
"So many of my friends are with them, I know Barry ("Moonlight"), I know the Safdies ("Good Time"), I know David Lowery ("A Ghost Story") very well. I called them all up and asked them how it was working with A24. They were just like it's absolutely wonderful. There's no complaints. And they're very collaborative, which is great," Baker said.
Baker sticks us right into the soul of the story. We never want to leave the adventure that the kids take us on. It's free flowing, it embodies everything that we miss about our childhood and it will hit you so hard that the next time you visit Disney, you will stop think about the kids that want to be there so bad but simply are not able to.
"We wanted to show this in a way that children think there's always that hope. They retain hope, they still have that sense of imagination and wonderment, so we thought lets bring the audience to that place," Baker said.